News & Information

February 18, 2017
Castle Rock, Your Kind of Town! Dept. Holy heck, there's been some exciting news lately about the future of Castle Rock, King's fictional locus for books and stories as varied as The Dead Zone, Cujo, Needful Things, "The Body," "Mrs. Todd's Shortcut," and more. First off: Cemetery Dance's publisher, Richard Chizmar, recently announced that he and King just completed a new novella with Stephen King ... and that it would be about Castle Rock. His original announcement via Facebook:

Chizmar later clarified:
Regarding the novella I recently finished writing with Stephen King...
I can't tell you the title yet. I can't tell you the plot synopsis. And I can't tell you publication details. But I can tell you that readers will soon be heading back to a small town in Maine called Castle Rock.
As my friend Lilja recently commented, this appears to be the year of King collaboration, with this novella coming, and the Stephen King/Owen King novel Sleeping Beauties arriving this fall. If these are anything like King's other collaborations with Peter Straub, Joe Hill, and Stewart O'Nan, we're in luck.

But that's not all!

I got flooded with retweets and FB forwards yesterday about a new series coming to Hulu called Castle Rock. At first I thought it was a fan production, but further digging proved it the real deal: Stephen King and JJ Abrams are going to be collaborating on this new series that seems to connect King's many worlds into one cohesive narrative. There's a teaser trailer!

The nitpicker in me wants to say that Danny Torrance's and Annie Wilkes' stories focused in Colorado, not Maine, and that 'Salem's Lot is its own town, and that Pennywise is from Derry, and in fact most of the connections listed here aren't Castle Rock at all ... but that's because I'm a curmudgeon and I also don't know what they're doing here. Either way, I'm intrigued. More information to come!

January 24, 2017

They're Creeping Up On You! Dept. Well, this is unexpected and fantastic news! It looks like Simon & Schuster now has the rights to Creepshow, and are bringing it back into print for the first time since the 1980s! HELL YES! From SimonAndSchuster.com:
The graphic novel adaptation of the classic horror anthology film written by Stephen King, with art by Bernie Wrightson!

Now back in print: the graphic novel adaptation of Stephen King's Creepshow, based on the 1982 horror anthology and cult classic film directed by George Romero (Night of the Living Dead, Dawn of the Dead)—and featuring stunning illustrations by the legendary Bernie Wrightson and cover art by the acclaimed Jack Kamen! A harrowing and darkly humorous tribute to the controversial and influential horror comics of the 1950s, Creepshow presents five sinister stories from the #1 New York Times bestselling author—"Father's Day," "The Lonesome Death of Jordy Verrill," "Something to Tide You Over," "The Crate," and "They're Creeping Up on You" ... unforgettable tales of terror to haunt your days and nights!
This is THRILLING news! It looks like we don't have a cover image yet (new cover? Jack Kamen, EC Comics vet who did the original cover in 1982, died in 2008. Will it be an original Wrightson?), but we do have some interesting news from Stephen King Catalog about a brand new HARDCOVER edition!
CREEPSHOW: 2017 EDITION - Library-Bound Special Order
by Stephen King.
These copies are produced for advance special orders and only for our customers.
Hardcover binding of the 2017 first Printing of the trade paperback edition.

This binding features original artwork by Glenn Chadbourne that is foil stamped on the front, back, and spine of the cloth binding
Signed on the end-paper by the artist Glenn Chadbourne.
A Silk book mark is bound in.
Hard cover binding is cloth.
Foil Stamping.
Artist signature stamped on each copy
All foil stamping images copyright 2017, Glenn Chadbourne.
A portion of the proceeds from the sale of this special King project is donated to Stephen Kings HAVEN FOUNDATION.
Wow! A lot of information about this book, which I thought would be out of print forever! This is awesome! It looks like publication date will be May 9th, 2017, so even if we don't have any information about Sleeping Beauties yet, this will - heh heh - tide us over!
December 15, 2016
Been Away Too Long! Dept. Okay, all, you caught me. I've been away from Charnel House for FAR too long. A lot of other stuff
has come up in my life that ... well, it didn't PREVENT me from updating, but it did distract me. Also, the fact that King's output has slowed way down has been a cause for some of the stagnation. I apologize - it's way more about me than you!
I hope you didn't miss King's two newest short stories, "Cookie Jar" (in the paperback edition of The Bazaar of Bad Dreams), and "The Music Room (in In Sunlight or In Shadow: Stories Inspired By the Paintings of Edward Hopper, edited by Lawrence Block..) I own this book, and it's fantastic, even beyond the King story (which is chilling in the best way). Lawrence Block is one of my other favorite writers, and I can't be rapturous enough about this collection.
On a (slightly) personal note, I want to alert you to the new anthology edited by my good friend, Hans-Ake Lilja. His website, Lilja's Library, has been around as long as Charnel House and covers all the news, not just the writing-related stuff that I tend toward. Recently, he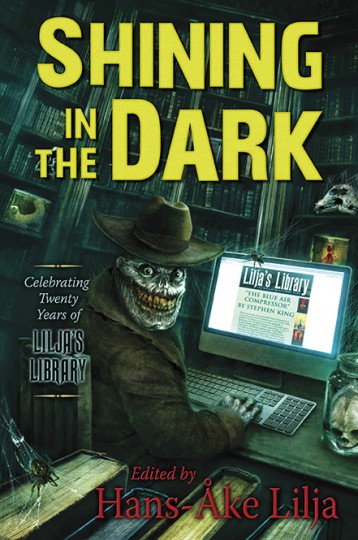 compiled a fantastic anthology called Shining in the Dark, featuring stories by a plethora of fantastic horror writers. Stephen King's long out of print and never-collected tale, "The Blue Air Compressor," kicks off the collection, and it's weird and creepy and unsettling. In addition, your ol' pal Kev has a story in this one, a tale of Bradburian terror called "Drawn to the Flame." I hope you like it.
Shining in the Dark is available in two states: signed limited hardcover and signed limited with slipcase. Both are available through Cemetery Dance, and both WILL sell out. Grab yours today for that special someone on the holidays!
More to come. 2017 is going to be an interesting year for Charnel House, and I hope you're going to keep checking back to find out why!
September 7, 2016
Cover Me! Dept. Here's something unique and interesting coming out of Dave Hinchberger's Stephen King Catalog: renowned fantasy/horror artist Glenn Chadbourne has been creating brand-new covers of Stephen King novels, along with amazing new dust jacket essays from King experts like Bev Vincent, Rocky Wood, and Hinchberger himself. From the Catalog site:
Glenn Chadbourne has been commissioned to create a complete line of covers for Stephen King's novels. Glenn Chadbourne, a major artist in the Stephen King world, is recognized by Stephen King readers from all over the world. His original art and books in association with Stephen King (The Dark Man, Secretary of Dreams volumes 1 & 2) are very popular.

At the request of the Stephen King Catalog and Overlook Connection Bookstore and Press Mr. Chadbourne is creating original covers for current and past Stephen King novels. As of this posting he has created new covers for The Shining, Doctor Sleep, and now 'Salem's Lot. Each cover also features original content on the dust jacket flaps from such guests as Rocky Wood, Dave Hinchberger, and Glenn Chadbourne has written "My Lot in Life" for the 'Salem's Lot cover.
Check out the whole series so far at the StephenKingCatalog.com! These are awesome!
July 25, 2016
The Stranger Things Keep Shining Through! Dept. Decider.com - the people who asked me to write reviews of the Hulu adaptation of 11.22.63 - asked me to write a Stranger Things "deep dive" through the eyes of a Stephen King fan. It's up now! Check it out!