News & Information

December 15, 2016
Been Away Too Long! Dept. Okay, all, you caught me. I've been away from Charnel House for FAR too long. A lot of other stuff
has come up in my life that ... well, it didn't PREVENT me from updating, but it did distract me. Also, the fact that King's output has slowed way down has been a cause for some of the stagnation. I apologize - it's way more about me than you!
That said, I do have some interesting things coming up! I'm going to be writing a King Year In Review 2016 and covering all the stuff that went on this year, up to and including his two newest short stories, "Cookie Jar" (in the paperback edition of The Bazaar of Bad Dreams), and "The Music Room (in In Sunlight or In Shadow: Stories Inspired By the Paintings of Edward Hopper, edited by Lawrence Block..) I own this book, and it's fantastic, even beyond the King story (which is chilling in the best way). Lawrence Block is one of my other favorite writers, and I can't be rapturous enough about this collection.
On a (slightly) personal note, I want to alert you to the new anthology edited by my good friend, Hans-Ake Lilja. His website, Lilja's Library, has been around as long as Charnel House and covers all the news, not just the writing-related stuff that I tend toward. Recently, he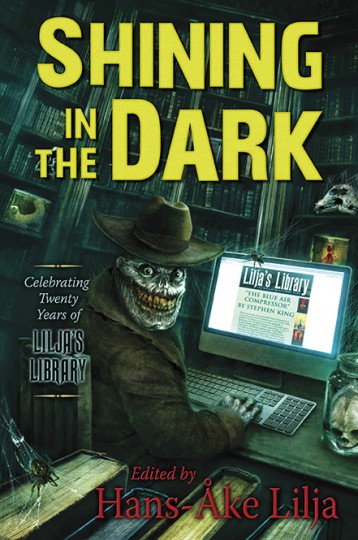 compiled a fantastic anthology called Shining in the Dark, featuring stories by a plethora of fantastic horror writers. Stephen King's long out of print and never-collected tale, "The Blue Air Compressor," kicks off the collection, and it's weird and creepy and unsettling. In addition, your ol' pal Kev has a story in this one, a tale of Bradburian terror called "Drawn to the Flame." I hope you like it.
Shining in the Dark is available in two states: signed limited hardcover and signed limited with slipcase. Both are available through Cemetery Dance, and both WILL sell out. Grab yours today for that special someone on the holidays!
More to come. 2017 is going to be an interesting year for Charnel House, and I hope you're going to keep checking back to find out why!
September 7, 2016
Cover Me! Dept. Here's something unique and interesting coming out of Dave Hinchberger's Stephen King Catalog: renowned fantasy/horror artist Glenn Chadbourne has been creating brand-new covers of Stephen King novels, along with amazing new dust jacket essays from King experts like Bev Vincent, Rocky Wood, and Hinchberger himself. From the Catalog site:
Glenn Chadbourne has been commissioned to create a complete line of covers for Stephen King's novels. Glenn Chadbourne, a major artist in the Stephen King world, is recognized by Stephen King readers from all over the world. His original art and books in association with Stephen King (The Dark Man, Secretary of Dreams volumes 1 & 2) are very popular.

At the request of the Stephen King Catalog and Overlook Connection Bookstore and Press Mr. Chadbourne is creating original covers for current and past Stephen King novels. As of this posting he has created new covers for The Shining, Doctor Sleep, and now 'Salem's Lot. Each cover also features original content on the dust jacket flaps from such guests as Rocky Wood, Dave Hinchberger, and Glenn Chadbourne has written "My Lot in Life" for the 'Salem's Lot cover.
Check out the whole series so far at the StephenKingCatalog.com! These are awesome!
July 25, 2016
The Stranger Things Keep Shining Through! Dept. Decider.com - the people who asked me to write reviews of the Hulu adaptation of 11.22.63 - asked me to write a Stranger Things "deep dive" through the eyes of a Stephen King fan. It's up now! Check it out!
July 6, 2016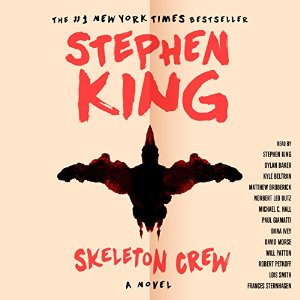 A New Crew For You! Dept. No one saw this coming. For the first time since it was released back in 1985, King's masterful collection Skeleton Crew is now available on audio ... unabridged.
You may not know how big a deal this is. And you should! Way back in the day, audio superstar Frank Muller recorded the entirety of Skeleton Crew over three separate recordings. Since, the book has been chopped up and winnowed down, to the point where only an audiobook called Skeleton Crew: Selections was available, containing just five stories. (You can read the whole history of the audio in my book, Blood In Your Ears). Now, as we continue to wait for an unabridged Pet Sematary, this news is AWESOME.
I don't have all the narrators lined up with their stories yet, but the book is narrated by Stephen King, Matthew Broderick, Michael C. Hall, Paul Giamatti, Will Patton, Norbert Leo Butz, Lois Smith, Dylan Baker, Kyle Beltran, Dana Ivey, Robert Petkoff, David Morse, and Frances Sternhagen! Unabridged! This news is off-the-charts exciting! Get it now:
Audible
July 4, 2016
Some More Cookies! Dept. Great news! King's creepy, awesome new story "Cookie Jar," is going to be collected in the mass market paperback version of The Bazaar of Bad Dreams, due in stores October 18th. Much like how "Under the Weather" made it to the paperback version of Full Dark, Now Stars, this bonus story will be exclusive to the mass market. Pre-order it now: on Amazon!
June 28, 2016
We're #1! Dept. It's official: End of Watch is a #1 New York Times Bestseller! This is important for a lot of reasons. This is Stephen Kings thirty-ninth #1 bestseller - the highest number of #1s for anyone who writes their own books. The Bill Hodges Trilogy is also King's longest series in which all books are #1 - of the eight books of the Dark Tower series, only 3 went to #1; there are only 2 books (so far) in the Talisman series. More remarkably for King's career, this continues his longest string of #1 novels ever. Ever! His previous record was six consecutive #1s: It, Misery, The Tommyknockers, The Dark Half, The Stand (Complete & Uncut), and Four Past Midnight. Now, we've got eight in a row: 11/22/63, The Wind Through the Keyhole, Doctor Sleep, Mr. Mercedes, Revival, Finders Keepers, The Bazaar of Bad Dreams, and now End of Watch. It's a remarkable feat for anyone. Now, we breathlessly hold our breath for Stephen King's next book. Will it be his fortieth #1? Keep your eyes on this site! (And take a look at my Chart of Darkness page for all the stats on King's chart success!)
June 23, 2016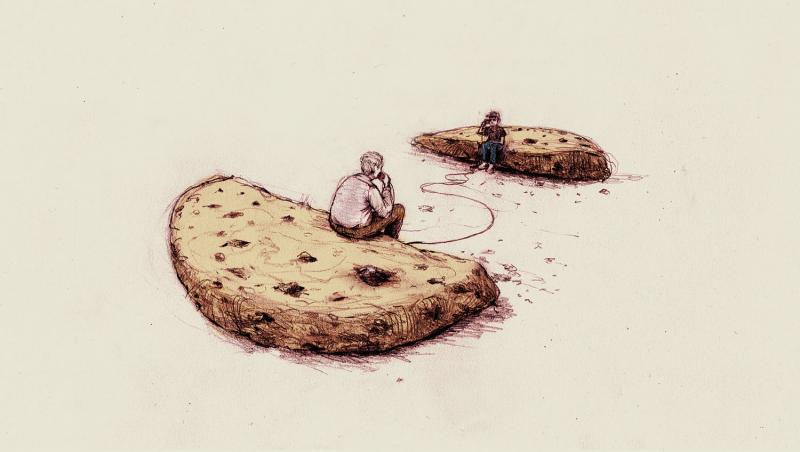 Free Cookies! Dept. Um, so Stephen King has a brand-new story online called "Cookie Jar." It's been online since the end of May and this is somehow the first I'm hearing of it. It's a "42-Minute Read" on VQR: A National Journal of Literature and Discussion. So: new King fiction, RIGHT NOW FOR FREE! Go, read!
June 15, 2016
Scaring Us to Death! Dept. Some fantastic news coming down the pike from the Dark Tower Forum. In Iowa for the End of Watch book tour, King confirmed that not only will his & Owen King's Sleeping Beauties be out next year, but King has a new solo novel that is "scaring him to death." He also briefly touched on the fact that "the Talisman was due for a third book." ALL good news. Thanks to commenter "roseannebarr" for the information!
June 15, 2016
There's Got to Be a Mourning "After"! Dept So this goes firmly in the "whoa" category. A collector recently discovered that he had an early manuscript of The Shining, back when it was still called "The Shine." Included in this manuscript is the long-lost afterword "After the Play" (the manuscript doesn't even include "Before the Play," which may have been written later.) The piece includes a "Newslog," a Carrie-like segment featuring faux news clippings about the event, plus a version of the "Summer" chapter that completed the book. The good news: both "After" and "Before" are going to be included in the Cemetery Dance limited edition of The Shining, coming this October. The bad news: it's a sold-out print run! Who knows, maybe they will have some for sale later? Either way, this is a one-of-a-kind book! So thrilling that this is finally making it to print!
June 11, 2016
Sleeping on the Job! Dept. There've been rumblings about this in the past, but recently in Charleston on his book tour for End of Watch, King confirmed it. He and son Owen King have collaborated on a novel, titled Sleeping Beauties. This is the fourth time Stephen King has collaborated on a book-length work: his two team-ups with Peter Straub (The Talisman and Black House) and his nonfiction book about the Red Sox with Stewart O'Nan, Faithful, precede it. Sleeping Beauties is set in a woman's prison in West Virginia, but currently we don't know any more about the book. Is it set in the past? Is it contemporary? How did the writing process take place? Who are the characters? Is it horror? All good questions; absolutely no answers.
It's interesting that Stephen King and Owen King are collaborating on a book together. Stephen has worked with Owen on a short work before - "I Hate Mondays" - but it's never been published. More recently, King has collaborated with his other son, Joe Hill, on work that seems to fall more squarely in the horror genre: "Throttle" and "In the Tall Grass," both of which would have been strong additions to King's terrific Bazaar of Bad Dreams collection, but were left out. Owen King's not generally a horror writer. His stellar novel, Double Feature, feels more early John Irving or Nick Hornby; ditto his fantastic novella "We're All In This Together." Then again, one might argue that Stephen King writes a lot less horror than his reputation would seem to indicate - just look at Different Seasons, Dolores Claiborne, 11/22/63, even Joyland (despite its ghost) to know how easily and effectively King works in more mainstream lit.
The book is in its first draft right now, meaning we won't see this book until next year at the very earliest. Keep your eyes on Charnel House and I'll update you as often as I can!
June 1, 2016
Hodges Your Bets! Dept. It's here: my End of Watch review is now up!
May 12, 2016
He Derwent Thataway! Dept. You've been waiting for this since 1977, and now it's yours. In the grand recent tradition of Stephen King revisiting his early, unpublished work (Blaze, The Cannibals, "The Cat From Hell"), the new Cemetery Dance limited edition of The Shining will include the complete & uncut version of "Before the Play," King's masterful prologue. This 5-part appetizer for King's modern masterpiece will be included in all versions of CD's fantastic limited, part 3 of their Doubleday Series. Grab yourself a copy today; supplies are, by their very nature, limited: The Shining: The Deluxe Special Edition.
April 18, 2016
Retro Electric! Dept. To celebrate the 20th anniversary of the release of The Green Mile (yes, it's been twenty years; Charnel House and The Green Mile share an anniversary), Scribner and Amazon have partnered to do an extremely cool re-release: the book will be coming out as initially intended, as a series of six installments. Back in 1996, they were chapbooks that came out about a month apart; now, they're Kindle Singles, with brand-new cover art reminiscent of Penguin Classics, coming every other week. Check it:
You can get volume one right now, delivered direct to your Kindle for the exact same price as "The Two Dead Girls" cost back in 1996. And if you want, you can pre-order the other volumes, too (and, bonus, the whole thing will end up costing less - "Coffey on the Mile," the final volume, cost $2.99 back then; now, it's the same price.) I'm really into nostalgia, so this type of thing is exciting to me, especially those awesome covers. Here's the release schedule:
"The Two Dead Girls," out now
"The Mouse on the Mile," April 26
"Coffey's Hands," May 10
"The Bad Death of Eduard Delacroix," May 24
"Night Journey," June 7
"Coffey on the Mile," June 24

Fun stuff! If you've never read The Green Mile before, this is arguably the best way. Enjoy the journey!
April 12, 2016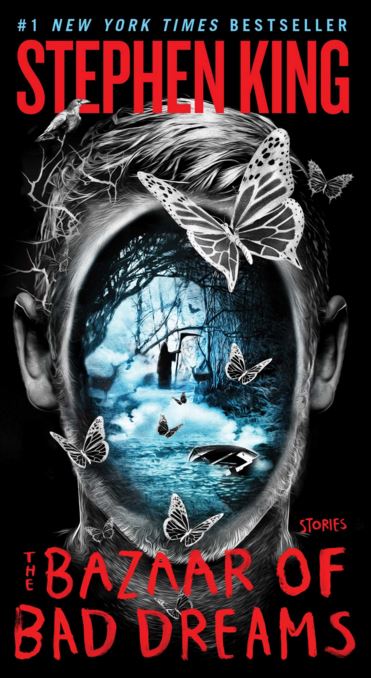 Just a Little Bazaar! Dept. The mass-market paperback for King's stunning collection of short fiction, The Bazaar of Bad Dreams, will arrive in stores October 18th, a little bit before Halloween. With Finders Keepers just out and Doctor Sleep finally coming to mass-market on July 26th, the only King book yet to come back to bookstores as a mass-market is, ironically, Revival. More news as it develops! Pre-order your copy now!
April 10, 2016
There's Got To Be Something Better Than In Between! Dept. In a recent interview with Radio Times (check it out here), King confirmed everyone's fears and also bolstered their hopes:
I'm between [writing projects] now. I'm collaborating on a book with my son Owen ... The book goes back and forth. We're almost done with it, and I'm not sure what I'm going to do next.
For those of you lucky readers who have read Owen's books, you know his style and Stephen King's are somewhat dissimilar. We're All In This Together, his story collection, headlined with a mainstream literary story and featured some bizarre fantastical tales - all well-written, all somewhat bonkers. His novel, Double Feature reads like a lost John Irving novel, and that's high, high praise. It will be interesting to see and read a collaboration between these two. King has collaborated with his other son, Joe Hill, on the novella "Throttle" and the short story "In the Tall Grass," but this would be the first time he's co-authored a full-length fiction project with anyone in his family (indeed with anyone but Peter Straub). And alas, the idea that he'd be between writing projects is dismaying. Let's hope that changes soon!
April 4, 2016
We Got Title! Dept. Today on his official website, King confirmed the title of his story for the upcoming Lawrence Block anthology, In Sunlight or In Shadow: "The Music Room." Pretty evocative title - is the music room haunted, maybe? - but we've got nothing further to go on yet. While we're all still champing at the bit for a new novel mention, the news of a new short story and a new essay (in the upcoming Hearts In Suspension) is tiding us over nicely.
April 4, 2016
Essays in Sadness! Dept. Ah well, I had a feeling the news was too good to last. As reported by our good friend Lilja over at Lilja's Library (via King's message board), Hearts In Suspension is
...a non-fiction book with essays by Stephen and others about his time as a student at the University of Maine. It's tentatively set for release in October but that's subject to change.
Ah well. At least we know we're getting that new short story in the Lawrence Block collection and now a new essay. I guess we'll just have to wait for a new book. And wait. And wait.
April 1, 2016
Don't Keep Us In Suspense! Dept. Here's something interesting. Today on Twitter, Stephen King dropped a duo of interesting tweets:
Now, WHAT DOES THIS MEAN? Well, first off: here's King: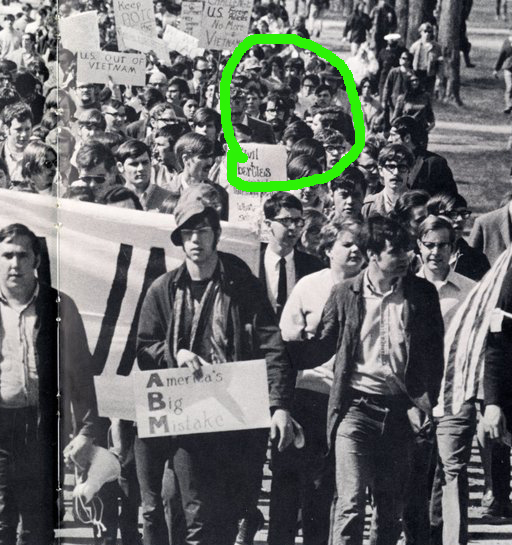 Second off: is this a new book? Is this a sequel to Hearts in Atlantis? In Stephen King Goes to the Movies, King revealed that there was a new story titled "The House on Benefit Street," a leftover story that had yet to be written. Perhaps, now, it has ... and perhaps there's a whole new book surrounding it. All I know is, there seems to be a new book coming, and the long wait for news of a post-End of Watch book might be over. Right now, all this is speculation (and, who knows, it might be an April Fool's prank). But keep your eyes on Charnel House, and we'll fill you in as soon as we can. This fall, huh? We can wait till the fall.
April 1, 2016
Not a Joke, Not a Drill! Dept. Well, it's not the new book news we've been waiting for, but it's the next best thing. Lawrence Block, brilliant mystery & crime novelist (whose first book featuring Matthew Scudder appeared as a limited edition featuring a foreword by Stephen King) has edited a curious and exciting new book featuring stories inspired by the work of American emotional realist painter Edward Hopper. The roster of authors is fantastic - everyone from Joe R. Lansdale to Joyce Carol Oates to Block himself - but of interest here is what appears to be a brand-new story by Stephen King. No news on the story yet, but using deductive reasoning (as these are stories written to a theme), it doesn't seem premature to believe this is all new work. The book, In Sunlight or In Shadow: Stories Inspired by the Paintings of Edward Hopper is out in hardcover December 6, and you can order it now!
March 23, 2016
Stephen King's British publisher, Hodder & Stoughton, has released a new statement about King's upcoming Bill Hodges' trilogy finale, End of Watch:
The cell rings twice, and then his old partner in his ear... 'I'm at the scene of what appears to be a murder-suicide. I'd like you to come and take a look. Bring your sidekick with you, if she's available...'

Retired Detective Bill Hodges now runs a two-person firm called Finders Keepers with his partner Holly Gibney. They met in the wake of the 'Mercedes Massacre' when a queue of people was run down by the diabolical killer Brady Hartsfield.

Brady is now confined to Room 217 of the Lakes Region Traumatic Brain Injury Clinic, in an unresponsive state. But all is not what it seems: the evidence suggests that Brady is somehow awake, and in possession of deadly new powers that allow him to wreak unimaginable havoc without ever leaving his hospital room.

When Bill and Holly are called to a suicide scene with ties to the Mercedes Massacre, they find themselves pulled into their most dangerous case yet, one that will put their lives at risk, as well as those of Bill's heroic young friend Jerome Robinson and his teenage sister, Barbara. Brady Hartsfield is back, and planning revenge not just on Hodges and his friends, but on an entire city.

The clock is ticking in unexpected ways ...

Both a stand-alone novel of heart-pounding suspense and a sublimely terrifying final episode in the Hodges trilogy, End of Watch takes the series into a powerful new dimension.
Still, insanely, no news on a new book following End of Watch, and I'm really hoping that title doesn't prove to be prescient. Keep your eyes here for all the news as it comes!
March 23, 2016
The stars of 11.22.63 are digging my reviews of the show on Decider! James Franco:
And Kelly McCormack:
This is awesome! More reviews to come: keep following me on Decider.com!
February 23, 2016
Just found this. Anyone know what it is?
February 22, 2016
More Miniseries Madness Dept.! My new review for the second episode of 11.22.63 is now up on Decider.com. It's called "The Kill Floor" and I compare it, favorably, to Quantum Leap. YES!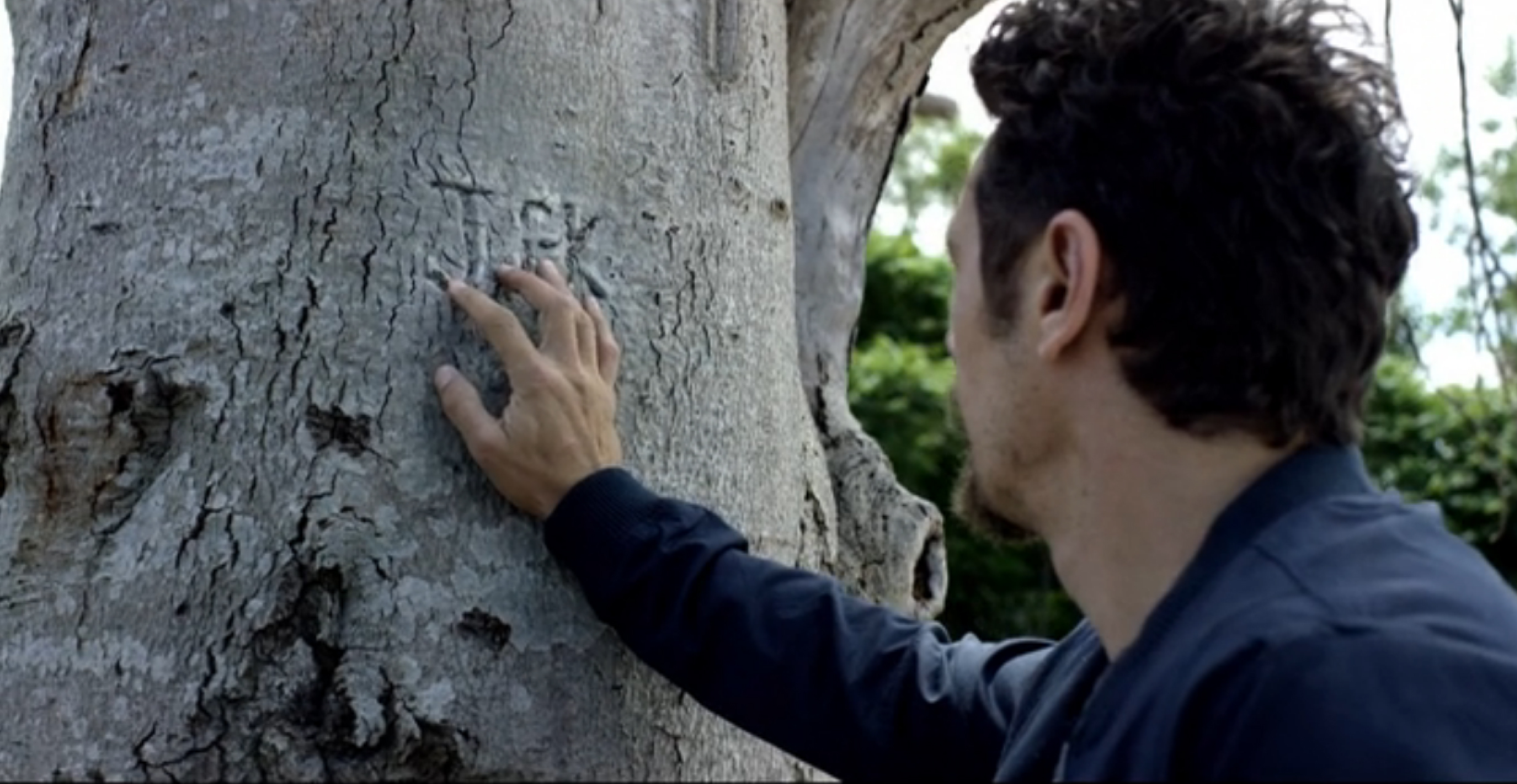 February 16, 2016

Miniseries Madness Dept.! I've mostly stayed away from reviews of visual adaptation of King's work here on this site (the closest I've gotten is the The Illustrated Stephen King Movie Trivia Book), but now I'm writing episode reviews for the JJ Abrams miniseries adaptation of 11.22.63! The first episode review - for "The Rabbit Hole" - is up now! Check it out and I hope you like it!

February 2, 2016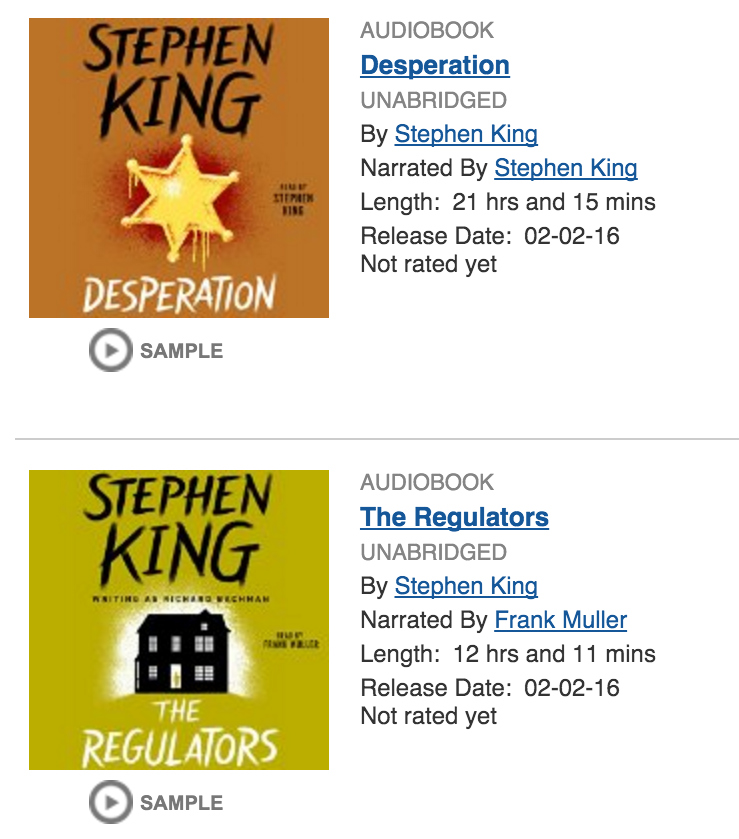 Our Desperation Has Been Regulated! Dept. Whether it was a plan on along, or Audible started listening to my increased Twitter pleas, both the unabridged versions of Desperation and The Regulators are now available on audio!

This is especially important for any fans of audiobooks, for several reasons: 1. the previously available versions of the audiobooks were both well-read by Kathy Bates (Desperation) and Kate Nelligan (The Regulators) ... but both were unfortunately unabridged. 2. These current versions have never been released commercially, though libraries loaned them as books on tape when the novels were contemporary (1996). 3. The readers could not be any better. The unabridged Desperation is read by Stephen King himself, while The Regulators is read by the late, great superstar of audio, Frank Muller! Both books come to life on these audio recordings - if you've ever enjoyed a Stephen King reading (especially The Waste Lands, Wind Through the Keyhole, or Needful Things) or a Frank Muller (especially Green Mile, Different Seasons, or non-King books as varied as 1984 and Moby-Dick), you owe it to yourself to check out these recordings.

Both books are available on Audible right now, so if you have some credits or are willing to drop a few bills, grab these long-sought audiobooks ASAP. Now the wait begins for Pet Sematary....

January 7, 2016

20 Years Strong! Dept. We are officially twenty years old, folks. Remember way back when I was first up? My url was entragian.com, because Desperation was new and I was so excited. My page background was black and all my text was white, because I thought it was easy to read. And fun! I had a .gif of a chain breaking, and if you clicked on it, you could visit Stephen King LINKS. Oh man, the weird old days.

It's 2016. Looking to make some cosmetic changes to the page this year, starting with the banner. As always, I'll be bringing you the best content as it comes, including a full-length review of End of Watch, plus whatever else comes up. WILL anything else be coming up? We finally got word from Ms. Mod over on the official King message board today, when someone said what we were all thinking: "It worries me that we have no news on any projects coming down the pike past END OF WATCH."
That won't be the last book. He's working on a couple projects at the moment but I can't say more than that.
Okay, okay. SIGH OF RELIEF. What could the new work be? Talisman 3? A new Dark Tower midquel - Battle of Jericho, maybe? Or my preference: something completely new? Sadly, we have to wait. And, like Tom Petty said, waiting is the hardest part.

See you around 2016!

November 14, 2015

Bazaar of Bad(ass) Sales! Dept. Stephen King's newest book, the uncommonly strong The Bazaar of Bad Dreams has hit #1 on the New York Times Hardcover Fiction bestseller list, making it King's thirty-eighth #1 novel, making him still the author with the most #1 books he actually wrote. This particular achievement is exciting for a number of reasons, not the least of which because it's the first #1 book of shorter fiction since 2002's Everything's Eventual. While it's unusual for any author to place a book of short stories at #1, King's collections have been a little up and down throughout his career. Coming right after The Shining, King's first hardcover bestseller, Night Shift (1978) failed to place, making it King's last mass-produced fiction hardcover to miss the chart entirely. King's first novella collection, Different Seasons (1982) and his follow-up story collection, Skeleton Crew (1985) - both released at the height of King mania - hit the charts in a big way, slamming into the top spot. Seasons stayed there for three weeks, and Crew an astonishing ten.

Four Past Midnight, King's second novella collection, followed in 1990, and stuck fast at #1 for five weeks, but Nightmares & Dreamscapes, released just three years later, stalled at #2. Everything's Eventual, King's first short-works collection in the Scribner era, hit #1 in 2002 and stayed there for two weeks before dropping back down. Since, though, collections have seemed to follow the Nightmares & Dreamscapes method: the masterful Just After Sunset only rose to #2 in 2008, as did his third novella collection, Full Dark, No Stars, in 2010. So this Bazaar of Bad Dreams is terrific news, not just for King fans but fans of the short story. A terrific collection that will hopefully sell well through the holiday season, and maybe stick around at #1 for awhile. Congratulations to Mr. King for the big 3-8!

November 10, 2015

Bad Dreams for Review! Dept. My review of The Bazaar of Bad Dreams is now up! Check it out!

November 10, 2015

I'm Waiting for the Paperback! Dept. Our long national nightmare is nearly over. Since 1998, Scribner has been angling to make King seen as a prestige author - horror, sure, often, but also a Serious Writer. Bag of Bones had blurbs by Amy Tan on it instead of Jack Ketchum, for instance. One of the side-effects of this has been the method of release. The hardcover still comes first, but it's now followed about six months later by a trade paperback, as opposed to about a year for the mass market, as had been the practice for most King books since Carrie. Wherefore the mass market paperbacks? Sometimes they delay. Sometimes they don't come out at all. It took five years and the popularity of the TV show to get Under the Dome out in mass market. King's enormously popular 11/22/63 has been out since 2011, with no mass market in sight. Ditto the Stoker Award-winning Doctor Sleep, out in 2013.

Now, all that is about to change.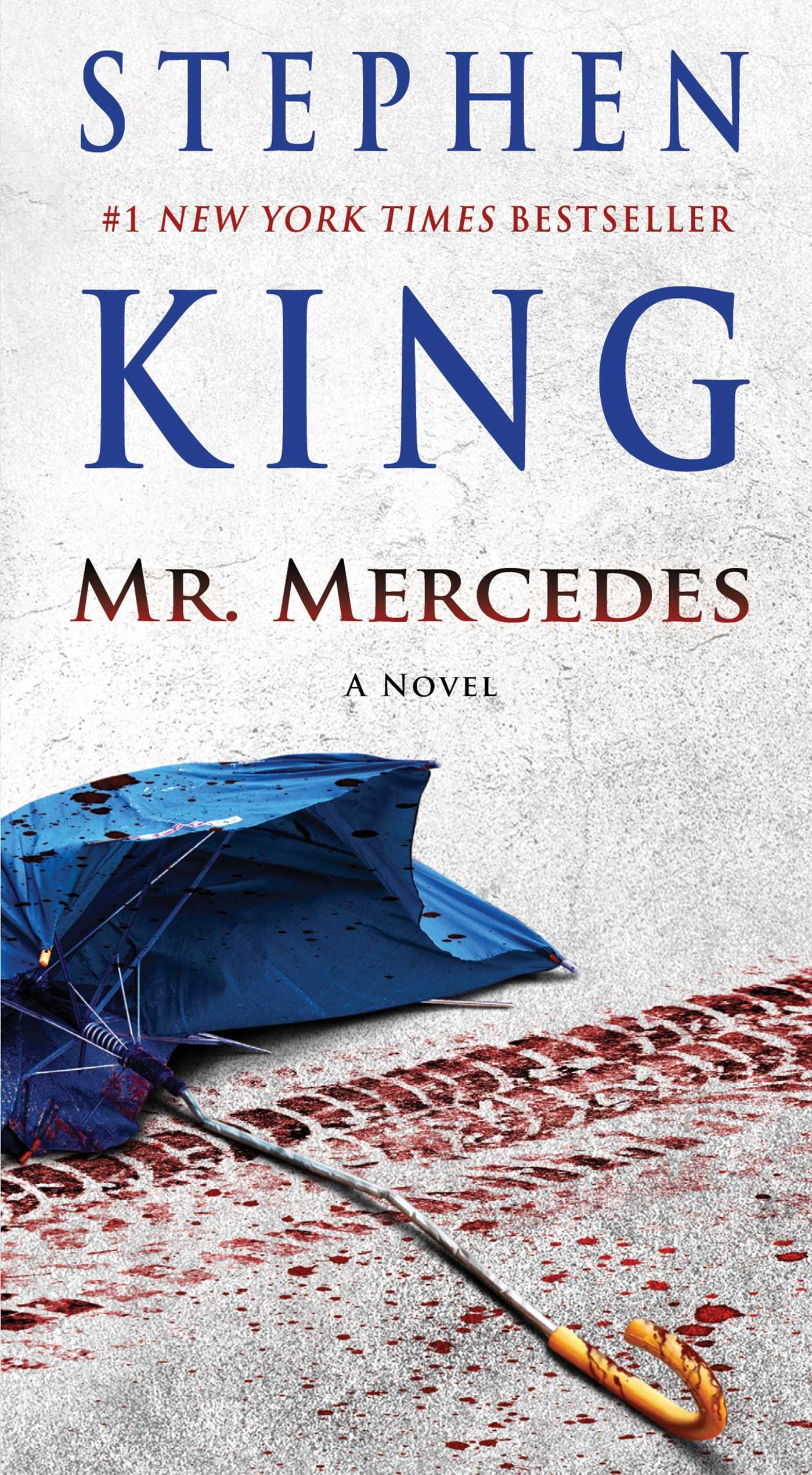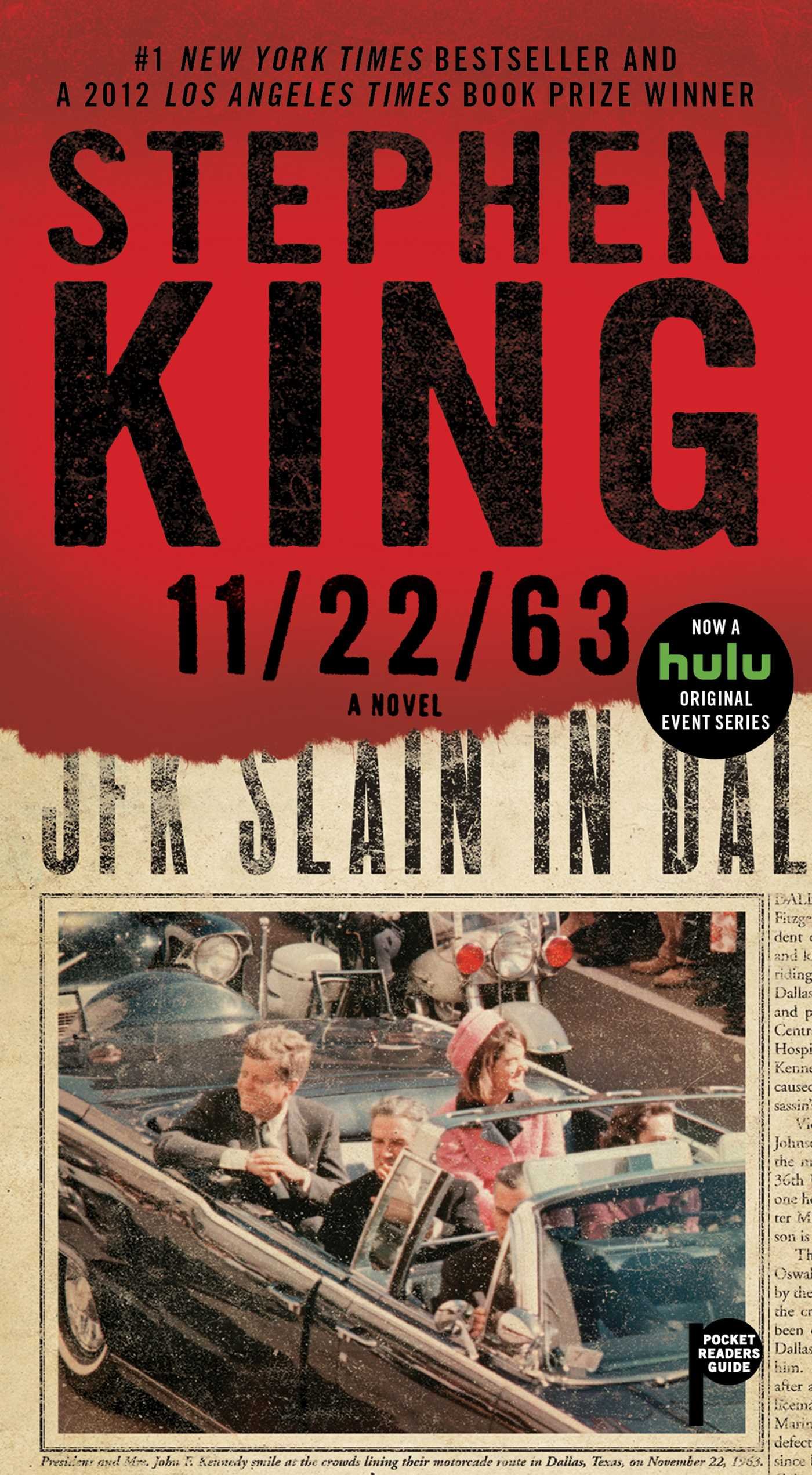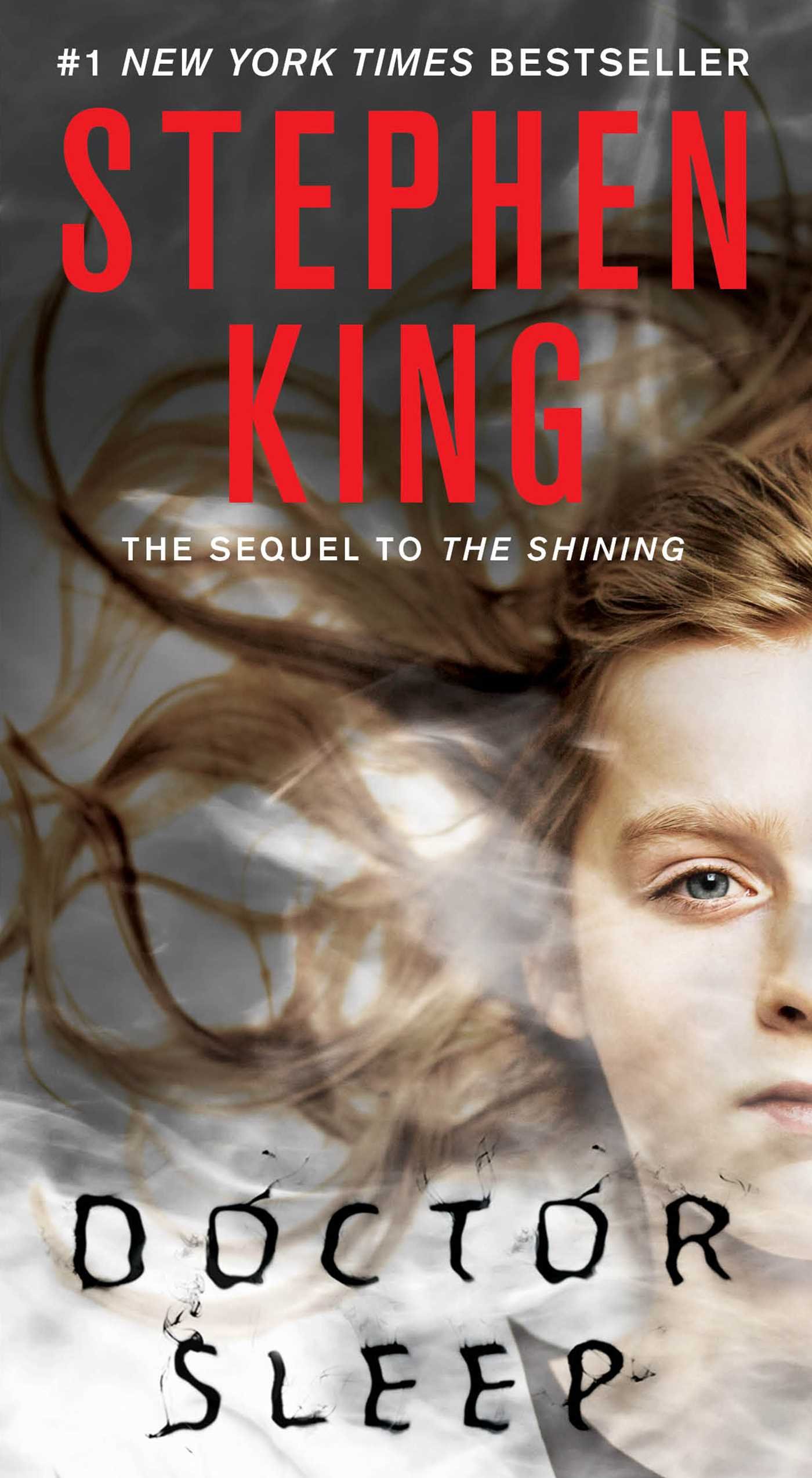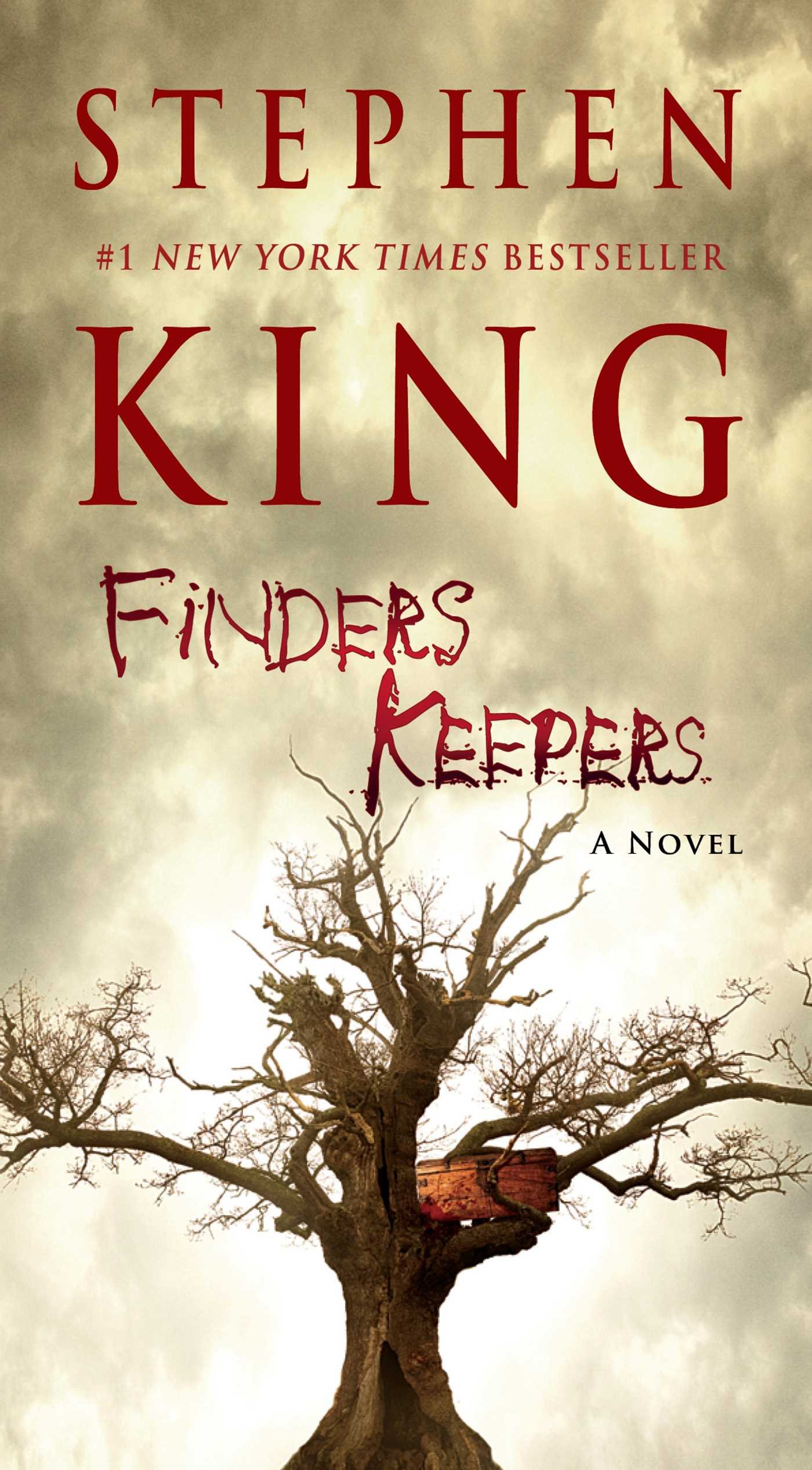 I'm declaring 2016 the year of Stephen King mass market paperbacks ... even though we're starting a little early. The first book in the Bill Hodges trilogy, Mr. Mercedes, is coming to paperback on December 29, 2015 ... and that's just the start. In rapid succession, we're then getting 11/22/63 (likely due to the tie-in possibilities of the new Hulu series) on January 26, 2016. Finders Keepers (Bill Hodges #2) comes to mass market paperback on March 22, followed by Doctor Sleep on July 26th (with a stopover in hardcover country when End of Watch, the final Bill Hodges novel, arrives in early July).

This is great news for a lot of reasons, most importantly that here's a significant portion of King's readership who remain paperback readers. He's still a hit with teens and young people, and paperbacks are still all they can afford. These releases will allow everyone who wants a Stephen King book to get a Stephen King book. Plus, I now get to plug the gaps in my paperback collection. Hooray!

November 2, 2015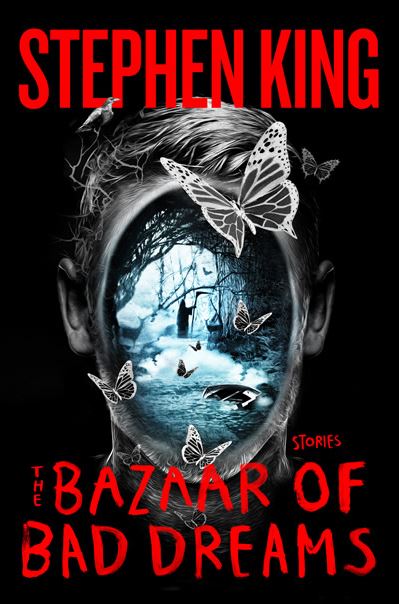 How Bizarre, How Bizarre! Dept.: IT'S RELEASE DAY! Today, Stephen King's newest book, The Bazaar of Bad Dreams hits store shelves and online-ordered porches today! Bazaar follows a rich tradition of Stephen King short story collections. As early as his fourth book - Night Shift (1978), King has been consistently collecting and presenting his short stories (and occasionally poems) to the world at large every six to nine years or so. From the popular high water mark of 1985's Skeleton Crew to the sprawling and occasionally brilliant Nightmares & Dreamscapes (1993), the return to #1 with Everything's Eventual (2002), and the creative peak of Just After Sunset (2008), these collections have dotted the King landscape like little islands in a vast sea of novels. In his introduction to Bazaar, King answers plainly why he still writes short stories: simply, because it's fun to do it, and because it helps him work on his craft. This continued enthusiasm for the short story is heartening, especially after his more equivocal introduction in Everything's Eventual, where he seemed to hit a low point in wanting to write shorter fiction, and his renewed excitement for the form in Sunset.

A full review to come!

October 27, 2015

So, here it is: I've been running Charnel House for nearly half my life (seriously: started when I was twenty-one, and now I'm forty) and in all that time, I've never asked for donations. But it's a monthly site and I pay for it out of pocket, so I figure, why not try it now? There's a little donation link under the banner, so if you want to send Charnel House some dough to pay for upkeep, feel free! Thanks for reading and being amazing!

October 12, 2015

Backlist Boogalo Dept.! Scribner just got the majority of King's back catalog from Viking. The press release!
Major Publishing Agreement Includes Print, Digital and Audio Formats To be Published by Scribner, Pocket Books, Gallery, and Simon & Schuster Audio

NEW YORK, October 12, 2015—In a landmark publishing agreement, Stephen King's publisher of twenty years Scribner has acquired North American and Open Market print, e-book, and audio rights to almost the entirety of the bestselling author's body of work. The 27 titles in the agreement include classic Stephen King novels such as: IT, Misery, Dolores Claiborne, Christine, Cujo, The Dead Zone, and Firestarter; the novella collections Different Seasons and Four Past Midnight; and the first four volumes of Stephen King's Dark Tower series (please see below for a full list of titles). E-book and e-audio editions of the acquired titles will be available from Scribner and Simon & Schuster Audio beginning on January 1, 2016. Print editions in trade and mass market paperback from the Scribner, Pocket Books, and Gallery imprints will follow. News of the agreement was announced today by Nan Graham, Senior Vice President and Publisher of Scribner and Stephen King's editor.

"It's a no-brainer, really," said Stephen King. "Good publishing and good relationships equals happy writers and long shelf life. I know from experience that this group of people—at Scribner, at Pocket, at Simon & Schuster Audio, and throughout the company—values the work I do, and wants to find as many readers as possible for the books I write, both now and in the future. Trusting them with this large body of work is my pleasure. We are excellent allies and good friends."

"Since we first began publishing Stephen King with Bag of Bones, he has continually challenged and inspired us, bringing to us new and exciting books of astonishing range and variety, that are each and every one an event for reader and publisher alike," said Carolyn Reidy, President and Chief Executive Officer of Simon & Schuster, Inc. "So after nearly twenty years in which he has energized and touched nearly every part of our company, we well know and understand the strength and power of his backlist, and are simply overjoyed to have this rare opportunity to bring to Simon & Schuster this vibrant and vital catalog of Stephen's earlier works."

"As we are daily grateful to Scribner's Max Perkins for F. Scott Fitzgerald and Ernest Hemingway, our successors will be grateful to us for Stephen King, whose books will get under the skin of readers long after we are gone," said Nan Graham. "Scribner is honored and thrilled to have published Steve for two decades, to look forward to a future of publishing him, and to take on this magnificent backlist. In addition to being one of the greatest storytellers of all time, Stephen King is a stellar citizen of the book world. We love his writing. We love him."

"For almost the entire course of my long career in publishing, Stephen King has been a towering feature of the international book publishing landscape," said Susan Moldow, President of the Scribner Publishing Group. "Empires have risen and fallen, but Stephen King has continued to both dominate bestseller and year-end best-of lists. It is a joy beyond imagining to welcome these core titles to Scribner's venerable backlist."

"Pocket Books enthusiastically embraces adding these wonderful books to our existing King backlist program which continues to provide robust sales for all of our booksellers in paperback," said Louise Burke, President of the Gallery Books Publishing Group.

"Stephen King's support for the audiobook medium is unmatched by any author," said Chris Lynch, President and Publisher, Simon & Schuster Audio. "From his willingness to publish original audiobooks to his advocacy of the joys of listening to his occasional stints behind the microphone, Steve has been the perfect publishing partner from day one. We are thrilled to expand that partnership."

In the two decades since Scribner became Stephen King's publisher, he has written many of his most critically-acclaimed books, from Lisey's Story to On Writing, from the culmination of the Dark Tower series to Under the Dome and 11/22/63. In this time, he has also won numerous literary honors, from the National Book Foundation's Medal for Distinguished Contribution to American Letters to the National Medal of Arts, recently presented by President Obama. King's audiobooks have won multiple Audie Awards, including Best Fiction wins for Doctor Sleep, Duma Key, and The Talisman and Audible Audiobook of the Year wins for 11/22/63 and Doctor Sleep. Stephen King's short story collection The Bazaar of Bad Dreams will be published by Scribner on November 3. Nan Graham negotiated the agreement on behalf of Scribner, Gallery/Pocket Books, and Simon & Schuster Audio with literary agent Chuck Verrill of Darhansoff & Verrill.

Here's the full list of titles:

Christine
Cujo
Cycle of the Werewolf
The Dark Half
The Dead Zone
Desperation
Different Seasons
Dolores Claiborne
The Eyes of the Dragon
Firestarter
Four Past Midnight
Gerald's Game
IT
Misery
Needful Things
Rose Madder
Skeleton Crew
The Tommyknockers
The Long Walk (writing as Richard Bachman)
Roadwork (writing as Richard Bachman)
The Running Man (writing as Richard Bachman)
Thinner (writing as Richard Bachman)
The Regulators (writing as Richard Bachman)
The Gunslinger (The Dark Tower series)
The Drawing Of The Three (The Dark Tower series)
The Wastelands (The Dark Tower series)
Wizard and Glass (The Dark Tower series)


Also acquired earlier: Carrie, 'Salem's Lot, The Shining, The Talisman, Black House and Pet Sematary.

Not yet acquired: The Stand, Danse Macabre, Joyland, Colorado Kid, and Night Shift.

Let's see what all this brings! My big hope? Pet Sematary on audio, and King's version of Desperation and Frank Muller's The Regulators out commercially!

October 9, 2015

Watching the Detectives Dept. Release date! Description! Cover art! It looks like the final part of the Bill Hodges trilogy, End of Watch, will be released on June 7, 2016 (currently, King's only scheduled book for next year). From the book jacket:

IN ROOM 217 OF THE LAKES REGION TRAUMATIC BRAIN INJURY CLINIC, SOMETHING HAS AWAKENED. SOMETHING EVIL.

Brady Hartsfield, perpetrator of the Mercedes Massacre, where eight people were killed and many more were badly injured, has been in the Traumatic Brain Injury Clinic for five years, in a vegetative state. According to his doctors, anything approaching a complete recovery is unlikely. But behind the drool and stare, Brady is awake, and in possession of deadly new powers that allow him to wreak unimaginable havoc without ever leaving his hospital room.

Retired police detective Bill Hodges, the unlikely hero of Mr. Mercedes and Finders Keepers, now runs an investigation agency with his partner, Holly Gibney, who delivered the blow to Hartsfield's head that put him on the brain injury ward. Brady also remembers that. When Bill and Holly are called to a murder-suicide with ties to the Mercedes Massacre, they find themselves pulled into their most dangerous case yet, one that will put not only their lives at risk, but those of Hodges's friend Jerome Robinson and his teenage sister, Barbara. Because Brady Hartsfield is back, and planning revenge not just on Bill Hodges and his friends, but on an entire city.

In End of Watch, Stephen King brings the Hodges trilogy to a sublimely terrifying conclusion, combining the detective fiction of Mr. Mercedes and Finders Keepers with the supernatural suspense that has been his trademark. The result is an unnerving look at human vulnerability and up-all-night entertainment.

Will this book hit #1 like the other two books in the series? Will we get an announcement about a new book any time soon? Will King return to the trilogy at any point in the future? Keep an eye on this space for all those answers and MORE!

September 21, 2015

HAPPY BIRTHDAY! Dept. Today, Stephen King turns 68! He's got four decades to catch up with Mother Abigail; let's hope he keeps writing till then. Happy birthday, Mr. King, and once again, thank you!

September 9, 2015

Suck It, Harold Bloom Dept.! Tomorrow, President Obama will be awarding a National Medal of Arts to Stephen King for "for his contributions as an author. One of the most popular and prolific writers of our time, Mr. King combines his remarkable storytelling with his sharp analysis of human nature. For decades, his works of horror, suspense, science fiction, and fantasy have terrified and delighted audiences around the world." This is an absolutely thrilling validation of King's talent and influence on the world at large. We here at Charnel House believe it couldn't go to a better novelist.

For more, click here!

August 28, 2015

Fecundity Dept.! King has written an insightful article titled "Can a Novelist Be Too Productive?" for the New York Times, discussing writers who have written over 400 books to those who have written three or four. This is one of those essays that absolutely belongs in a book of King nonfiction, should he ever choose to release a collection like that.

July 30, 2015

Cover Me Dept.! We now have a cover for the US paperback of Finders Keepers, a lot more sepia and moody than the more colorful hardcover. Judging by the dimensions, it seems as if this won't be a trade paperback, but will be one of those oversized paperbacks that are for some reason (there are a few reasons) are all the rage. Recently, I was in Paris (yes, webmasters sometimes get to leave the country) and they were selling the "international edition" of Mr. Mercedes, and it was the size of the mass market paperbacks as they were before the 2000s. So, if you're in need of symmetry, look into that concept. If you're not, go nuts on this version! Release date to come!

July 1, 2015

Self-Promotion Dept.! All! I wrote a book! It's true! I wrote it over the course of the last few years for Cemetery Dance. It's called 13 Years: Stephen King in the Twenty-First Century
Since 2000, I've been writing and publishing my Stephen King thoughts through a variety of media. I've been running this site since the antique year of 1996. Some of these pieces were initially published as portions of chapbooks through Cemetery Dance Publications. More of the recent work originally appeared on FEARnet.com. Not a lot has been written about King's most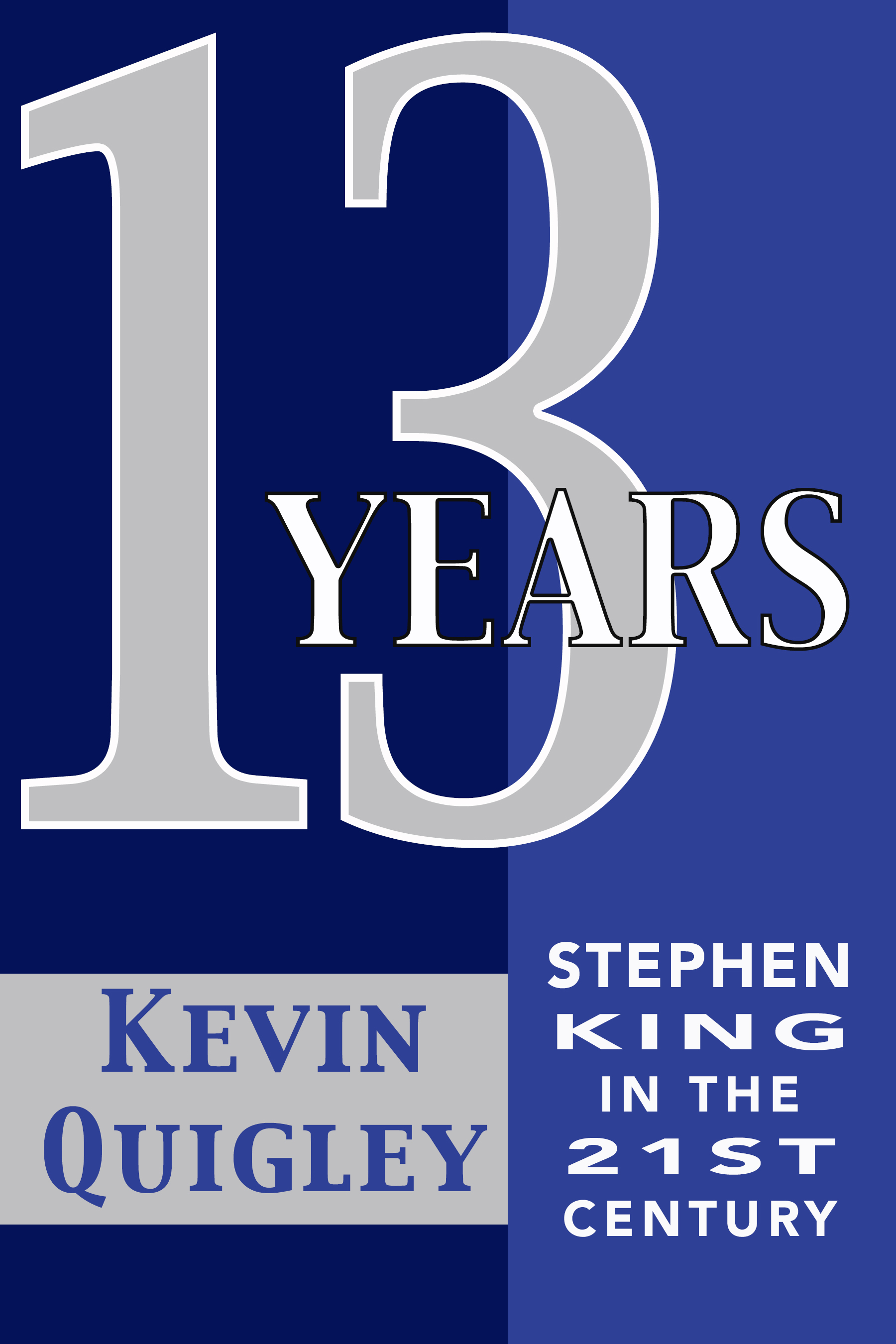 contemporary work. In the 1980s and early 1990s, there was an explosion of writing on King. Since the turn of the century, however, the (somewhat scant) books on King seem to remain focused back on those "glory days," even though King is doing some of his best and most interesting work now. Recent work, like Bev Vincent's Twenty-First Century King, point the way toward correcting that. With 13 Years, I hope to forward the momentum. There's a lot of great stuff out there, just waiting to be unearthed. Here's a shovel.
June 12, 2015
Watch Out Dept.! It seems as if the title for the third Bill Hodges book will not be The Suicide Prince, as previously believed. Ms. Mod on King's message board has confirmed that the title is now End of Watch. While it's a perfectly fine title and makes sense as the final book in a series, it's a bit more generic than the more evocative Suicide Prince. Ah well. Still looking forward to it!
June 4, 2015
Emma Let You Finish Dept.! Stephen King talks all about his literary life in this super fun new interview with The New York Times. Books he loves, books he hasn't read, books he's championing - all right here! Check it out!
June 2, 2015
Laydown Dept.! Folks, today is the day! Finders Keepers is out in bookstores and online retailers right now! It's a terrific book (you can read my review on my Finders Keepers page), and you'll want to snatch it up as soon as you can! Happy reading, all!
June 1, 2015
We Found It! Dept. My review of Finders Keepers, mostly spoiler-free, is now up on its own Finders Keepers page, right here on Charnel House. The short of it: it was fantastic. King said it was probably better than Mr. Mercedes, and I have to think he's right, even though I loved that book. The book comes out tomorrow and you guys should buy it at once.
May 24, 2015
Butterflies At Night Dept.! The full cover for The Bazaar of Bad Dreams has now been revealed - eerie and desolate and frightening. With this on the horizon and Finders Keepers coming next week (next week!), 2015 is going to be a full, exciting year for King fans!
April 20, 2015
How Bazaar Dept.! We finally have a TABLE OF CONTENTS! And it's a little weird, so let's look at the Scribner press release and the TOC first...
The Bazaar of Bad Dreams is a thrilling collection of twenty stories – some brand new, some published in magazines, all entirely brilliant and assembled in one book for the first time – with a wonderful bonus: in addition to his introduction to the whole collection, King gives readers a fascinating introduction to each story with autobiographical comments on their origins and motivation. This will delight all his readers including those who loved his insight into the craft of writing in his non-fiction title On Writing.

Stephen King is the master of the short story form – the No. 1 bestselling writer has dazzled readers with his genius as a writer of novellas and short story fiction since his first collection Night Shift was published 35 years ago. He describes the nature of the form in his introduction to the book: "There's something to be said for a shorter, more intense experience. It can be invigorating, sometimes even shocking, like a waltz with a stranger you will never see again, or a kiss in the dark, or a beautiful curio for sale laid out on a cheap blanket at a street bazaar."

And indeed in this collection there is a curio for every reader – a man who keeps reliving the same life, repeating the same mistakes over and over again, a columnist who kills people by writing their obituaries, a poignant tale about the end of the human race and a firework competition between neighbours which reaches and explosive climax. This latter, excitingly, will be launched initially as an audio-only edition – find out more here.

"I made them especially for you," says King to his Constant Reader. "Feel free to examine them, but please be careful. The best of them have teeth."

Table of Contents:

Author's note
Introduction
1. Mile 81
2. Premium Harmony
3. Batman and Robin Have an Altercation
4. The Dune
5. Bad Little Kid – New
6. A Death
7. The Bone Church
8. Morality
9. Afterlife
10. Ur – First Time In Print
11. Herman Wouk is Still Alive
12. Under the Weather
13. Blockade Billy
14. Mister Yummy – New
15. Tommy
16. The Little Green God of Agony
17. That Bus is Another World
18. Obits – New
19. Drunken Fireworks – First Time In Print
20. Summer Thunder

Okay, so let's get into this a little. "Blockade Billy"? That was unexpected. In 2010, small publisher Cemetery Dance released it as its own slim book; Scribner followed suit, and the book as a book hit #9 on the New York Times bestseller list. Now, it's always been an unusual book in and of itself: extremely short for a full-on novel, so much so that it was paired with "Morality" in the Scribner version to up the page count. As it stands now, it seems as if it holds two places in the official canon, much like when the movie tie-in version of The Mist was released as a separate paperback (which, huh, also went to #9. Serendipity?)
Moving on: anyone else disappointed to not see some classic uncollected works in here? In recent years, Cemetery Dance has published both "Weeds" and "The Crate" in their Shivers anthologies, and "The Glass Floor" in the magazine. When "The Cat From Hell" showed up in Just After Sunset, I had hopes that some of these older pieces would show up in new collections. And whither "Squad D"? Maybe King could do a new version of Six Stories and just publish all these stories that superfans have wanted collected for years. Maybe?
I'm also a little surprised at "Under the Weather." No, it wasn't officially part of the four-novella construct of Full Dark, No Stars, but it did appear in print with those stories in the paperback version. There's a bit of a factual error in the press release, too: both "The Bone Church" and "Tommy" are poems, not stories - King's first officially collected poems since "Brooklyn August in Nightmares & Dreamscapes.
What is VERY exciting is the brand-new stuff: "Bad Little Kid" (new for US audiences), "Mister Yummy" (never even heard of this one), "Obits," and "Drunken Fireworks." "Fireworks" will be released on audio before the book comes out, but I won't listen to it until after (similar to how I bought the New Yorker with "A Death" but haven't read it. Also, of course, King's new intro will hopefully give us some insight into his process and his career at this point, and it will just add to his non-fiction lineup.
It's looking to be a great year for King readers. Finders Keepers is getting strong early press and this will be a great way to fill out the year. Still nothing on 2016, but hopefully soon!
March 24, 2015
King for a Day Dept.! For one day only, you can pick up an e-copy of Dark Screams, Volume 1 for only a buck! The book contains the short story "Weeds," by Stephen King, which has never been collected in a King anthology. "The Lonesome Death of Jordy Verrill" was a great adaptation, but the story is darker, sadder, and vintage King. In addition, you get short works from these other giants: Kelley Armstrong, Bill Pronzini, Simon Clark, and Ramsey Campbell! Edited by Brian James Freeman and Richard Chizmar, this is a compulsory collection. But it won't be a dollar for long, so grab it today!
March 18, 2015
JOYLAND COMES TO HARDCOVER FOR THE MASSES! But first, some brief history of King's paperback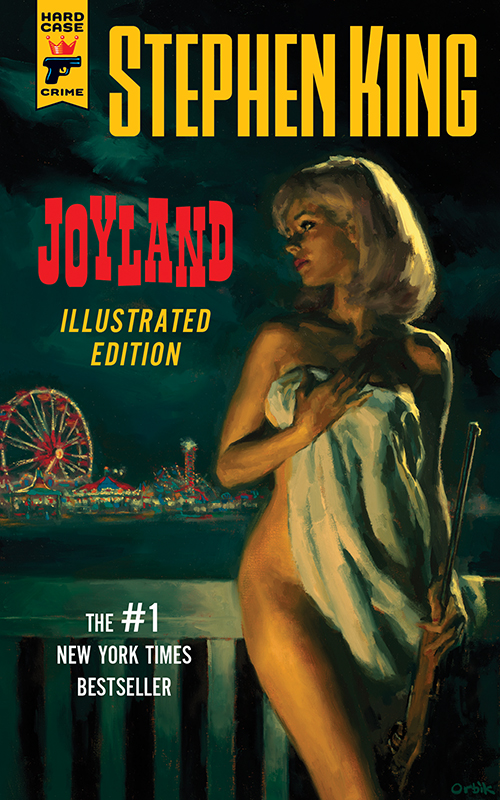 originals. When The Green Mile came out in 6 monthly paperback installments in 1996, it was a worldwide phenomenon. No hardcover printings were forthcoming. But because King's contract for rights with New American Library was shorter than most of his books, when King made the jump to Simon & Schuster/Scribner, his new publisher capitalized on his recent success with Bag of Bones and Hearts In Atlantis and released a collected hardcover edition for a mass audience (a limited edition from Subterranean Press came much later).
When King released The Colorado Kid for Hard Case Crime in 2005, it was the same story initially. Enter limited edition publisher PS Publishing, who offered myriad hardcover versions to the collector's market ... but for whatever reasons, King's first book for Hard Case never really gripped people as hard as some of his other books. It's a great little book, but it never really got the mass appeal as, say, The Shining or The Dark Half.
Joyland, on the other hand, was a bona fide phenomenon. It was a six-week #1 success over the summer of 2013 in paperback - King's first #1 paperback in over a decade and Hard Case Crime's first #1 ever. Limited edition publisher Titan Books released a hardcover of only 1,500 copies worldwide (plus even smaller signed lettered and signed numbered editions) - an alarmingly small printing for a huge success like Joyland.
Well, for those of you who have clamored for a hardcover that everyone can get their hands on, worry no longer! On September 8th, a fully illustrated, mass market hardcover version of Joyland is coming. The press release:
Hardcover Edition from Hard Case Crime to Feature Never-Before-Seen Art by Glen Orbik, Robert McGinnis, Mark Summers and Pat Kinsella.

Hard Case Crime, the award-winning line of pulp-styled crime novels from editor Charles Ardai and publisher Titan Books, announced today that in September 2015 they will publish a new illustrated hardcover edition of their bestselling title of all time, Stephen King's JOYLAND. The acclaimed coming-of-age story set in a possibly haunted small-town amusement park spent more than 25 weeks on the New York Times Best-Seller List in paperback and ebook format. Aside from certain extremely limited editions for collectors, however, no hardcover edition of the book has ever been published.

The new edition will feature a brand new cover painting by popular Hard Case Crime artist Glen Orbik, whose other covers for the series include books by Gore Vidal and Michael Crichton; a map of the Joyland amusement park illustrated in the classic 'mapback' style by Susan Hunt Yule; and more than twenty interior illustrations by acclaimed artists Robert McGinnis, Mark Summers and Pat Kinsella.
SUPER exciting news! Plus, you can now pre-order the book here! With Finders Keepers and The Bazaar of Bad Dreams, this is a great way to round out 2015!

March 3, 2015
NEW STORY ALERT! Coming soon in the March 9th issue of The New Yorker comes the new Stephen King short story, "A Death." This, along with the new audio-first tale, "Drunken Fireworks," will be included in King's apparently massive upcoming collection, Bazaar of Bad Dreams. While we wait for the full story list, we can actually read the story on the New Yorker's website! Whoa! The first new King in 2015!
January 30, 2015
WE HAVE COVER!!!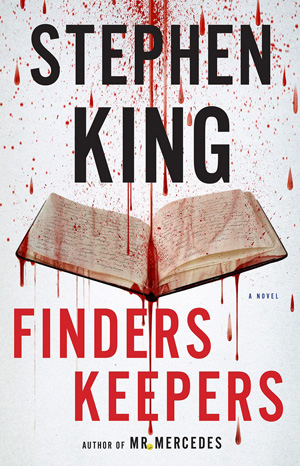 Finally, the cover of Finders Keepers, the sequel to last year's awesome Mr. Mercedes. Finders Keepers is coming this June! Now, if only we could get a story list for Bazaar of Bad Dreams...
January 22, 2014
We're in the quiet time of Stephen King news, which is quite a change from the flurry of excitement at the end of last year! As we wait for Finders Keepers and the story list for the Bazaar of Bad Dreams, let's get excited about a new book about King that's going to be kick-ass!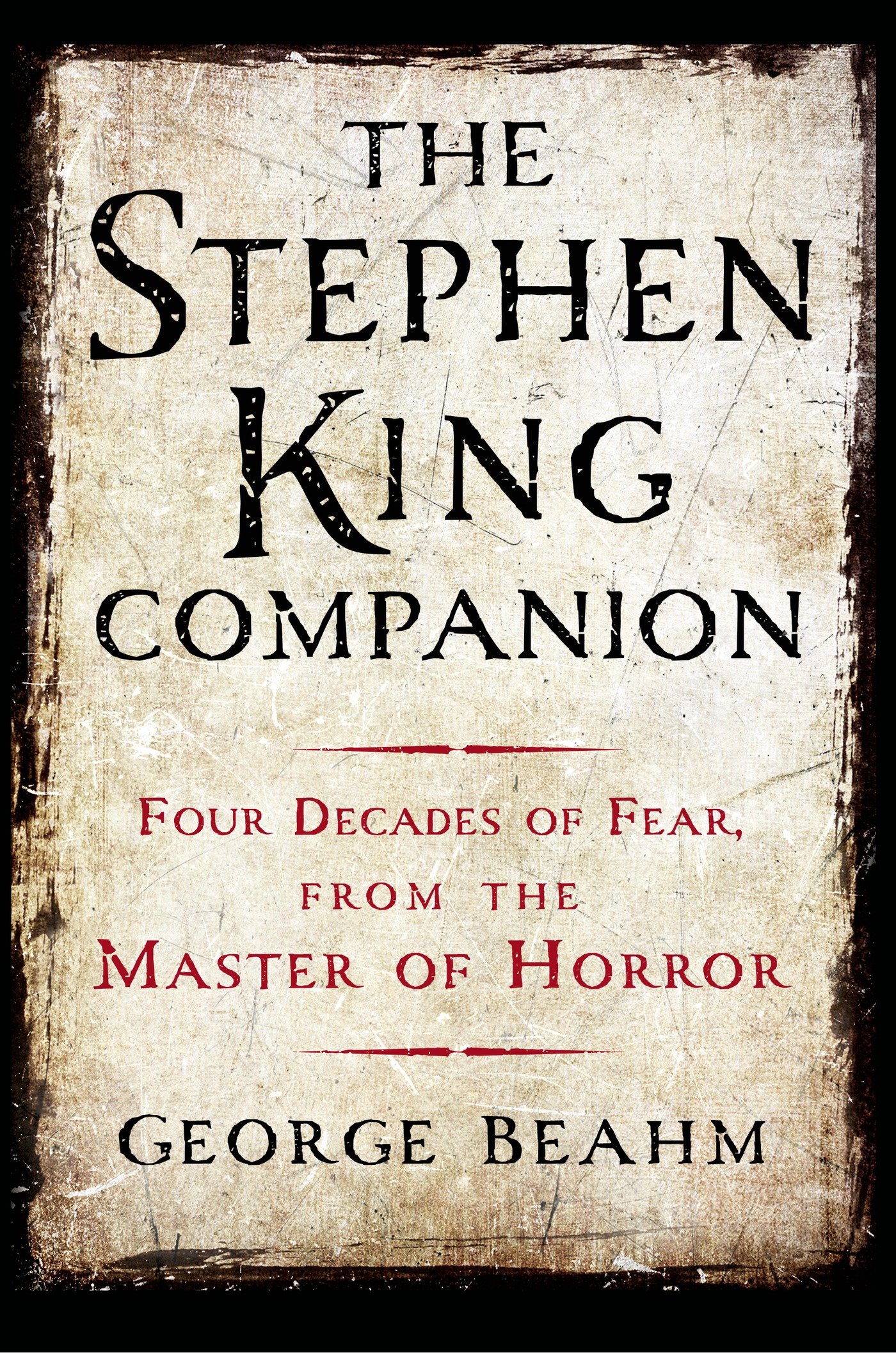 That's right, kids! A THIRD edition of George Beahm's seminal work on Stephen King, The Stephen King Companion, will be released this year! And PS, I have an essay in it! YEP! Keep an eye out for new information as I get it!
November 20, 2014
We found it! Scribner has just released a bit of a description for the upcoming sequel to Mr. Mercedes, Finders Keepers, and it sounds awesome:
"Wake up, genius." So begins King's instantly riveting story about a vengeful reader. The genius is John Rothstein, a Salinger-like icon who created a famous character, Jimmy Gold, but who hasn't published a book for decades. Morris Bellamy is livid, not just because Rothstein has stopped providing books, but because the nonconformist Jimmy Gold has sold out for a career in advertising. Morris kills Rothstein and empties his safe of cash, yes, but the real treasure is a trove of notebooks containing at least one more Gold novel.

Morris hides the money and the notebooks, and then he is locked away for another crime. Decades later, a boy named Pete Sauberg finds the treasure, and now it is Pete and his family that Bill Hodges, Holly Gibney, and Jerome Robinson must rescue from the ever-more deranged and vengeful Morris when he's released from prison after thirty-five years.

Not since Misery has King played with the notion of a reader whose obsession with a writer gets dangerous. Finders Keepers is spectacular, heart-pounding suspense, but it is also King writing about how literature shapes a life—for good, for bad, forever.
Amazing website Lilja's Library also reports that the moderator of King's message board offered some tidbits about the book. You can apparently leave your perceptions at the door ... and watch out for an intense ending:
No. I can't say too much without giving away more of the plot but you won't feel like it's a rehash of Misery.

What I will say is that I do want to reread this one as there have been edits since the first draft. I still get goosebumps every time I think about the ending so am glad that part hasn't been changed from what Steve told me when I asked.
Getting more and more excited about this by the day!
November 12, 2014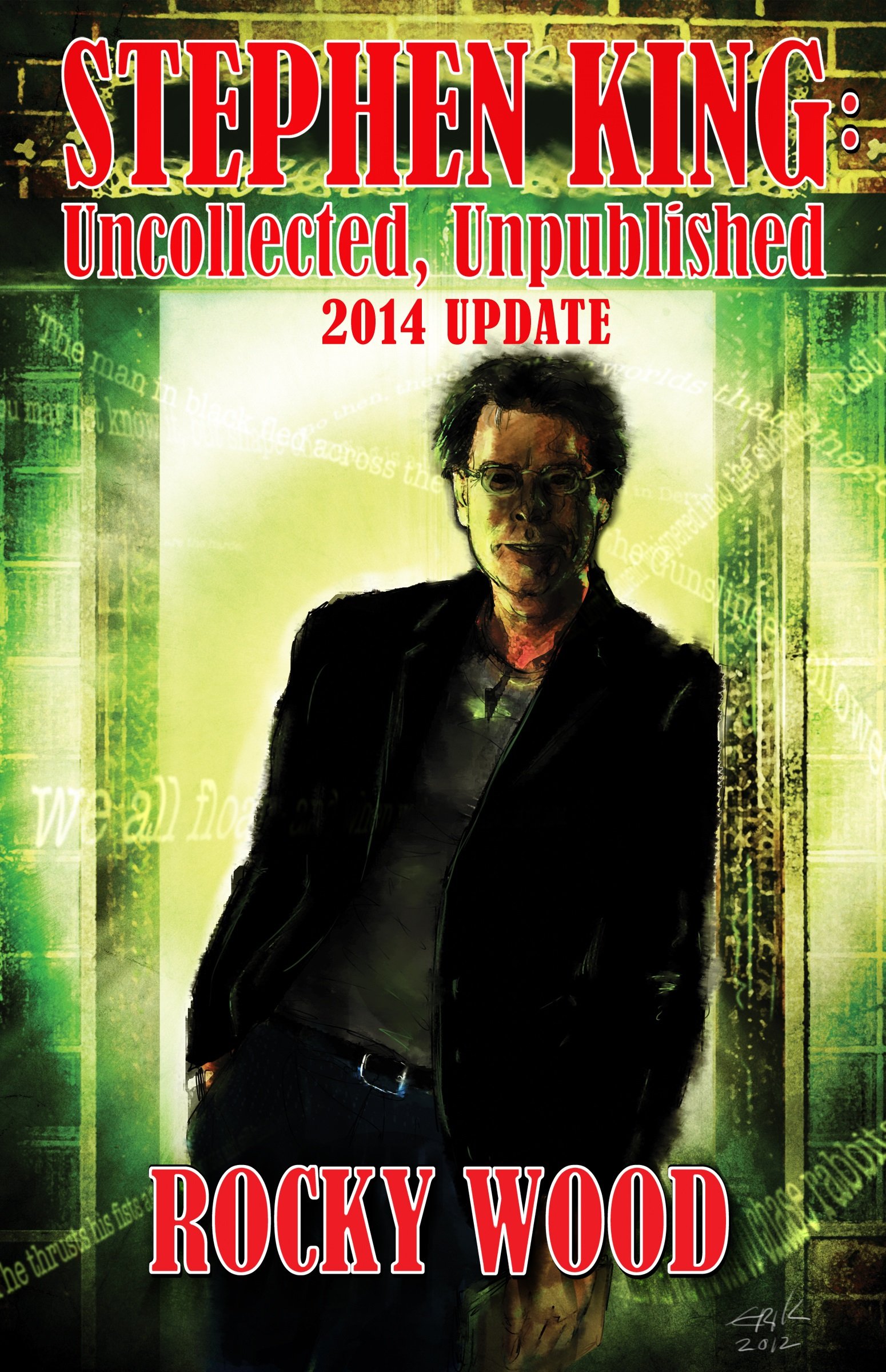 More Missing! This is something I wish books on Stephen King would do more often. Last year, Stephen King expert Rocky Wood published a revised edition of Stephen King: Uncollected, Unpublished, with direct input by Stephen King himself. Now, Wood has released a slender new volume that updates all that material - new uncovered work, new information on work previously uncovered, and new clarifications and confirmations by King himself. This 2014 is an invaluable and unique resource, a supplemental guide for readers interested in the lost work of King, and for fans of Wood's highly readable and endlessly fascinating other work. There's great stuff in this little book, including a full description of a play King wrote and starred in when he was a senior in high school. Published by the Overlook Connection Press, Stephen King: Uncollected, Unpublished - 2014 Update is available for purchase NOW!
November 11, 2014
REVIVAL RELEASE DATE! Today's the day, folks. King's final novel of 2014 is out today, and boy is it a doozy. Go check it out, and then take a look at my mostly spoiler-free review of Revival!
November 8, 2014
WE'VE GOT TITLE! In an interview with the Toronto Sun titled, "Stephen King Is Going As Fast as He Can," King revealed the title of his new short story collection: called The Bazaar of Bad Dreams, he describes it as being, "a pretty fat book" containing "about 20 short tales." Any previously unpublished? We'll see! The release date is November 20th, 2015, and will reportedly collect no stories with which he's collaborated with other writers. Wow! More information on content to come. Next year's looking pretty amazing!
Check out the entire Toronto Sun interview here!
November 7, 2014
The ... Fall? In a terrific new interview with GoodReads, King revealed that he is musing on a lot of new ideas about his older work. He seems to have at least one more Dark Tower novel in him, this one about the fall of Gilead. And, interestingly, he has a short story about The Stand in mind, featuring a trope he's given into a couple times in the past:
There's one Stand story that still needs to be told, although it's not a long one. I happen to know that when [Stand characters] Stu Redman and Frannie Goldsmith headed back to New England (with their baby), Frannie fell into a dry well. That's all I know. I'd have to write the story to find out what happens.
Check out the whole interview here!
November 6, 2014
Misery Revisited? We got the first description of King's upcoming sequel to Mr. Mercedes, Finders Keepers, today from Simon & Schuster:
A masterful, intensely suspenseful novel about a reader whose obsession with a reclusive writer goes far too far, a book about the power of storytelling—starring the same trio of unlikely and winning heroes King introduced in Mr. Mercedes.
Sounds sort of like Misery by way of JD Salinger. I'm intrigued! The release date is June 2nd, 2015. I'll let you know as soon as I know more!
October 29, 2014
Beyond "what scares you?" In issue 1221 - with a cover date of November 6, but due out this Friday - Rolling Stone magazine has an in-depth and probing interview with King. There are some choice insights - his true feelings on The Tommyknockers and Dreamcatcher, his take on the symbolism of Annie Wilkes - and a lot of terrific questions that go quite a bit deeper than the standard puff piece. Well worth your time seeking out!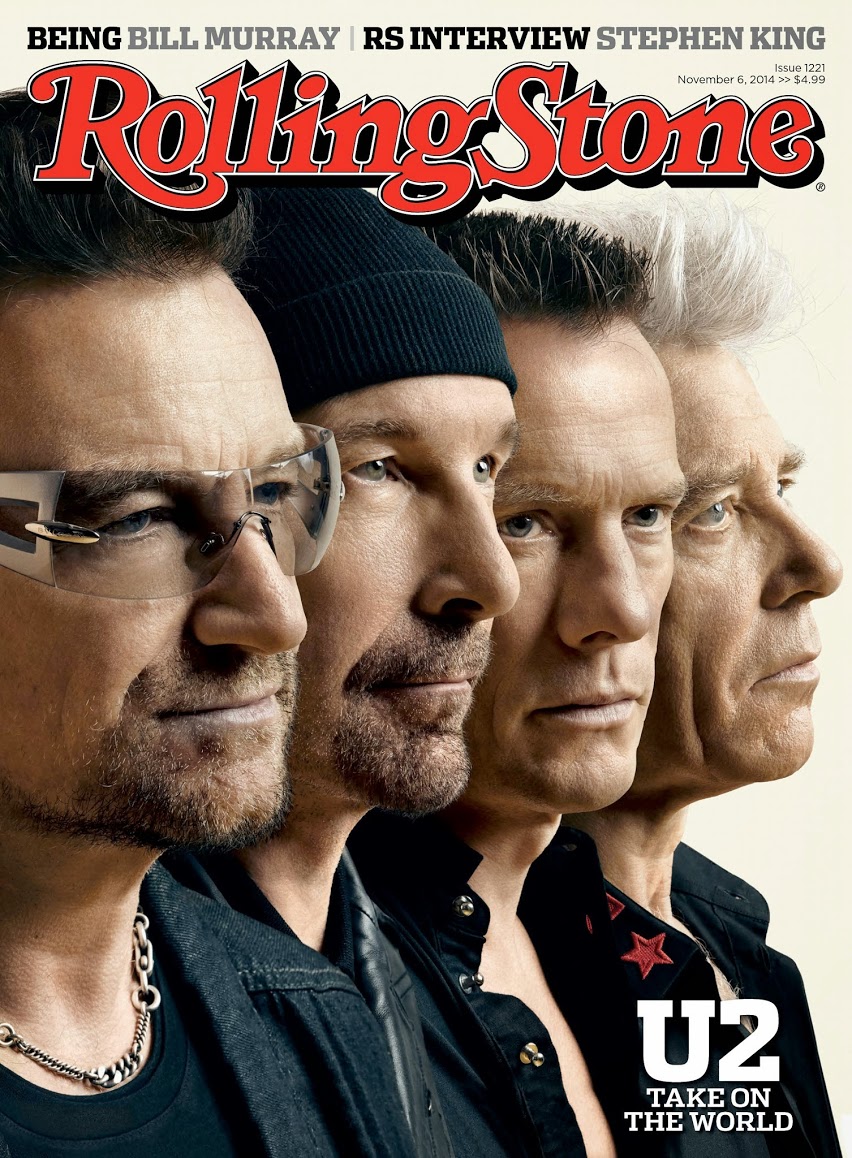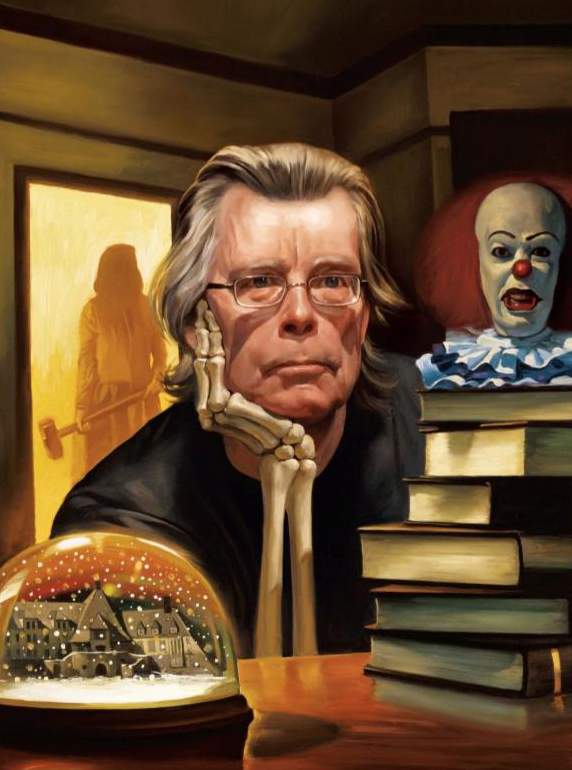 September 21, 2014

HAPPY 67th BIRTHDAY, STEPHEN KING!

It's been a pretty good year for Stephen King so far. Mr. Mercedes got good reviews and hit #1. Doctor Sleep won Best Novel at the Stoker Awards. Joyland hot mass market paperback and ebook. Cemetery Dance announced their Stephen King Doubleday Book Series. The short works, "The Ring," and "That Bus Is Another World" arrived, along with a promise that a new short fiction collection will be coming next fall. And soon, a return to full-on horror in King's upcoming Revival. Thanks for never slowing down, Mr. King.

On a personal note, I decided to take a picture of three of the earliest King books I owned. I've had the newest of these paperbacks, Christine, for twenty-four years. The other ones were inherited; I got Drawing of the Three (two years before The Gunslinger!) in 1989 and Night Shift ... wow, I got Night Shift in 1987. Twenty-seven years; most of my life. Thanks again, Stephen King. You've been defining fiction for me since I was twelve, and this thirty-nine-year-old still loves it.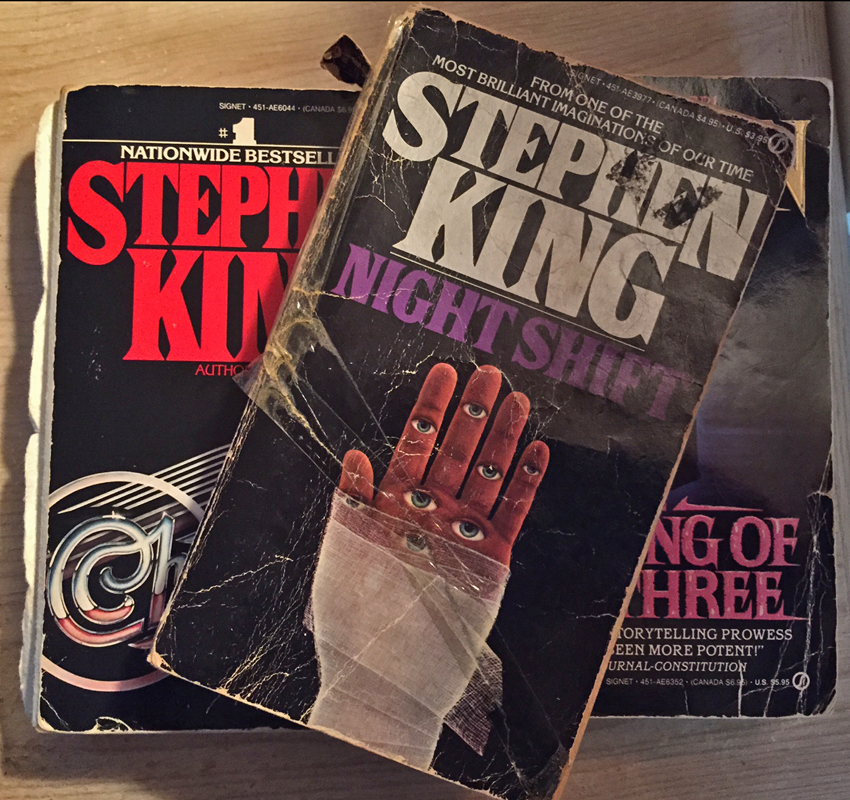 June 29, 2014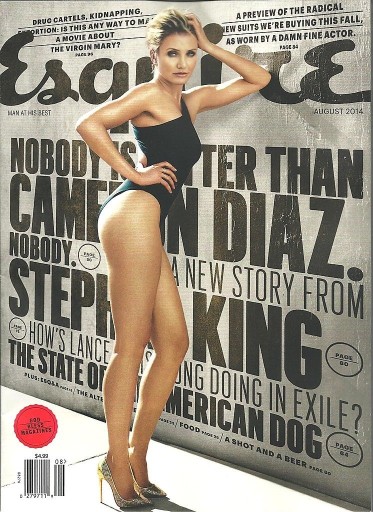 NEW STORY ALERT! "That Bus Is Another World," a new short story by King, will be featured in the August issue of Esquire magazine, where, in past years, one could find "The Gingerbread Girl" and "In the Tall Grass." Keep a look for this issue at newsstands wherever fine magazines featuring Cameron Diaz's butt are sold!
June 27, 2014
New story collection coming! We've been waiting for this news for a couple years: the mod on King's message board confirmed that a new short story collection is coming in fall 2015. The contents haven't been set in stone, but apparently, "Bad Little Kid," the story that was published exclusively in French and German earlier this year, will be in it. (Someone online recently stated that if King does another book or story that wasn't available to every single person in the world, they would burn all their books. I wonder if this news will stay the immolation?!)
June 13, 2014
Even more book news? Maybe? Recently, King published a statement about his 2015 publishing roster. There's more info on Finders Keepers and hints at a new short-fiction collection. The meat of it goes like this:
Dear Constant Reader,

Mr. Mercedes is the first volume of a projected trilogy concerning Bill Hodges, his friendsÖand his enemies. The second volume, Finders Keepers, is finished (in first draft, at least) and will be published in the first half of 2015, perhaps followed by a book of new stories in the fall (or not). Anyway, these three novels seem to revolve around the City Center Massacre that opens Mr. Mercedes. Because of that, I wanted to post a complete list of those killed and injured in Brady Hartsfield's attack. Some of these unfortunates have other parts to play. As always, I'm glad you're along for the ride, but be warned: there are some sharp turns ahead, and I'm a really crazy driver.

Stephen King
To check out the full "toll" list, click here. It just gets better and better!
June 13, 2014
We're #1, Again! In its debut week on the chart, perhaps buoyed by good reviews and promise of a trilogy, Stephen King's Mr. Mercedes hits #1 on the New York Times Bestseller List. For those keeping track at home, Mr. Mercedes marks King's thirty-fifth #1 bestseller; he remains the author with the most #1s in history. Another thing to be proud of: this has been King's longest streak of hardcover #1s since the early 2000s. His last four hardcovers - 11/22/63, The Wind Through the Keyhole, Doctor Sleep, and now this one have all hit #1. If the upcoming Revival hits #1, it will surpass his 4-book streak of 2001/2002 (Dreamcatcher, Black House, From a Buick 8, Everything's Eventual). The last time he had a run of five #1 hardcovers in a row was the span of 1987-1991 (Misery, The Tommyknockers, The Dark Half, The Stand, and Four Past Midnight.) Very exciting times to be a King fan AND a chart nerd!
Take a look at my page The Chart of Darkness for more on King's chart history!
June 10, 2014
More Mercedes!? Earlier today, King tweeted this:
Meaning not only do we have confirmation on a new NOVEL, but confirmation on a new SERIES, of which we've all just read Part One. How cool is THAT!? The second book in the proposed trilogy, Finders Keepers, will be out sometime in 2015 ... more on that whenever I have it! Who would have thought that, this late in his career, King would not only craft his first pure suspense thriller, but also spin it into a three-book series? There are always surprises, folks! Wow!
June 6, 2014
Holy 1982, Batman! I normally don't post stuff like this, but our friend Hans-Ake Lilja, over at Lilja's Library, has been posting a lot of "Classic King" tidbits. This one may be one of the best, a 1982 interview with Harry Nevison from the UMO Magazine. So much of it is fascinating, especially King's declaration that he won't ever adapt one of his own works again, and the previews of then-new books Christine and It. King looks relaxed as he discusses his work, the movies, and the horror field in general. Keep in mind, his most recent book to this point was Creepshow. Just a fascinating look at King as he was about to go from wildly successful to a bona fide phenomenon. Enjoy!
June 3, 2014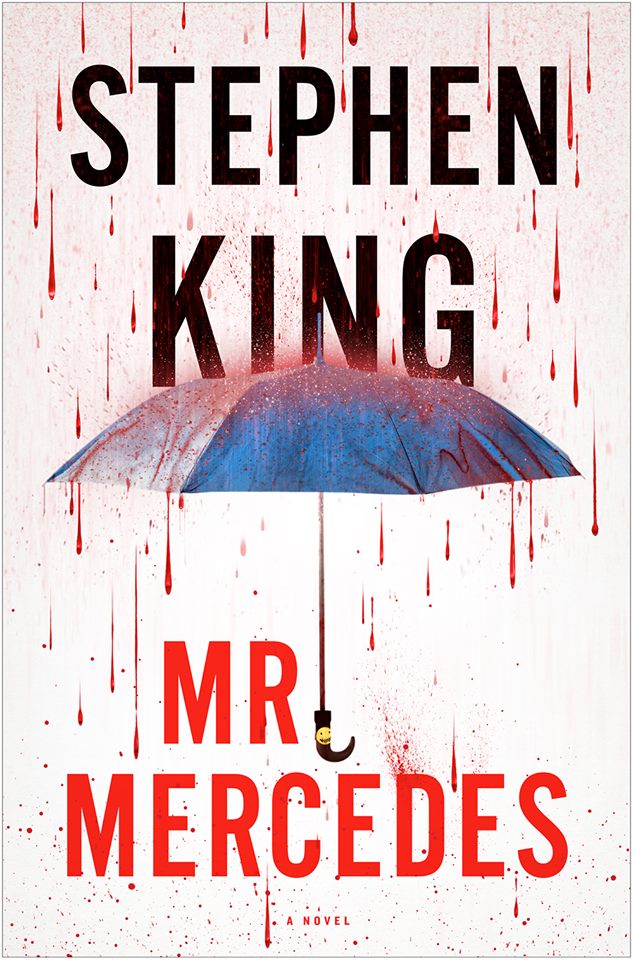 MR. MERCEDES IS NOW OUT! Today's the day you've been waiting for, Charnel Housers! The release date of a new Stephen King novel is always a cause for celebration, but it always feels better when a book is as good as this one. Mr. Mercedes is available in every conceivable format, from hardcover to ebook to CD audio to digital audio. Pick it up today, and when you're done, why not check out my lightly-spoilered review. Enjoy!
May 30, 2014
JOYLAND FINALLY OUT IN MASS MARKET PAPERBACK That's right, kids! Joyland is now out as the sort of paperback you can slide into your back pocket, fulfilling the original intention of the Hard Case Crime line. This new printing of Joyland is only $7.99, and, like the two Under the Dome volumes before it, is the normal mass-market size, not the new, "tall" mass market size that came into being when Cell was first printed. Is this a trend? Can 11/22/63 be coming any time soon?
One last question: will this new paperback copy burn up the bestseller lists as last year's trade paperback edition did? For an analysis of how major Joyland was last summer, check out my article over at FEARnet!
And get your copy of Joyland today!
May 23, 2014
REVIEW NOW UP! Good afternoon, all! The big news today is that I have read Mr. Mercedes, and it is GOOD. My full-length review of the book is now up, so go take a look and get even more excited for June 3rd. WARNING: there are some spoilers in the review, so if you're squeamish about having anything ruined for you, avoid the review! It'll be waiting for you June 4th!
Mr. Mercedes, out June 3rd online and in stores everywhere!
May 16, 2014
STOKER NEWS. In a bit of an upset, King's Doctor Sleep won for Best Novel at the 2014 Bram Stoker Awards, beating out NOS4A2 by his son, Joe Hill (as well as novels by Lisa Morton, Sarah Pinborough and F. Paul Wilson, and Christopher Rice). This marks the sixth time King has won the stoker for Best Novel, following Misery, The Green Mile, Bag of Bones, Lisey's Story, and Duma Key, and his fourteenth nomination! Way to go, Stephen King!
May 9, 2014
PREVIEW DAY IS HERE. Suddenly, as if out of the blue, there's a preview of Stephen King's newest novel, Mr. Mercedes, available to you in a couple different ways.
First, check out the newest issue of Entertainment Weekly to see the print preview: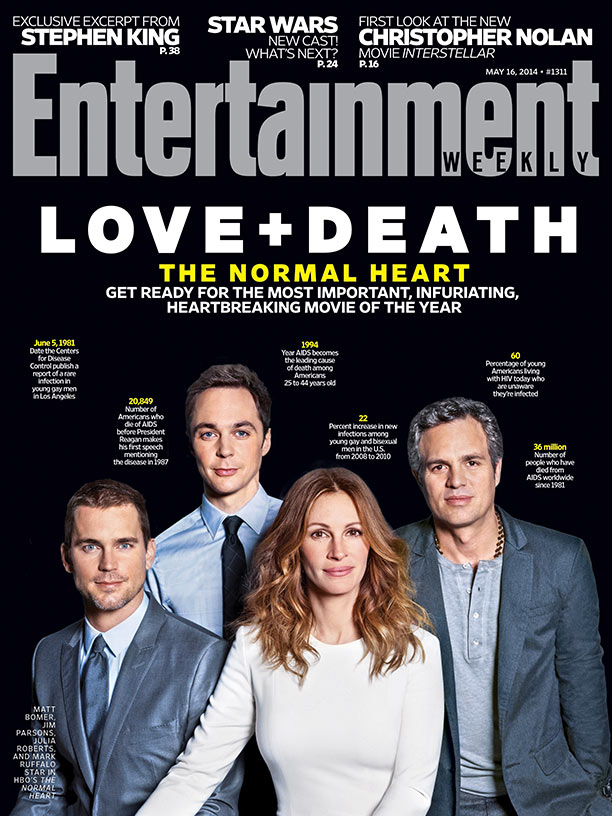 THEN, you can hoof it on over to the Facebook page "Stephen King Superfans," and check out a digital copy - 14 full pages of Mr. Mercedes, hot and ready for you: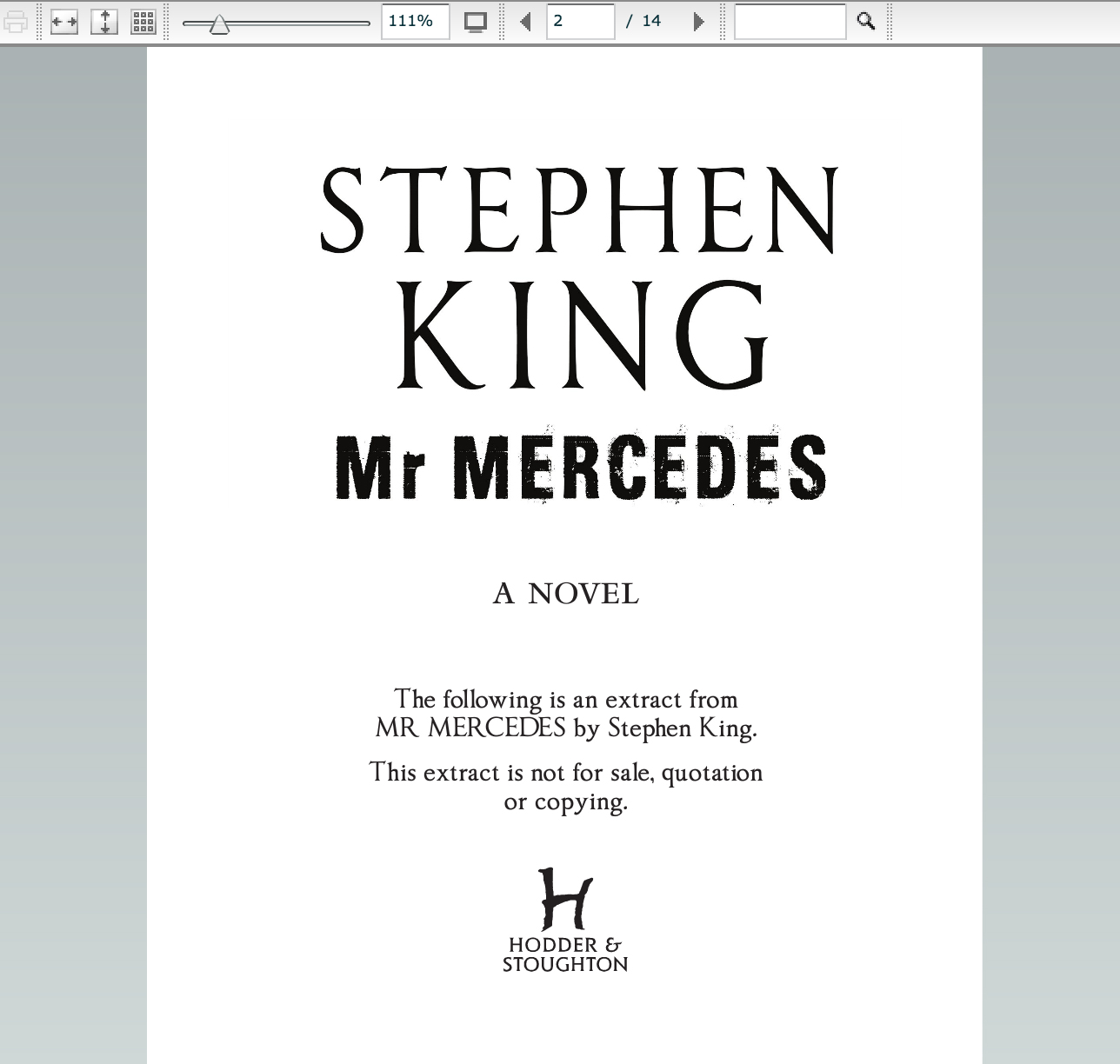 May 4, 2014
Hey there, e-readers! What you've all been waiting for: King's fantastic Joyland is now available as an ebook!
May 4, 2014
Check out this intense video preview for Mr. Mercedes, "Letter to Detective Hodges." Super creepy stuff direct from King's website itself. This book's going to kick ass!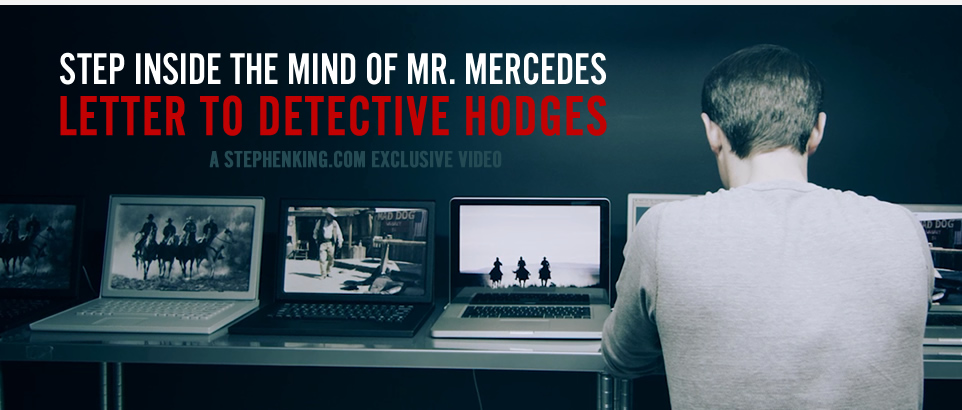 April 7, 2014
Cemetery Dance's HUGE announcement is here! CD announces The Doubleday Years, a six-part Stephen King special edition extravaganza! Focusing on the books King published through Doubleday (Carrie, 'Salem's Lot, The Shining, The Stand, Night Shift, and - a little surprisingly - Pet Sematary), this project aims to capture and highlight what was special and important about these landmark books.
A few words from Cemetery Dance themselves:
Announcing the "Stephen King Doubleday Years" Six Volume Collection!

Launching This Summer With Carrie: The Deluxe Special Edition

Carrie Will Be a Collectible Limited ONE TIME PRINTING Featuring an Introduction by Stephen King, an Afterword by Tabitha King, Six Color Paintings by Tomislav Tikulin, and Special Bonus Features Exclusive to This Edition!

We have extremely exciting news to share with our collectors today, just a few days after the 40th anniversary of the original hardcover publication of Carrie by Stephen King:

We've signed an exclusive deal to produce a six volume set of special collectible editions of Stephen King's early books that were originally published by Doubleday back in the 1970s and early 1980s! These books are Carrie, 'Salem's Lot, The Shining, Night Shift, The Stand, and Pet Sematary, six classics of the horror genre and all-time Stephen King fan favorites!

These are the books that launched King's career and made him a household name, and our special editions will be beautiful and oversized volumes like we've published for From a Buick 8, It, Doctor Sleep, and many other King books over the years.

The first title in this special six volume set is Carrie, which will be published later this year and is available for preorder immediately. Other volumes in this series will follow approximately every six months after that and several acclaimed artists are already creating stunning art for these books. These special editions will feature exclusive bonus features such as introductions, afterwords, artwork, and even deleted material in some cases.

We expect extremely strong demand for these special editions of Stephen King's extraordinarily popular early books, and collectors who preorder Carrie directly from us will be the first collectors offered the opportunity to order the next volume before the general public.

Please note that our last Stephen King Gift Edition sold out in just ONE WEEK, so please don't wait because you could miss out and there will be NO second printings.

"These were the ghosts which kept trying to come between me and what I was writing, kept insisting that I combine them, somehow, into a story that would tell what could have happened if there really was such a thing as telekinetic energy..."

— Stephen King, from the introduction

Carrie: The Deluxe Special Edition (Volume One in the "Doubleday Years" Collection), by Stephen King

Featuring full-color wrap-around artwork by Tomislav Tikulin and six full-color interior paintings printed on a high-quality glossy stock and tipped into the book!

Special Features Exclusive To This Deluxe Special Edition:

an introduction by Stephen King detailing why he wrote the book
a lengthy afterword by Tabitha King discussing the book's unbridled exploration of adolescent terror, sexuality, and the unknown
deluxe oversized design (7 inches X 10 inches) featuring two color interior printing as part of the page design
printed on a heavy interior specialty paper stock that is much thicker than the paper in a normal trade edition
epic wrap-around full-color dust jacket artwork by Tomislav Tikulin
a different full-color dust jacket for the Artist Edition painted by Tomislav Tikulin
six full-color interior paintings by Tomislav Tikulin
interior artwork will be printed on a heavy glossy stock and tipped into the book
high-quality embossed endpapers and fine bindings for all editions
full-page reproduction of the telegram Doubleday editor Bill Thompson sent Stephen King to announce the publisher was buying the book
extremely collectible print run that is a tiny fraction of the TENS OF MILLIONS of copies of this novel you've seen in bookstores over the last 40 years!
March 21, 2014
What's happening April 7?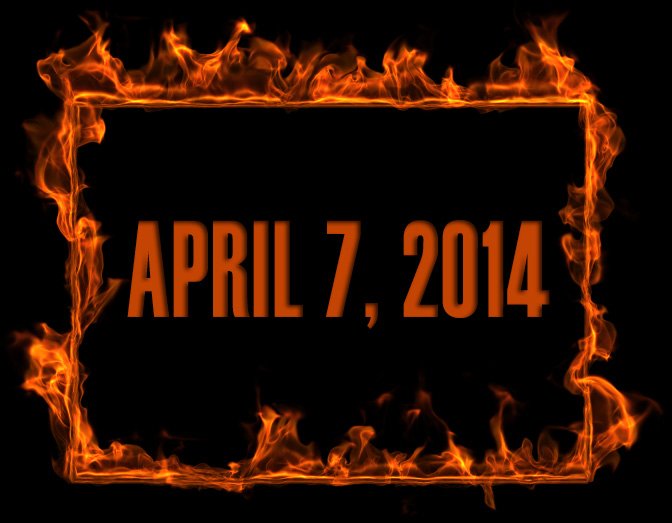 Something very big is happening at Cemetery Dance Publications. We will know more on April 7, but here's what we know now, as reported by Brian James Freeman on the Dark Tower Message Board:
...[T]his week we're signing deals with three different New York Times bestselling authors. Not all of those deals will be announced this year, though. It's just been a tremendously good week in terms of landing very interesting projects from well-known authors ... Looking back at our history, we've only done little teaser sites and "save the date" announcements for one author, so... that seems very likely to me.
Keep your eye on this space for any news!!!
March 17, 2014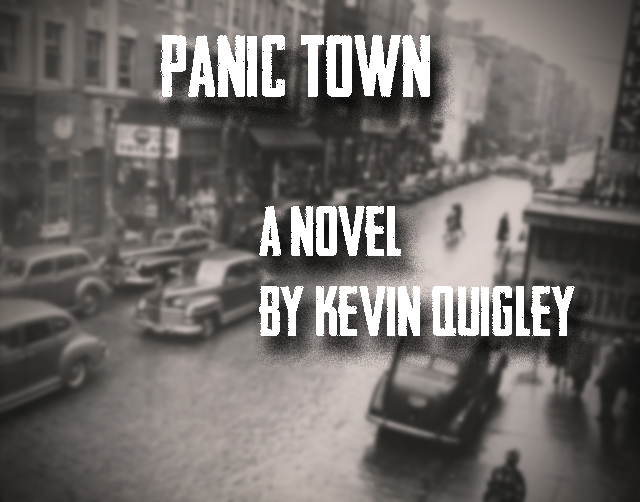 While we wait for Mr. Mercedes to hit bookstores, why not do something awesome and support the Kickstarter for my new crime novel, PANIC TOWN?
A murdered crime novelist from the 1940s left behind a beautiful widow ... and a secret manuscript, called PANIC TOWN. Now, a publisher of vintage crime novels wants private detective Wayne Corbin to track town the manuscript, lost for over half a century. As Wayne starts uncovering the mysteries surrounding PANIC TOWN, he is forced to ask whether it's a book worth killing for ... or worth dying for.
Some of you have been reading my nonfiction work about Stephen King for some time, and maybe you've delved into my fiction. My short story, "I Am Become Poe," appeared in Shivers 7 last year alongside King, Clive Barker, and others, and my short story collection, This Terrestrial Hell is available through Cemetery Dance Publications. Now's your chance to help fund a full novel - not horror, necessarily, but bloody fun just the same.
There are some great prizes, including ebooks of all my work on Stephen King for Cemetery Dance! Check out the Kickstarter site for PANIC TOWN, see if you like the idea, and donate what you can! Thanks, everyone!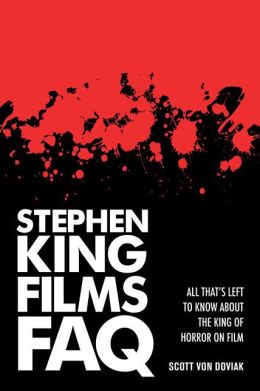 March 14, 2014
My review of Scott Von Doviak's book is now up on FEARnet.com!!! Check it out and remember to "Like" the review if you like the review! "this book is compulsively readable. It is extremely difficult to put down."
March 14, 2014
My new article for FEARnet.com, "'The Ring' and the Tricky Nature of Stephen King Nonfiction" is NOW UP!
March 8, 2014
This is the cover for Revival, out November 11!!!
February 28, 2014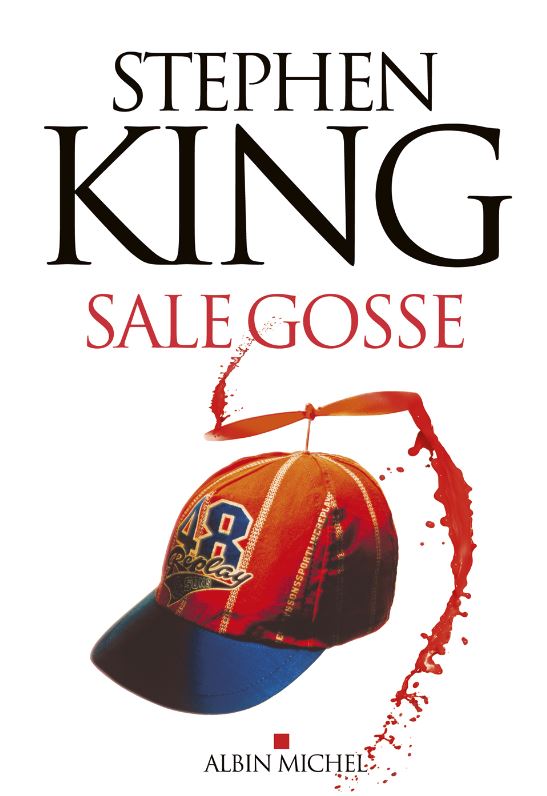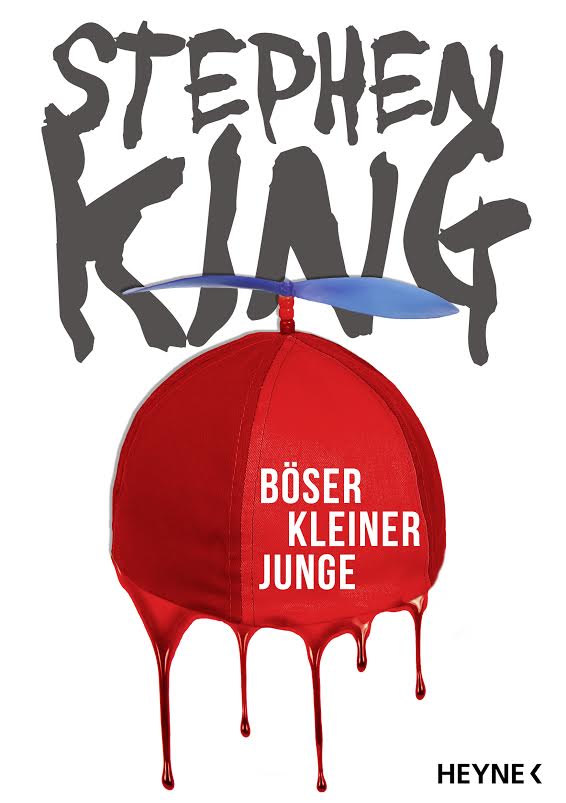 Stop the [Foreign] Presses! Dept. The mystery of the foreign-language King story has been revealed. As a gift to his French and German fans for being so kind to him during his tours there, Stephen King is releasing a brand-new story as an ebook exclusively to those countries (in those languages). Translated as "Bad Little Kid" ("Sale Gosse" in French, "Böser Kleiner Junge" in German), the synopsis is as follows:
Remember, it comes back in the shape of a kid...
A diabolical kid who causes the inevitable death of your relatives, a bad little kid who has led George Hallas, accountant, to the death row. And that may, one day, cross your path...
Not a whole lot to go on, and with no English-language version currently announced, we here in America (and England and Canada and Australia, etc.) have to wait for translations. Unusual publishing is business as usual for King; this is an exciting time for his French and German fans, and time of delicious anticipation for the rest of us. Both "Sale Gosse" (published by Albin Michel) and "Böser Kleiner Junge" (published by Heyne) will go on sale March 14th. Keep watching this space for more news on this mysterious little story!
February 28, 2014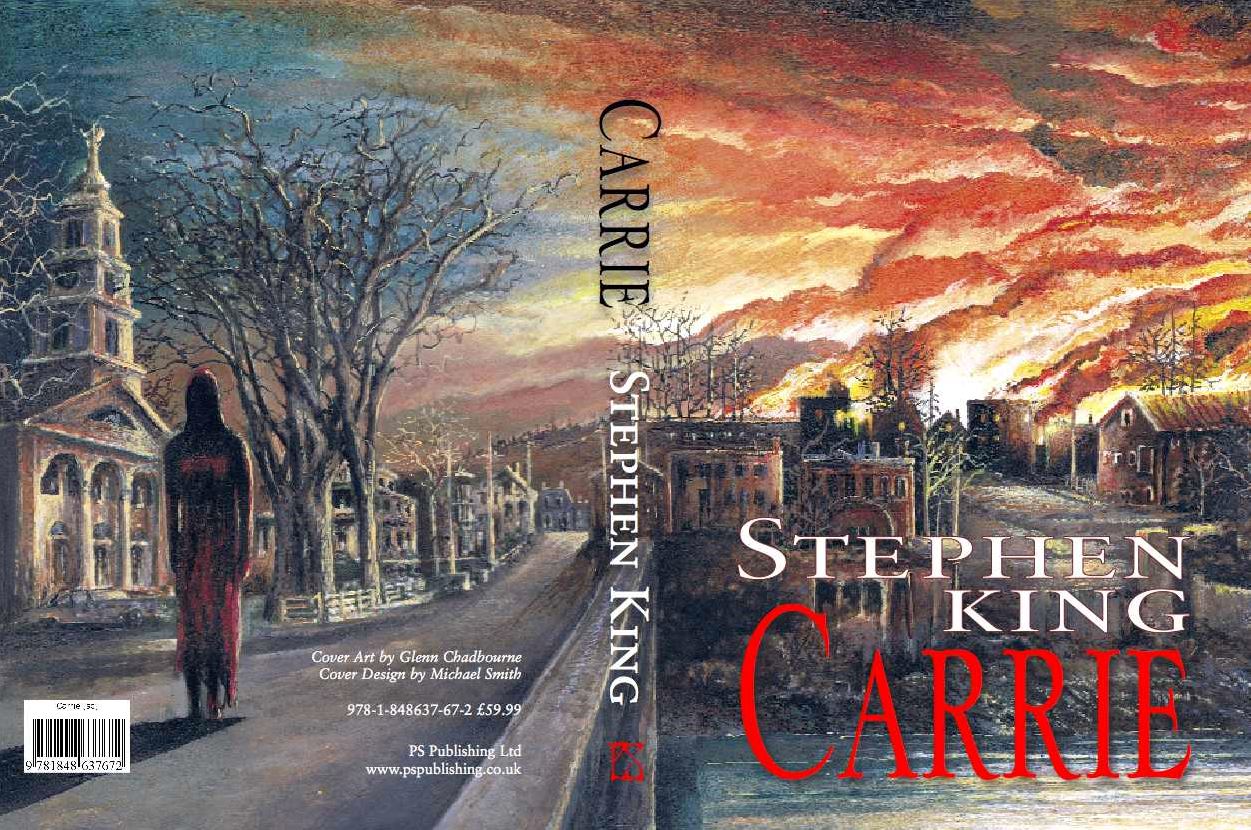 To celebrate a very important anniversary - namely, Stephen King's 40th year as a published novelist - PS Publishing is releasing a 40th Anniversary Edition of King's first novel, Carrie. Having not anticipated how quickly their releases of Pet Sematary and Christine would sell out, they are upping the print run for Carrie to 974 copies. The rest of the important details:
This ultra-deluxe 40th Anniversary edition will feature a bevy of specially commissioned pen-and-ink illustrations and colour paintings from fan favourite Glenn Chadbourne plus an Introduction from James Lovegrove and an Afterword from Kim Newman. James, Kim and Glenn will be signing copies and there will be a facsimile signature from the author.

Because we failed to meet the high demand on both Christine and Pet Sematary we've increased our numbers with this hugely important milestone in genre fiction to one thousand copies of which 974 will be housed in a full-colour slipcase like the first two titles in this Anniversary series. The additional 26 oversized lettered copies will be individually remarqued by Glenn Chadbourne and will be issued in a custom-made illustrated traycase. We're still considering other material to include but we'll make an announcement closer to publication.
Keep an eye on this space for further information! For a peek at the other illustrations and details, check the PS Publishing website!
February 26, 2014
What the Hey!? Dept. Over on the French website Club Stephen King, a brand-new image has appeared that is getting clearer every day. Explains the site:
Discover a new hint regarding the gift that Stephen King wanted to offer to his French & German fans, to thank them for the warm welcome he received during his visit in Europe in 2013. Come back on Friday in order to get the full picture.
Here's the blurred-out picture as of today: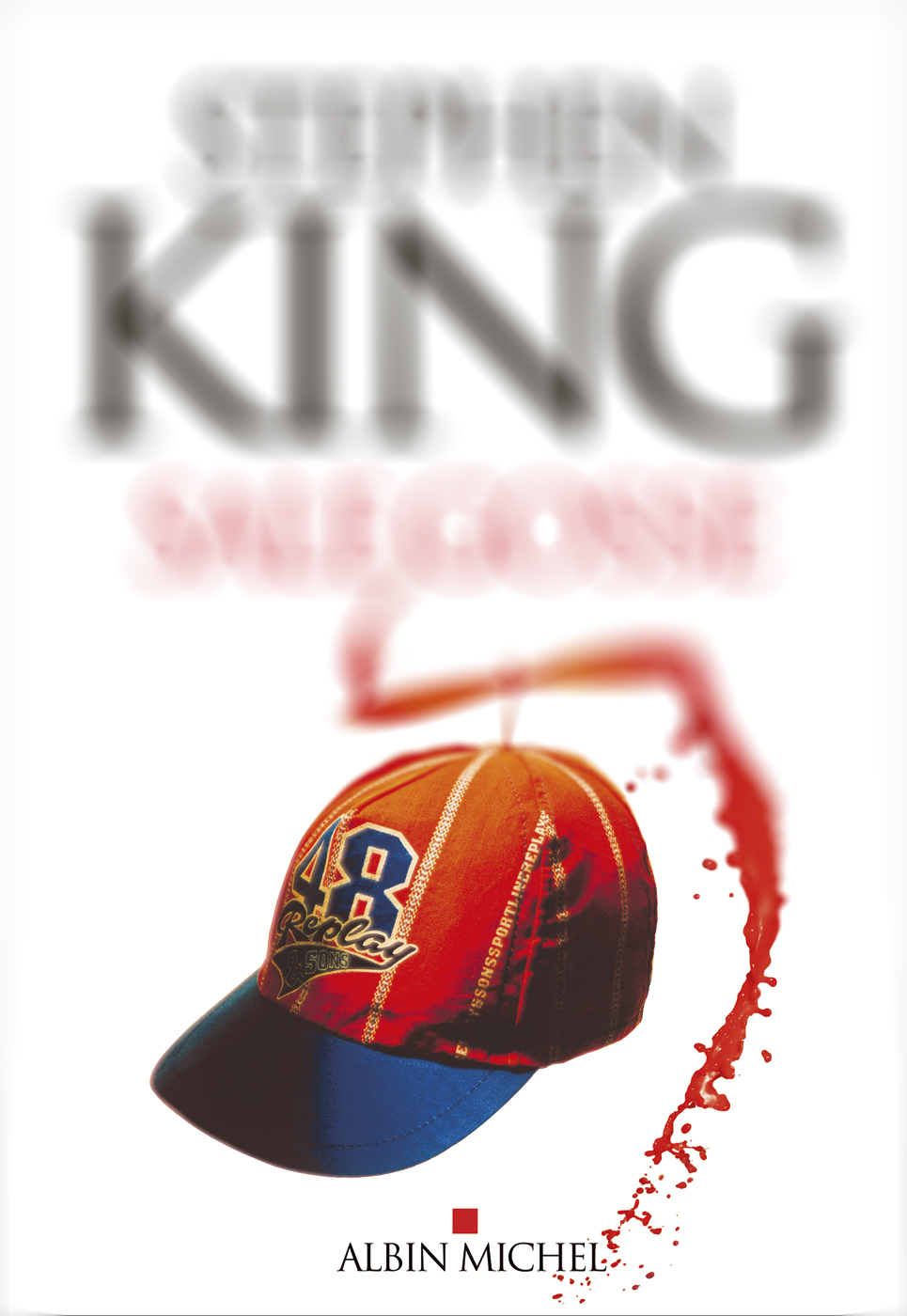 We have no idea if this is a brand-new book, a story with an illustration, or something completely new. The "Replay 48" on the baseball cap seems like an echo of Revival, but that's stretching it. I guess we'll know more on Friday! In the meantime, keep checking here, or over on the Club Stephen King site!
February 22, 2014
New Essay Alert! From Ms. Mod on the official Stephen King message board:
...a new non-fiction essay by Stephen titled "The Ring" [will be] published in Tin House, Issue, 59, Volume 15, Number 3. I'm not sure when it hits newsstands but we got the contributor copy yesterday. The theme for that issue is Memory and Steve's essay (only 2 pages) is about their wedding rings and the day [he and Tabitha] got married.
So awesome! Visit the Tin House website for more information and updates!
February 10, 2014
Release date confirmed! Revival will be released in the US and the UK on November 11! Now that it looks like we have spring/summer and fall/winter covered for novels, let's hope for some surprises!
February 8, 2014
Your faithful servant and webmaster got himself some new ink.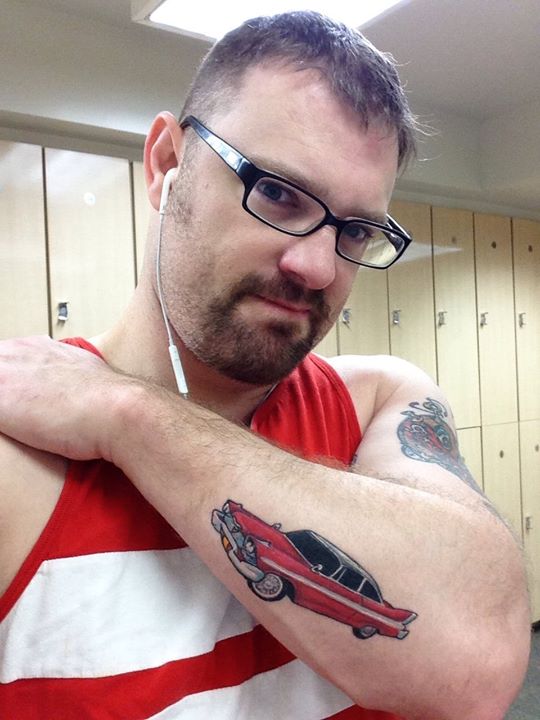 February 3, 2014
Big-Ass Book News! A description of Revival, coming sometime this year!
From master storyteller Stephen King comes Revival, a spectacularly dark and riveting novel about addiction, religion, fanaticism, and what might exist on the other side of life.

In a small New England town more than half a century ago, a boy is playing with his new toy soldiers in the dirt in front of his house when a shadow falls over him. He looks up to see a striking man, the new minister, Jamie learns later, who with his beautiful wife, will transform the church and the town. The men and boys are a bit in love with Mrs. Jacobs; the women and girls, with the Reverend Jacobs — including Jamie's sisters and mother. Then tragedy strikes, and this charismatic preacher curses God, and is banished from the shocked town.

Jamie has demons of his own. Wed to his guitar from age 13, he plays in bands across the country, running from his own family tragedies, losing one job after another when his addictions get the better of him. Decades later, sober and living a decent life, he and Reverend Charles Jacobs meet again in a pact beyond even the Devil's devising, and the many terrifying meanings of Revival are revealed.

King imbues this spectacularly rich and dark novel with everything he knows about music, addiction, and religious fanaticism, and every nightmare we ever had about death. This is a masterpiece from King, in the great American tradition of Frank Norris, Nathaniel Hawthorne, and Edgar Allan Poe.
January 27, 2014
Finally, Joyland is coming to mass-market paperback AND ebook! From today's press release:
Hard Case Crime, the award-winning line of pulp-styled crime novels published by Titan Books, today announced it will release two new editions of Stephen King's JOYLAND, the acclaimed coming-of-age story set in 1973 in a small-town amusement park that is the scene of an unsolved murder. First published last June, and recently named a finalist for the Edgar Allan Poe Award (the mystery genre's most prestigious honor), JOYLAND has appeared on the New York Times Best-Seller list for more than 24 weeks. On May 27, Hard Case Crime will publish the book for the first time in the classic rack-sized "mass-market" paperback format typical of pulp crime novels in the 1940s and 50s. The company will also release the novel for the first time in an e-book edition, in April 2014.

"Joyland is a look back at a long-gone time, and I wanted people's initial experience of the book to be like my experiences reading crime stories when I was growing up, back when a book was always something made of paper and ink and glue," said Stephen King, one of the most beloved storytellers of all time, with more than 300 million books in print. "I'm thrilled that Hard Case Crime is going back to its roots with a paperback edition that'll fit in your jacket or the back pocket of your jeans. And now that Joyland is coming up on its second year, I'm also happy to bring it out as an ebook for people who prefer reading that way."

Since its publication, JOYLAND has won raves worldwide. The Washington Post called it "a moving, immensely appealing coming-of-age tale" while Canada's National Post called it "a small marvel of a book, a novel of loss and heartbreak, of growth and discoveryÖone of the writer's finest works." Entertainment Weekly called it "some of King's most graceful writing"; the New York Times wrote, "The book delivers chills [and] a mournful sense of life's fragility"; and the Guardian in the U.K. called it "a far gentler, deeper, more thoughtful bookÖand all the more intriguing for it."
Ebook in April, mass market in May ... right after the paperbacks of Under the Dome are released. It's the SPRING OF KING!
January 27, 2014
Coming in February and March: Under the Dome FINALLY comes to mass market paperback. Check out my article, "The Long Road to Under the Dome in Paperback," on FEARnet.com!
Click on the pictures to pre-order from Amazon!
December 18, 2013
After scads of research and writing, I'm finally able to bring you this: 2013: The Year in Stephen King! My annual recap of everything textual in the world of Stephen King is now up on FEARnet.com for your reading pleasure. I hope you enjoy it, and please hit "like" on the page if you like it!
December 16, 2013
Ladies and gentlemen, the cover to Mr. Mercedes: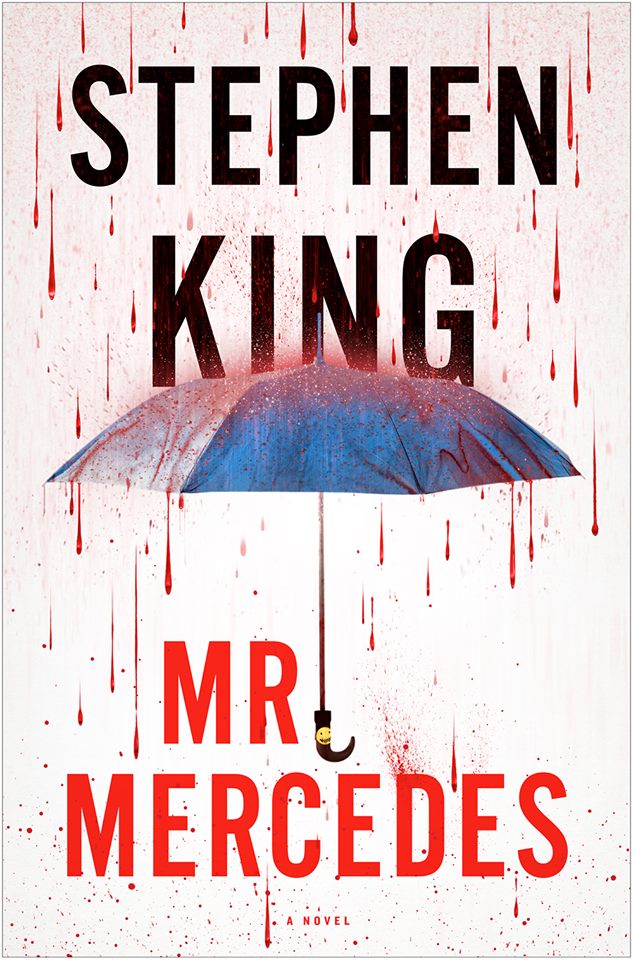 December 10, 2013
Behold! The press copy for Stephen King's upcoming novel, Mr. Mercedes!!!
In the frigid pre-dawn hours, in a distressed Midwestern city, hundreds of desperate unemployed folks are lined up for a spot at a job fair. Without warning, a lone driver plows through the crowd in a stolen Mercedes, running over the innocent, backing up, and charging again. Eight people are killed; fifteen are wounded. The killer escapes.

In another part of town, months later, a retired cop named Bill Hodges is still haunted by the unsolved crime. When he gets a crazed letter from someone who self-identifies as the "perk" and threatens an even more diabolical attack, Hodges wakes up from his depressed and vacant retirement, hell-bent on preventing another tragedy.

Brady Hartfield lives with his alcoholic mother in the house where he was born. He loved the feel of death under the wheels of the Mercedes, and he wants that rush again.

Only Bill Hodges, with a couple of highly unlikely allies, can apprehend the killer before he strikes again. And they have no time to lose, because Brady's next mission, if it succeeds, will kill or maim thousands.

Mr. Mercedes is a war between good and evil, from the master of suspense whose insight into the mind of this obsessed, insane killer is chilling and unforgettable.
You can preorder this new book through Cemetery Dance, and add a custom slipcase to your order! Exciting news!
December 3, 2013
It's official! Revival WILL be released next year. No official date yet, but both that and Mr. Mercedes will be 2014 titles! HOORAY! More details as they come!
November 14, 2013
BIGGEST DAMN NEWS. Stephen King's newest novel, Mr. Mercedes, will arrive at bookstores on June 3, 2014. It's rare for King to release novels in the summer - the last non-series hardcover written under his own name to arrive in the summer was Rose Madder, way back in 1995 - but the unqualified success of this summer's Joyland must have been encouraging. Also encouraging? A summer announcement gives us hope that there might be another book, just in time for Christmas 2014. Keep watching this space for more info on Mr. Mercedes, and everything else.
November 14, 2013
My review of Doctor Sleep is now up here, on Charnel House! Check it out!
November 12, 2013
BIG DAMN NEWS. This December, Cemetery Dance is releasing a brand-new anthology titled Turn Down the Lights, featuring a killer roster of writers ... including Stephen King! King's new story, "Summer Thunder," kicks off a stellar collection boasting new work by Peter Straub, Ed Gorman, Jack Ketchum, and more. From CD's press release:
It was December 1988: George Bush had just defeated Michael Dukakis in the Presidential Election. Pitcher Orel Hershiser and the Los Angeles Dodgers had beaten the Oakland A's in five games to win the World Series. People were waiting in line at movie theaters to watch Tom Cruise and Dustin Hoffman in Rain Man. Tom Clancy's The Cardinal of the Kremlin and Anne Rice's The Queen of the Damned were atop the bestseller lists. The most acclaimed genre books of the year were Thomas Harris's The Silence of the Lambs and Peter Straub's Koko.

And twenty-two year old college student Richard Chizmar had just published the premiere issue of a horror magazine named Cemetery Dance.

Twenty-five years later, there have been seventy issues of Cemetery Dance magazine. There have been more than 275 signed Limited Edition hardcovers in the Cemetery Dance book line. There have been awards including the World Fantasy Award, the International Horror Critics Guild Award, and the HWA Board of Trustees Excellence in Specialty Press Publishing Award, as well as nominations for the British Fantasy Award, the American Horror Award, and the Bram Stoker Award, just to name a few.

To celebrate the 25th anniversary of that premiere issue of Cemetery Dance, we're proud to announce Turn Down the Lights, an anthology of authors who helped make the magazine what it is today. These original horror stories by Stephen King, Norman Partridge, Jack Ketchum, Brian James Freeman, Bentley Little, Ed Gorman, Ronald Kelly, Steve Rasnic Tem, Clive Barker, and Peter Straub capture the genuine love of the genre that pushes Cemetery Dance Publications forward year after year.

Now, turn down the lights, flip the page, take my hand, and start the dance…
Nice! Here's what's inside:
"Turn Down the Lights..." an introduction by Richard Chizmar
"Summer Thunder" by Stephen King
"Incarnadine" by Norman Partridge
"The Western Dead" by Jack Ketchum
"An Instant Eternity" by Brian James Freeman
"In the Room" by Bentley Little
"Flying Solo" by Ed Gorman
"The Outhouse" by Ronald Kelly
"Lookie Loo" by Steve Rasnic Tem
"Dollie" by Clive Barker
"The Collected Short Stories of Freddie Prothero" by Peter Straub
Afterword by Thomas F. Monteleone
A new King story would be cause for celebration, but this list is just astounding. The trade hardcover will be out this December - new King for Christmas! - and the signed editions will be released in 2014. Check out the Cemetery Dance site for all the information!
October 7, 2013
We're #1!!! Doctor Sleep easily dominates the hardcover chart this week, debuting at #1 while Joyland holds pretty at #7 on the paperback chart. Doctor Sleep marks King's 34th stay at the top of the NYT hardcover bestseller lists; he remains the author with the most #1s in the history of the chart. Learn more at the NYT Bestseller Chart.
September 25, 2013
My review of Doctor Sleep is NOW UP on FEARnet.com! Check it out, and click "Like" if you like it! Enjoy!
September 24, 2013
TODAY'S THE DAY. Pick up your copy of Doctor Sleep online or at fine brick-and-mortar stores everywhere! And look for my review coming soon, exclusively at FEARnet.com!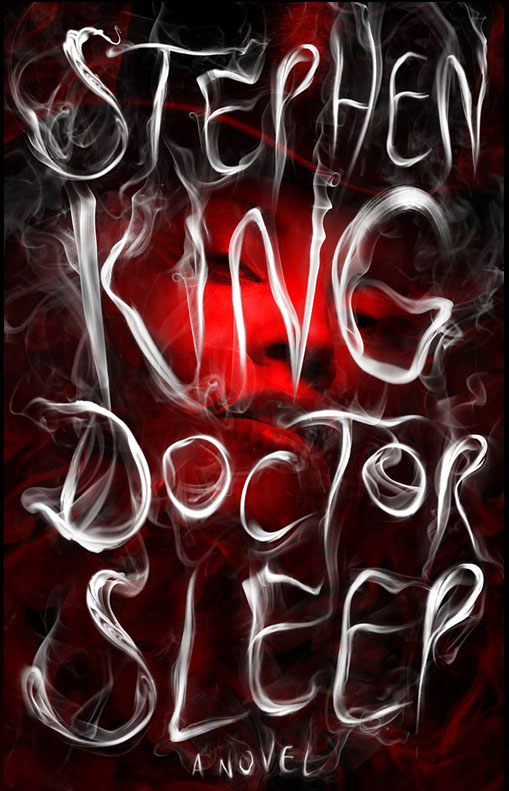 September 10, 2013
The Cemetery Dance Collector's Club is BACK! And my book is a part of it! WHAT?! Yes!
From Cemetery Dance:
Members receive many exclusive items not available to the general public including:
Exclusive Discounts & Advance Notice on New Books
A FREE Signed Limited Edition with a retail price between $30 and $40
A Brand New Exclusive "Short Story" T-Shirt
An Exclusive Signed Limited Edition Chapbook By Richard Chizmar
An Exclusive Halloween Poster By Alan M. Clark
A Stephen King Art Mouse Pad
The First-Ever Cemetery Dance Keychain
The Opportunity To Order Books & Specials Not Available to the General Public!
Advance Notice On Exciting New Books Including STEPHEN KING Limited Editions!

PLUS: Members will receive the only Signed Limited Edition of A GOOD STORY AND GOOD WORDS: THE MANY WORLDS OF STEPHEN KING, by KEVIN QUIGLEY - a groundbreaking new look into the works of Stephen King that would have retailed for $65 if it was available to the general public!

** Read more or place your order before time runs out: http://www.cemeterydance.com/page/CDP/PROD/X_CDCC4
Guys, this is your EXCLUSIVE chance to get my very first solo hardcover, A Good Story and Good Words. Hundreds of hours of research and three years in the writing, Good Story is my first major statement on the work of Stephen King. I really think you're going to like it, and I hope you jump into this awesome club. Thanks!
August 16, 2013
My brand-new article on FEARnet.com is up, titled "How Joyland Broke a Decade-Long Dry Spell and Dominated the Summer". It's one of my more fun articles, all about King's tumultuous journey on the paperback bestseller lists and the ongoing appeal of his most recent novel. Enjoy!
August 8, 2013
The new book I co-wrote with Hans-Ake Lilja and Brian Freeman, The Illustrated Stephen King Movie Trivia Book, just got a glowing review on Ain't It Cool News!
From AICN:
And, in case you are wondering: yes, THE ILLUSTRATED STEPHEN KING MOVIE TRIVIA BOOK realizes that changes may be made when adapting a book or short story for the screen - character names may be different, locations switched, what have you. It does not care. It will ask questions that it knows you will get wrong because you're thinking of the book instead of the movie, and then it will taunt you for not knowing the difference.
We're not really that mean, by the way. Well, maybe. There are questions about sandwiches.
AICN also has this nugget of wisdom:
[Kevin] Quigley likewise runs an amazing King website, Charnel House (charnelhousesk.com)
Well, right there, AICN mentions this site and me by name, so I can die happy now. HOORAY! And buy the book, available to order now!!!
July 25, 2013
Not only is Joyland the first Stephen King paperback to reach #1 since 2001's Black House, it has managed to hold that spot for five weeks. A much more impressive showing than The Colorado Kid, King's last Hard Case Crime novel, which only hit #5.
Check out the New York Times bestseller list, and my entire Chart of Darkness!
June 29, 2013
Late author Rick Hautala was a legend in the horror field. When he died, he left behind an autobiography called THE HORROR ... THE HORROR, which has now been published. Read my review and pick up the book - it's quick, breezy, fun, and absolutely worth your time.
Review: The Horror ... the Horror
June 29, 2013
In which I unbox my brand-new hardcover copy of Joyland!
June 24, 2013
It is with a heavy heart that I report Richard Matheson, one of America's best and most important writers, has died, at age 87. Matheson, credited as the writer who influenced Stephen King more than any other, leaves behind a legacy of writing nearly unparalleled in the speculative field. Author of Hell House, I Am Legend, The Shrinking Man, Now You See It... (his most underrated novel) and so many more. He wrote brilliant teleplays for The Twilight Zone and Star Trek. He wrote "Duel."
i09 has a great article on the man. Check it out, and then do yourself a favor and read everything you can by him. A fantastic writer whose presence will be missed by so many.
June 21, 2013
Big novel news!!! During his CBS Livechat, Stephen King revealed that not only is Mr. Mercedes (title still tentative) finished, but he's also halfway through a new novel called Revival. No further news, but this is AWESOME!
June 20, 2013
My brand-spanking new review of HARD LISTENING - by Stephen King, Amy Tan, Dave Barry, Greg Iles, and way more - is NOW UP. Not to inflate my ego or anything, but I think this might be the best-written review I've ever done. Read it now at FEARnet.com.
June 20, 2013
And now for something completely different: "How Rick Springfield Lost and Found His Signed Stephen King Book". This thing is AWESOME.
June 19, 2013
My review of Stephen King's surprise summer title, THE DARK MAN is now up on FEARnet.com! Check it out - I loved it!
June 12, 2013
Hey all! Check out my review of Joyland on audio, read by Michael Kelly, exclusively on FEARnet.com! Hit "like" if you like it!
June 6, 2013
Amid all the massive awesome news about Joyland, let's not forget that Stephen King has a brand-new short story out, too! Check out my review of "Afterlife" on FEARnet.com!
June 5, 2013
JOYLAND IS NOW IN STORES! And we here at Charnel House have your full coverage!
First, check out my review of Joyland, either on FEARnet.com, or in a slightly modified version right here on Charnel House.
Then, take a look at a fantastic interview with Charles Ardai, founder of Hard Case Crime, over at ComicBookMovie.com. After that, read Ardai's awesome essay about Hard Case Crime and Joyland over at BoingBoing.com.
There are still limited-edition gift copies of Joyland in hardcover available for pre-order. Go to ForbiddenPlanet.com for all the details.
And finally, either visit your local bookstore, or pick up Joyland at any of these online retailers: Amazon, Barnes & Noble, and Better World Books.

May 29, 2013

Charles Ardai, genial and brilliant publisher and novelist at Hard Case Crime, has written a terrific essay about Joyland, Stephen King, and crime novels. An excerpt:
...they scratched a powerful itch I hadn't even known I had. And when, years later, I found myself reminiscing about them with a friend over drinks, we decided the world needed more books like that, damn it. That's how Hard Case Crime was born.
I love articles like this, and you will too. The article is exclusive to BoingBoing.com! Go there, read, enjoy, and then come back here and revel in more Joyland coverage!
May 29, 2013
In his terrific Fresh Air interview, King indicates that the amusement park on which he based Joyland was Canobie Lake Park, in Salem, New Hampshire. I just so happen to visit Canobie every summer, and it's awesome. Give a read to this Retro Memories post about Canobie in the 70s, with a few sepia-toned photos to get you in the mindset of Joyland, out June 4! May 29, 2013
There's a great new interview with King on NPR called "On Growing Up, Believing In God, and Getting Scared". Some great answers and discussion, especially about his fantastic new novel, Joyland.
May 27, 2013
Well, this blindsided me. Stephen King's short story, "Afterlife," which King origianlly read aloud at UMass Lowell last year, is NOW OUT IN PRINT in Tin House magazine's Summer Reading issue. Website Lilja's Library posted this picture: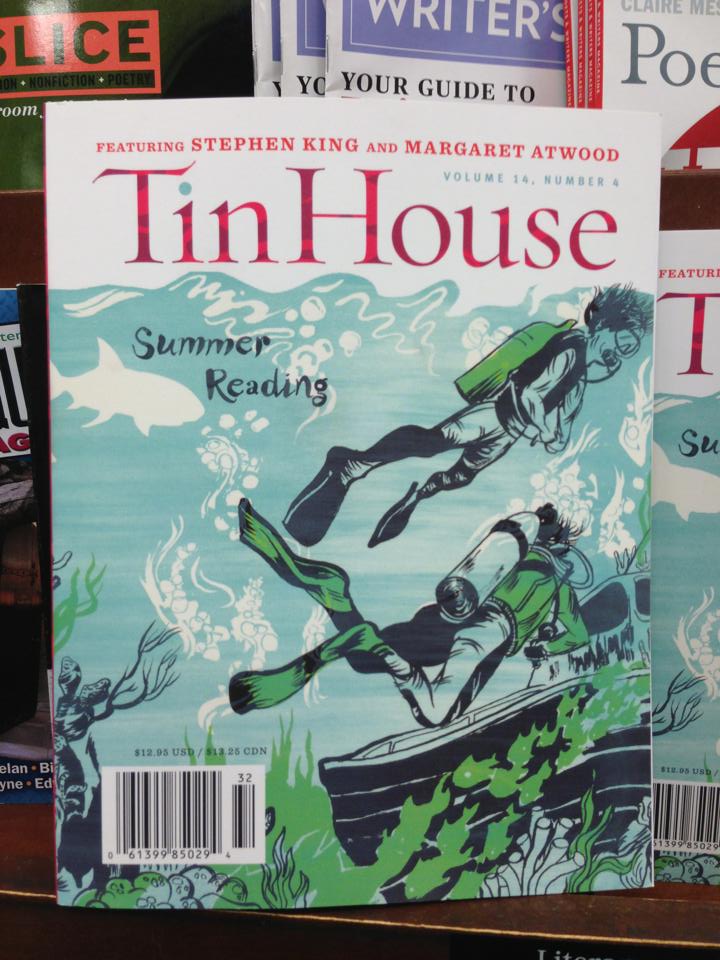 I've been to the official Tin House website and for some reason, you can't get the summer reading issue there yet. I'd say to check your local bookstore for now; this will hopefully surface soon!
May 24, 2013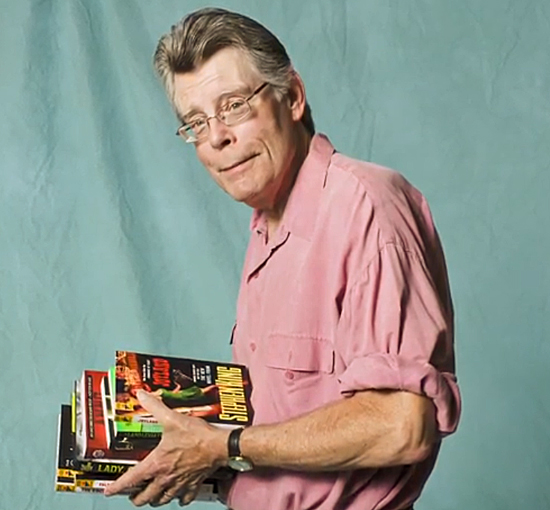 This is a really neat little interview by Ken Tucker with King from Parade magazine. Nothing too revelatory, but fun and smart. There's also a great behind-the-scenes video with some narration by King, touching on his reputation as a horror writer. Enjoy!
May 22, 2013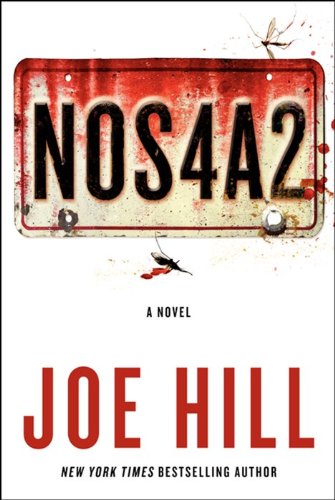 Hey all! Check out my in-depth review of Joe Hill's N0S4A2 over at FEARnet.com! If you like Hill's previous novels, Heart-Shaped Box and Horns, or you've read his Eisner Award-winning series Locke & Key, this book is a treat.
As always, hit "like" on the FEARnet site if you like the review. Thanks for reading!
May 18, 2013
Check out Larry Fire's exclusive interview with Joe Hill over on his blog, The Fire Wire. If you guys aren't checking out The Fire Wire on a daily basis (along with Charnel House, Lilja's Library, and Talk Stephen King, of course), you're missing out!
Oh, and PS: the King boys are really terrific writers. I'm nearly done with N0S4A2 right now, and it's Joe Hill's strongest book yet. I just finished Owen King's Double Feature, and it's just fantastic stuff!
May 17, 2013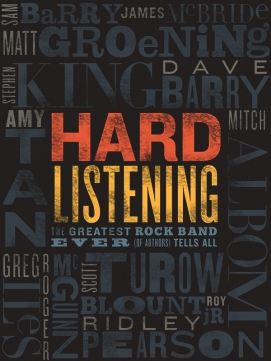 With all the excitement about Joyland (and seriously, be excited), you might have missed out on another Stephen King release coming this June. Hard Listening the new ebook by and about the Rock Bottom Remainders, will be out June 18 ... and we have some really cool new information:
On June 18, 2013, a new eBook will be released by Coliloquy.com titled Hard Listening, an anthology written by members of the Rock Bottom Remainders. Of particular interest to fans of Stephen's: his contributions to the book include a new essay, a new short story, and several candid email exchanges. There is also a featured writing contest, in which several of the authors (including King) contributed short stories written in the author's style. Readers then get to vote on which piece was actually written by King before seeing the results.
Emphasis mine ... but OMG, what emphasis! Hans-Åke Lilja, Lilja's Library, reports that one of the things definitely written by King is an essay titled "Just a Little Talent". This will make a swell bookend to his essay, "In the Neighborhood of the Beast," the first essay he wrote about his Remainders experience, first published in Mid-Life Confidential and later in Secret Windows.
With this stuff and The Dark Man coming from Cemetery Dance, this is going to be one exciting Stephen King summer!
May 15, 2013
My review of Stephen King's NEW NOVEL JOYLAND is NOW UP ON FEARNET.COM! Check it out, and hit "like" if you like it. You guys are going to LOVE this book!
May 14, 2013
THE DARK MAN is coming...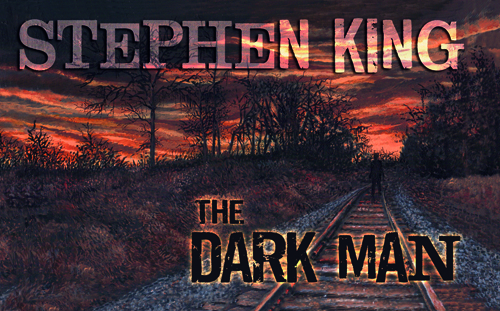 In a surprise announcement, today Cemetery Dance let the world know that they would be publishing one of Stephen King's best and most resonant poems - "The Dark Man," - as its own book, illustrated by master artist Glenn Chadbourne. Written while King was in college, "The Dark Man" is our first introduction to Randall Flagg, King's longtime villain. For decades, this poem has remained stubbornly uncollected in a King work (though it and a number of King's early poems had been collected in the anthology The Devil's Wine, edited by Tom Piccirilli). The fact that this fantastic poem will finally be available to a wider audience - and in a sumptuously illustrated edition, as with The Secretary of Dreams - is cause for celebration.
From Cemetery Dance:
"Randall Flagg came to me when I wrote a poem called 'The Dark Man' when I was a junior or senior in college. It came to me out of nowhere, this guy in cowboy boots who moved around on the roads, mostly hitchhiking at night, always wore jeans and a denim jacket. I wrote the poem in the college restaurant on the back of a placemat, but that guy never left my mind."
— Stephen King

NOTE FOR COLLECTORS: The first 5,000 trade hardcovers printed will be SLIPCASED and shrink-wrapped with a bonus, collectible Glenn Chadbourne Limited Edition bookmark featuring a Dark Man drawing that doesn't appear in the book!

Stephen King first wrote about the Dark Man in college after he envisioned a faceless man in cowboy boots and jeans and a denim jacket forever walking the roads. Later this dark man would come to be known around the world as one of King's greatest villains, Randall Flagg, but at the time King only had simple questions on his mind: where was this man going? What had he seen and done? What terrible things...?

More than forty years after Stephen King first wrote his breathtaking poem "The Dark Man," Glenn Chadbourne set out to answer those questions in this World's First Edition hardcover featuring more than 70 full-page illustrations from the talented artist behind The Secretary of Dreams.

This Cemetery Dance Publications hardcover is a true marriage of words and art, with Chadbourne pulling the images from King's imagination and illustrating them in magnificent detail. This incredible blending of King's words with Chadbourne's art creates a unique page turning experience you can return to again and again, always finding new details hidden on every page. You'll discover hidden layers and mysterious secrets for years to come.

So who is the Dark Man and why is he traveling the country? The answers are terrifying....

Key Details About Our World's First Edition:

printed in a very limited and collectible print run — a tiny fraction of what a New York publisher normally prints for a new release
heavily illustrated — a story told through the blending of King's words and the artwork
the only trade hardcover edition planned at this time in any market
beautifully designed with both the collector and general reader in mind
the first 5,000 copies of World's First Edition, First Printing trade hardcover will be given the deluxe treatment: shrink-wrapped with a different dust jacket, a custom-made slipcase, and a collectible Glenn Chadbourne bookmark featuring a Dark Man drawing that doesn't appear in the book.
For more information, visit the Cemetery Dance Dark Man site!

May 13, 2013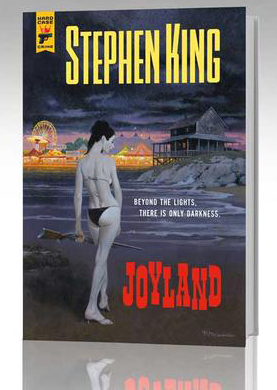 JOYLAND LIMITED EDITION HARDCOVER COMING SOON. Today, British publisher Titan Books announced that it would release Joyland in a hardcover limited in three states. In minutes, the signed lettered and the signed numbered sold out. But you can STILL PREORDER the Gift Edition! The word:
Joyland will be published in three limited edition hardcover formats. All three hardcover editions feature both a new cover painting and nine black and white interior illustrations by the legendary Robert McGinnis, the painter responsible for more than 1,000 classic book covers as well as the iconic movie posters for Breakfast at Tiffany's and the original Sean Connery James Bond movies.

26 Copies: A very rare, lettered, hardcover edition of the book, presented in a black clam-shell box, bearing the Hard Case Crime logo in gold foil, and signed by Stephen King. Featuring nine gorgeous illustrations from master artist Robert McGinnis and a map of the Joyland amusement park, created especially for the hardcover limited editions by Susan Hunt Yule.

724 Copies: A sumptuous numbered hardcover edition of the book, limited to 724 units and signed by Stephen King, illustrated by Robert McGinnis and featuring the Joyland map by Susan Hunt Yule.

1,500 Copies: Featuring all the illustrations and the Joyland map, but no King signature.
This will be the only hardcover edition of this book. If you liked PS Publishing's hardcover editions of The Colorado Kid, this thing will be equally exciting. Order now and enjoy! http://forbiddenplanet.com/picks/stephen-king-joyland/

April 29, 2013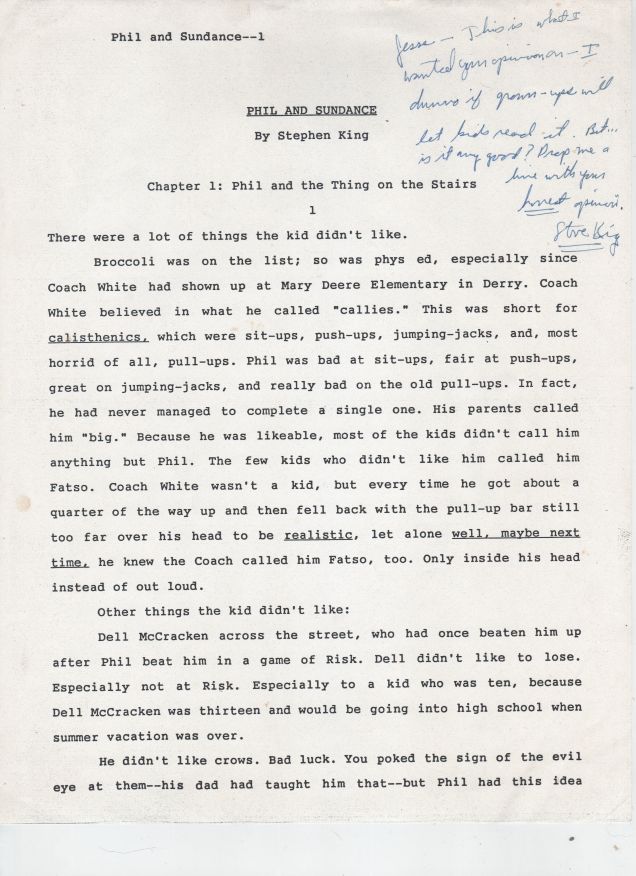 MAJOR UNPUBLISHED WORK NEWS! Recently, news of a previously unheard-of Stephen King work leaked to the internet. King experts didn't know about it. I didn't know about it. The only people who knew about it were Stephen King and the person for whom he wrote it (more details as I get them).
The work is called "Phil & Sundance", an unfinished 80-page novella Stephen King wrote in 1987. Numerous sources have checked and it is, indeed, a legitimate Stephen King piece of fiction. French website Club Stephen King posted a scan of the very first page, with a note from King on it, indicating that it might be a piece intended for young people. You'll see that page to the right (click on it to read it more clearly).
Right now, no one knows what the plans are for "Phil & Sundance." Will King finish it and publish it? Will he post the unfinished work to his site, a la The Cannibals? Will it remain unfinished and unpublished, like "Comb Dump"? No one knows. In any event, this is one of the most exciting Stephen King finds in the last decade, and you can expect the Stephen King community to be abuzz about it for awhile. As of right now, books by Justin Brooks (Stephen King: A Primary Bibliography) and Rocky Wood (Stephen King: Uncollected, Unpublished) are delightfully out-of-date.
April 25, 2013
Check out my BRAND-NEW review of Justin Brooks' stellar Stephen King: A Primary Bibliography, a book packed with a whole bunch of surprise new information. If you like the review, don't forget to click "Like" on FEARnet. Thanks!
April 23, 2013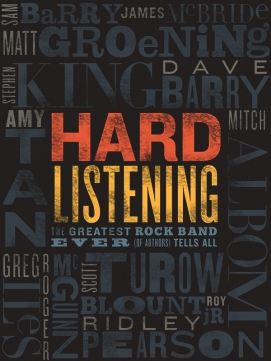 It looks like the cat's out of the bag on this one; we've been sitting on this information for awhile, but since it's being reported elsewhere, here goes: the new Rock Bottom Remainders book, Hard Listening will include NEW FICTION by Stephen King - an all-new, extremely recent short story (no word yet on the title...) So, now even more reason to clamor for what seems to be a very exciting new title. More information as soon as we're able to report it!
April 22, 2013
And now a treat for all you Rock Bottom Remainders fans out there: coming soon, Hard Listening: The Greatest Rock Band Ever (Of Authors) Tells All! Coming from ebook publisher Coliloquy, Hard Listening is an ALL-NEW work (not a reprint of Mid-Life Confidential):
Over 350M books sold. 40 New York Times #1 Bestsellers. One lousy band.

In 1992, a cadre of the world's bestselling authors formed a rock band. Twenty years later, they're hanging up their guitar picks, drumsticks and leather whips, but not without a look back on two decades of friendship, love, writing, and the redemptive power of rock'n'roll.

Hard Listening is a voyeuristic view into the private lives of your favorite authors, combining essays, fiction, candid email conversations, Q&As, and interactive parlor games. See Stephen King, Scott Turow, Amy Tan, Dave and Sam Barry, Roy Blount Jr., Mitch Albom, James McBride, Ridley Pearson, Matt Groening, Greg Iles, and rock legend Roger McGuinn at their most unguarded.
You can sign up on the site to be notified when Hard Listening is available. According to King expert Bev Vincent, the book is going to feature "all manner of really cool stuff in it." I can't wait!

April 18, 2013

Interesting news: Cavalier Magazine has just released an ebook collecting some very important interviews that first appeared on their pages - Andy Warhol, Barbra Streisand, and Bob Dylan - as well as the full roster of Stephen King short stories they originally published. "Battleground," "Suffer the Little Children," "The Cat From Hell," "Trucks," and "Weeds" are all available here, but there are a couple of catches:

1. According to Stephen King expert Rocky Wood, many of these are the "original Cavalier stories." Wood says
The marketing of this book claims that these stories are reprints from 'Cavalier' magazine. However, on checking the three stories that were later collected in King's books with significant variations from the original 'Cavalier' magazine text I find that each is actually a reprint of the version in King's books. Which of course makes me wonder about the provenance of this whole book. Certainly, you will not be buying a 'Cavalier Archive'. The stories that differ are 'Battleground', 'Trucks' (both collected in 'Night Shift') and 'Suffer the Little Children' (collected in 'Nightmares and Dreamscapes') - you will be reading the same version as published in those King collections. 'The Cat from Hell' is collected in 'Just After Sunset' and anyway does not vary from the original 'Cavalier' version.
2. To reiterate some of the above, all these stories are available in other formats. Every story but "Weeds" has been collected in a Stephen King anthology, and "Weeds" is being published in Shivers VII, from Cemetery Dance this spring. Shivers VII will also feature short stories by Clive Barker, Ed Goreman, and me. Yes. Me. It's called "I am Become Poe" and you'll like it, so buy that book, please, thank you.
April 9, 2013
Big exciting news in the world of writing on King: Justin Brooks has released his updated, revised version of Stephen King: A Primary Bibliography through Overlook Connection. This ebook is radically expanded, including a whole bunch of exclusive entries on unearthed (and previously unheard-of) Stephen King works. For those into looking a little deeper into the world of Stephen King, this book is essential.
Take a look here - this thing is under $7 and will blow you away. Full review to come, but color me impressed.
April 8, 2013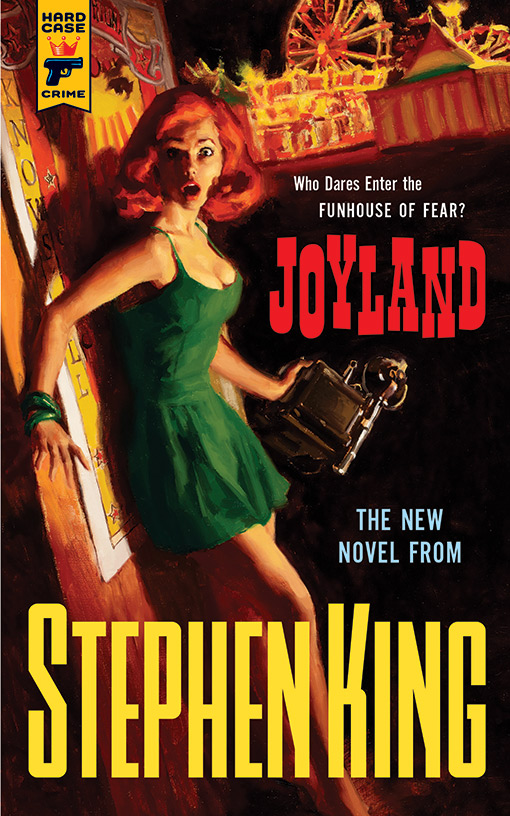 Publisher's Weekly releases its preview/review of King's upcoming Hard Case Crime release, Joyland:
A haunted carnival funhouse gives a supernatural spin to events in Thriller Award–winner King's period murder mystery with a heart. In the summer of 1973, 21-year-old college student Devin Jones takes a job at Joyland, a North Carolina amusement park. Almost immediately, a boardwalk fortune-teller warns that Devin has "a shadow" over him, and that his destiny is intertwined with that of terminally ill Mike Ross, a 10-year-old boy who has "the sight." Shortly after Devin meets Mike, Mike makes a cryptic comment: "It's not white." This proves a vital clue when Devin begins investigating an unsolved murder committed four years before at the carnival's Horror House, and quickly stumbles into more than he bargained for. King (The Colorado Kid) brings his usual finesse to this tale's mystery elements, and makes Dev's handling of them crucial to the novel's bigger coming-of-age story, in which Dev adapts to the carny life and finds true romance. Agent: Chuck Verrill, Darhansoff & Verrill. (June)
Still two months to go, kids, and I can't WAIT...
March 27, 2013
The King boys are busy this year. We here at Charnel House are trembling in excitement for Joe Hill's novel, NOS4A2, due out next month. Owen King's first novel, Double Feature, was released last week, to some pretty terrific reviews. Today, his dad, Stephen, chimed in:
"If you are in the mood to laugh your ass off, Double Feature will perform that surgery and painlessly. I am proud of my son, Owen, and in awe of his talent. The book might be a little difficult to locate at Barnes & Noble but if you seek, there or elsewhere, you will find it."
You can efficiently locate the book on Amazon.com, but hopefully your local bookstore will have it front and center. (Or, if like me, you're "reading" the book on audio, it's read by Holter Graham and it's at Audible.com.)
If nothing else convinces you to read Double Feature, this picture of the King boys surely will: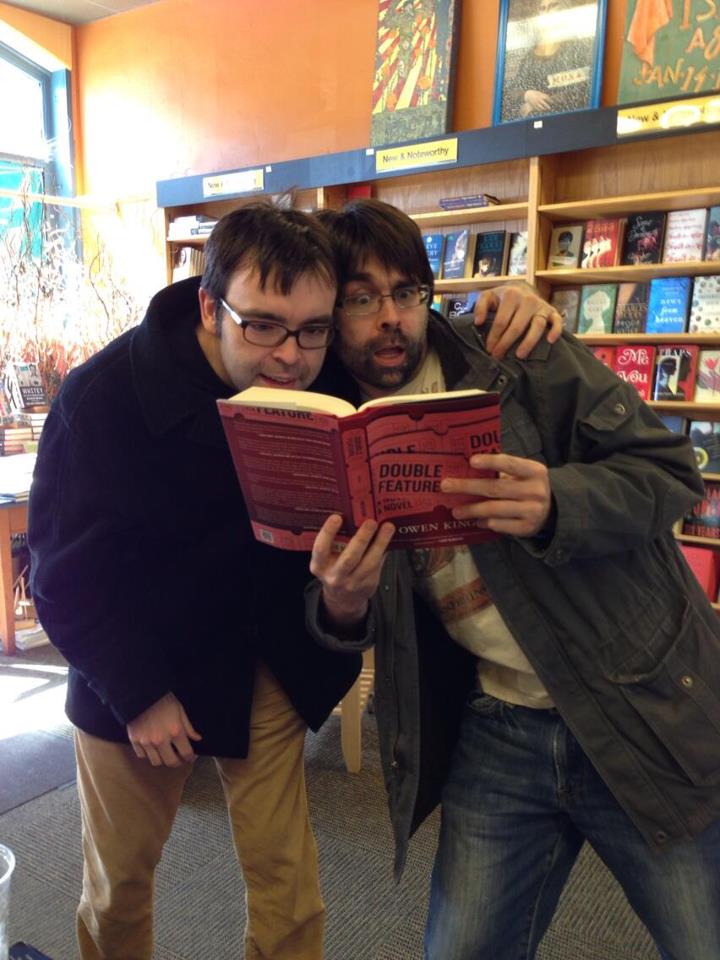 March 21, 2013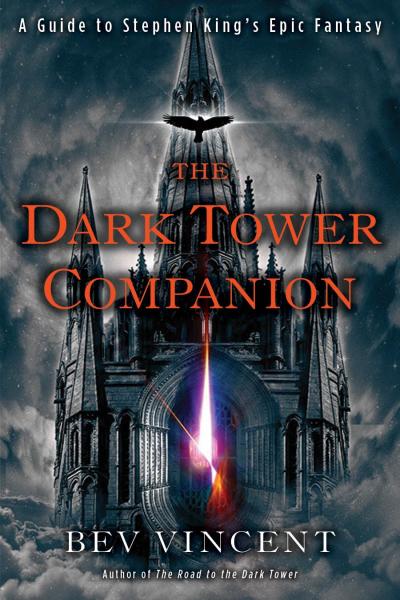 Check out my brand-new review of Bev Vincent's brand-new upcoming book, The Dark Tower Companion. Read the review on FEARnet.com, hit "Like" there (please) and pre-order this awesome new book! Thanks!
March 5, 2013
Don't forget, tonight's Jeopardy! will dedicate an entire column to Stephen King! Get your buzzers ready and check your local listings! More info: King Column on Jeopardy!
March 2, 2013
This is Doctor Sleep.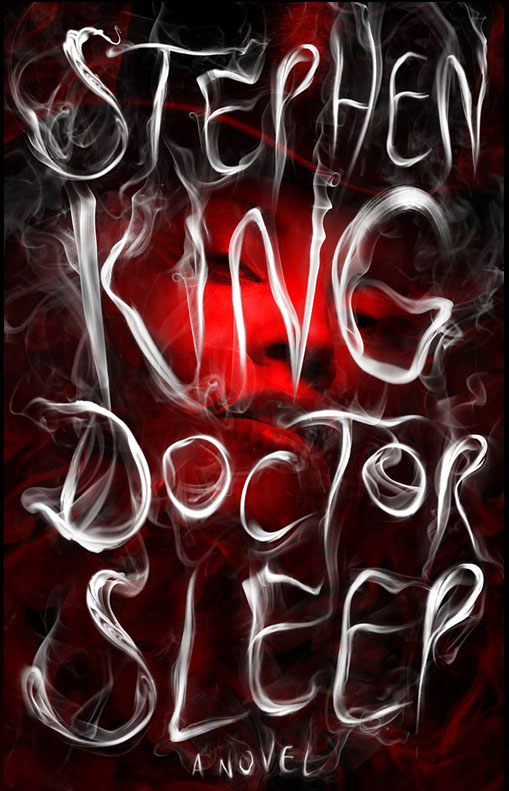 September 24 can't come quickly enough.
February 22, 2013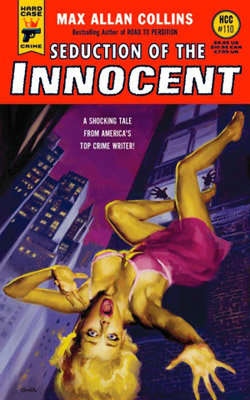 My review of Max Allen Collins' terrific new crime novel, Seduction of the Innocent is now up on FEARnet.com! If you've ever read and loved Tales from the Crypt and other horror comics from Way Back When, you'll love this tale of hot dames and cold murder set in the tumultuous anti-horror comics furor of the 1950s. Plus, Seduction is published by Hard Case Crime, the folks who did King's The Colorado Kid and his upcoming Joyland, among a slew of other fantastic crime novels. Check out the review (please click "Like") and then check out the book - it's fantastic!
February 20, 2013
Watch my video and revel in how excited I am about literally everything:
February 19, 2013
Self-Interest Department: Hey guys! You like reading my stuff here, right? Yay! But did you also know I wrote fiction? It's true!
Last year, I completed a novel called I'm On Fire, a horror novel due out on ebook from Cemetery Dance fairly soon. I think it's pretty good, with a couple of go-for-the-gullet twists. I'll talk more about that when it comes out!
Right now, I'm working on a new book, called Roller Disco Saturday Night. It's not a horror novel, but it's in the same sort of coming-of-age small-town genre as Bradbury's Dandelion Wine and McCammon's Boy's Life is. But there's also a roller disco. And motorcycles. And guy who carries around a stuffed raccoon called Metro. It's a weird book.
In order to finish it, I want to take a month or so off one of my jobs. I work six jobs! I know! And in order to take some time off to work on fiction, I'll need some backing.
Which is why I've begun a Kickstarter for my new novel. I'm trying to raise $3100 - enough to take two months off of one of my "regular" jobs and work on fiction. As of today, I'm halfway there. Hooray for supporting original fiction!
There are prizes at every level of donation. You'll get digital copies of this book and other books I've written (including a never-before-compiled anthology of my work). You'll get some physical copies of my chapbooks. If you donate $50, I will write you a poem about you. If you become a major backer and donate $250? I will name a character for you in the book.
Please consider donating to my novel. Fiction is hard, but it's easier when you don't have to take extra bar shifts. Thanks for supporting my site and my dreams for so long. It really is appreciated!
http://www.kickstarter.com/projects/521727074/roller-disco-saturday-night
February 12, 2013
Today, fantastic audiobook distributor Audible released King's recent essay, "Guns," as an audio single for 99 cents. Says King:
The overwhelming response from readers of the Kindle Single edition of Guns underscores the great need for thoughtful discourse on the issue of guns in AmericaÖI'm thrilled Audible is bringing Guns to the quickly growing audience of audiobook listeners.
Narrated by Christian Rummel (young adult classic My Side of the Mountain, Vonnegut's Player Piano, and scores more), this edition of "Guns" is also charitable: King's earnings from its sale will go to the Brady Campaign to Prevent Gun Violence.
You can purchase "Guns" on audio here. And don't forget to check out my review of the essay on FEARnet.com!
February 4, 2013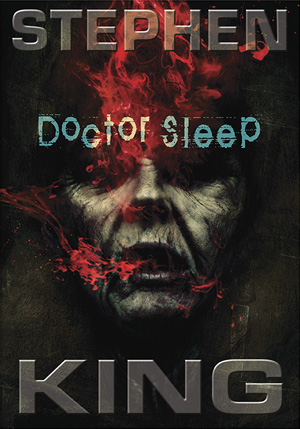 In a bit of stunning news, Cemetery Dance Publications announced their upcoming deluxe limited publication of King's Doctor Sleep. According to Cemetery Dance's website, "The exclusive Cemetery Dance Special Limited Edition of Doctor Sleep by Stephen King will be published in three states, all of them printed in two colors and bound in fine materials":
Deluxe Slipcased Gift Edition ($95)
Deluxe Signed & Traycased Limited Edition ($450)
Deluxe Signed & Traycased Lettered Edition ($2500)

Special Features Exclusive to this Collector's Edition:

deluxe oversized design (7 inches X 10 inches) featuring two-color interior printing
full color cover artwork by Vincent Chong
six color paintings by Vincent Chong printed on a high-quality glossy stock and tipped into the book
twenty black & white full page illustrations and six black & white spot illustrations by Erin S. Wells
high-quality embossed endpapers and fine bindings for all three editions
full-color signature sheets in the signed editions
extremely collectible print run that is a tiny fraction of the print run of the trade hardcover edition from Scribner — and you will NOT find our edition in chain bookstores!

CD offers some ordering instructions:
Ordering Multiple Copies:
There is a limit of one (1) Limited Edition and one (1) Lettered Edition per person or household. There is currently no limit on the Gift Edition, although that might be changed in the near future due to the low print run. Please note that we cannot combine multiple orders later on, so if you want to save on shipping, please place one order for all of the editions you want.

Matching Numbers or Letters:
If you would like us to match your Number or your Letter from It: The 25th Anniversary Special Edition, you will need to REPLY to your Doctor Sleep order confirmation email and tell us right away what the Number and/or Letter is. If multiple people request the same Number or Letter, we will give that Number or Letter to the customer who can provide proof they still own that copy of It: The 25th Anniversary Special Edition when it is time to ship Doctor Sleep.
For all the information about this surprise deluxe limited you could possibly want, please visit Cemetery Dance's website. This will make an amazing companion piece to Subterranean Press's deluxe limited of The Shining, also coming soon! Doctor Sleep is expected to sell out super quickly, so place your order today!
February 1, 2013
An extended version of the interview Stephen King did with Entertainment Weekly about Doctor Sleep is now online! And he talks about superfan Rocky Wood, who is awesome. Check it out!
January 31, 2013
Check out my review of King's Kindle single, "Guns." I think it's an important piece, and of specific interest to King fans, as it involves a long discourse on King's novel, Rage, and why he felt it necessary to pull the book from publication. Great stuff.
If you like the review, please hit "Like" on the FEARnet page! While you're there, check out my other FEARnet.com reviews and articles. Thanks for reading!
January 25, 2013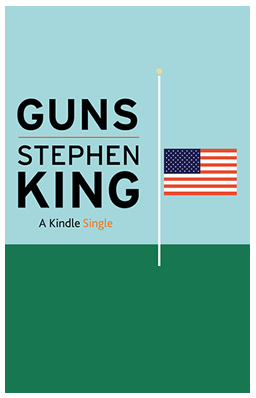 Today, Stephen King released a non-fiction essay through his own Philtrum Press titled simply "Guns." Meant to stir debate on the gun control issue, "Guns" is available exclusively.as a Kindle Single. King stated:
"I think the issue of an America awash in guns is one every citizen has to think about," said King. "If this helps provoke constructive debate, I've done my job. Once I finished writing 'Guns' I wanted it published quickly, and Kindle Singles provided an excellent fit."
Amazon had a brief press release:
In a pulls-no-punches essay intended to provoke rational discussion, Stephen King sets down his thoughts about gun violence in America. Anger and grief in the wake of the shootings at Sandy Hook Elementary School are palpable in this urgent piece of writing, but no less remarkable are King's keen thoughtfulness and composure as he explores the contours of the gun-control issue and constructs his argument for what can and should be done.
Extremely interesting and timely. This provocative essay - King's first nonfiction digital-only work - is available for 99 cents on Amazon. Whatever your stance on the issue, I encourage everyone to read the essay and get talking.
January 23, 2013
Subterranean Press is now taking pre-orders for its limited edition of Doctor Sleep. Preorder today!
January 11, 2013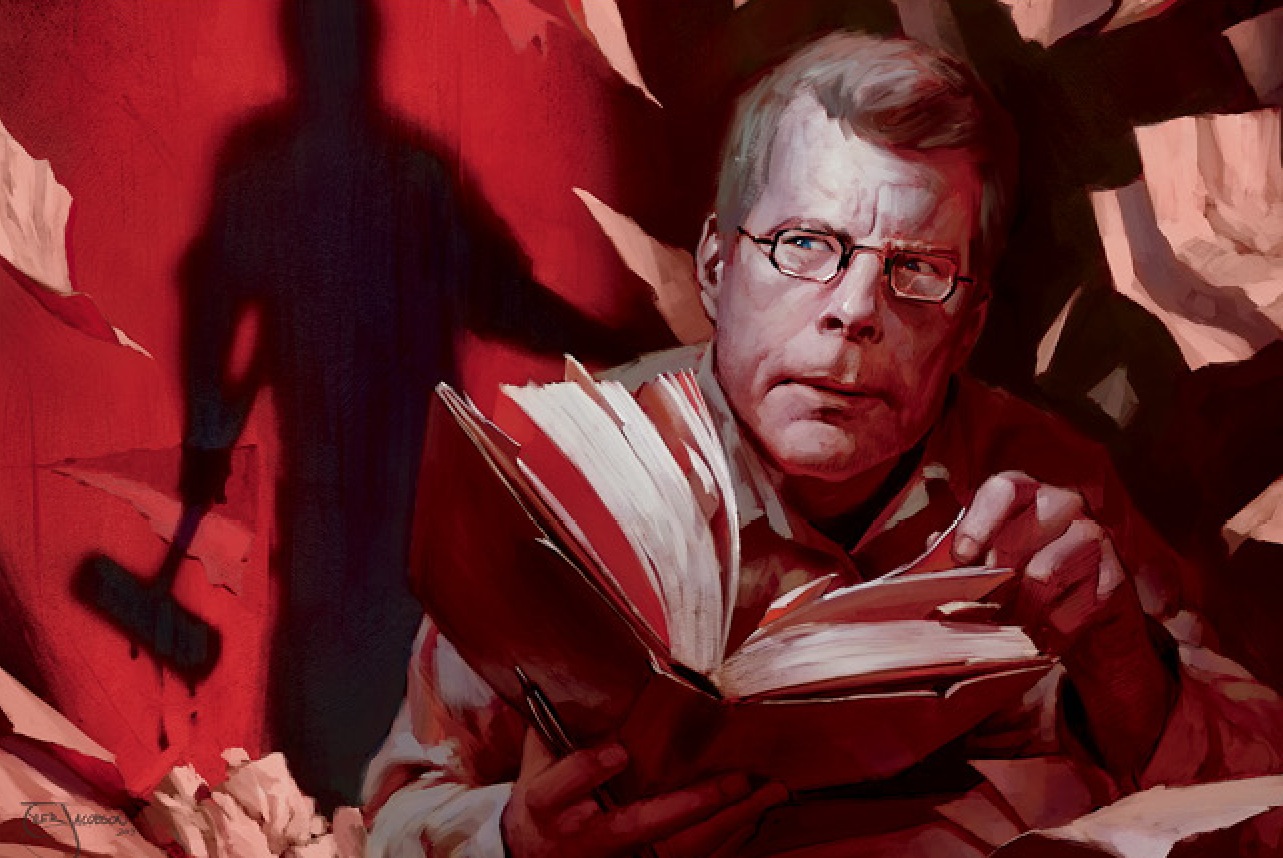 Issue #1242 of Entertainment Weekly (January 18, 2013) features a new interview with King on Doctor Sleep. It's a bit of a fluffy piece (and the story keeps trying to insist King has never written a sequel, equivocating on the Dark Tower stuff and flat-out ignoring The Talisman and Black House), but it's a neat article besides. Apparently there's an Easter egg involving 'Salem's Lot, which I'm particularly keen on. Read and enjoy!
January 02, 2013
In light of two brand-new publications of long-uncollected King stories, "Weeds" and "The Glass Floor," my new article on FEARnet.com looks at their elusive publication history: "Unearthing Buried Stephen King Stories". It was a fascinating article to research and I think you'll dig reading it. Remember, if you like it, hit "Like" on FEARnet. Thanks for reading!
December 14, 2012
In his talk at UMass Lowell on December 7, King not only read from his new short story "Afterlife," but also teased about a new novel, tentatively titled Mr. Mercedes. See King discuss the new book here: A Conversation With Stephen King. It's the one titled, "Stephen King On Twilight, 50 Shades of Grey, Lovecraft and More."
Ms. Mod from King's message board clarified both the printing schedule and the title:
Since there are already 2 books coming out in 2013, I wouldn't expect Mr. Mercedes (which is just the working title and is likely to be changed because Steve isn't happy with that one) to be out before at least 2014.
Which is great news, because after Doctor Sleep, who really wants another salutatory title? By the by, the novel and the impetus behind it sound great, and I can't wait to dig in. It's greed, a little, but now that we know about Doctor Sleep and Joyland, I am all about info on ALL NEW STUFF!
All right, that's the frosted side of me talking. Now back to journalistic integrity...
(Many thanks to Justin Brooks for alerting me to this information!)
December 10, 2012
At his appearance at UMass Lowell this weekend, Stephen King read the "world premier" of his new short story, "Afterlife." Here's a short clip!
Some facts about "Afterlife":
1. "Afterlife" started off as a comic book idea, following King's participation in Scott Snyder's and Rafael Alberquerque's American Vampire. Whether this prose version effectively stalls the story's future as a comic book remains to be seen.
2. Notice that William Andrews was born in Hemingford County, Nebraska. King also recently utilized Hemingford Home in his novella "1922" in Full Dark, No Stars. It's interesting that, after so long away from Mother Abagail's hometown (the 1990 version of The Stand was the last time we saw the place as a major locus until recently), King seems to have a vested interest. One wonders if it might be building to something big.
3. Currently, we have no knowledge of when "Afterlife" will be published, or how. But at this point, King has more than enough short works to justify a new collection, not to mention the upcoming publications of classic uncollected King stories "Weeds" (in Shivers 7 - which also includes my short story, "I Am Become Poe") and "The Glass Floor" (coming up in Cemetery Dance #68). A quick rundown of King's recent short-work publications:
Morality
Premium Harmony
Herman Wouk Is Still Alive
Ur
Mile 81
A Face In the Crowd (with Stewart O'Nan)
In the Tall Grass (with Joe Hill)
Throttle (with Joe Hill)
The Little Green God of Agony
The Dune
Under the Weather
Batman and Robin Have an Altercation
Afterlife

Quite a lot to choose from, and we still don't know if he's written new stuff, or is interested in publishing the old stuff, or, you know, want "Squad D" all official yet. Let's hope so.

November 27, 2012

My brand-new review of Jack Ketchum and Lucky McKee's unsettling I'm Not Sam, an unsettling look into the darkness buried in a loving marriage. Hit "Like" on FEARnet if you like the review!

November 27, 2012 VeryFineBooks.com has done the world a great service: Stephen King Collector Guides offers a quick-look guide to Stephen King limited editions, first editions, "Red Leather Library Books," and a bunch more. It's a fantastic resource for King collectors and novices looking to get into the world of collecting. Check it out!

November 12, 2012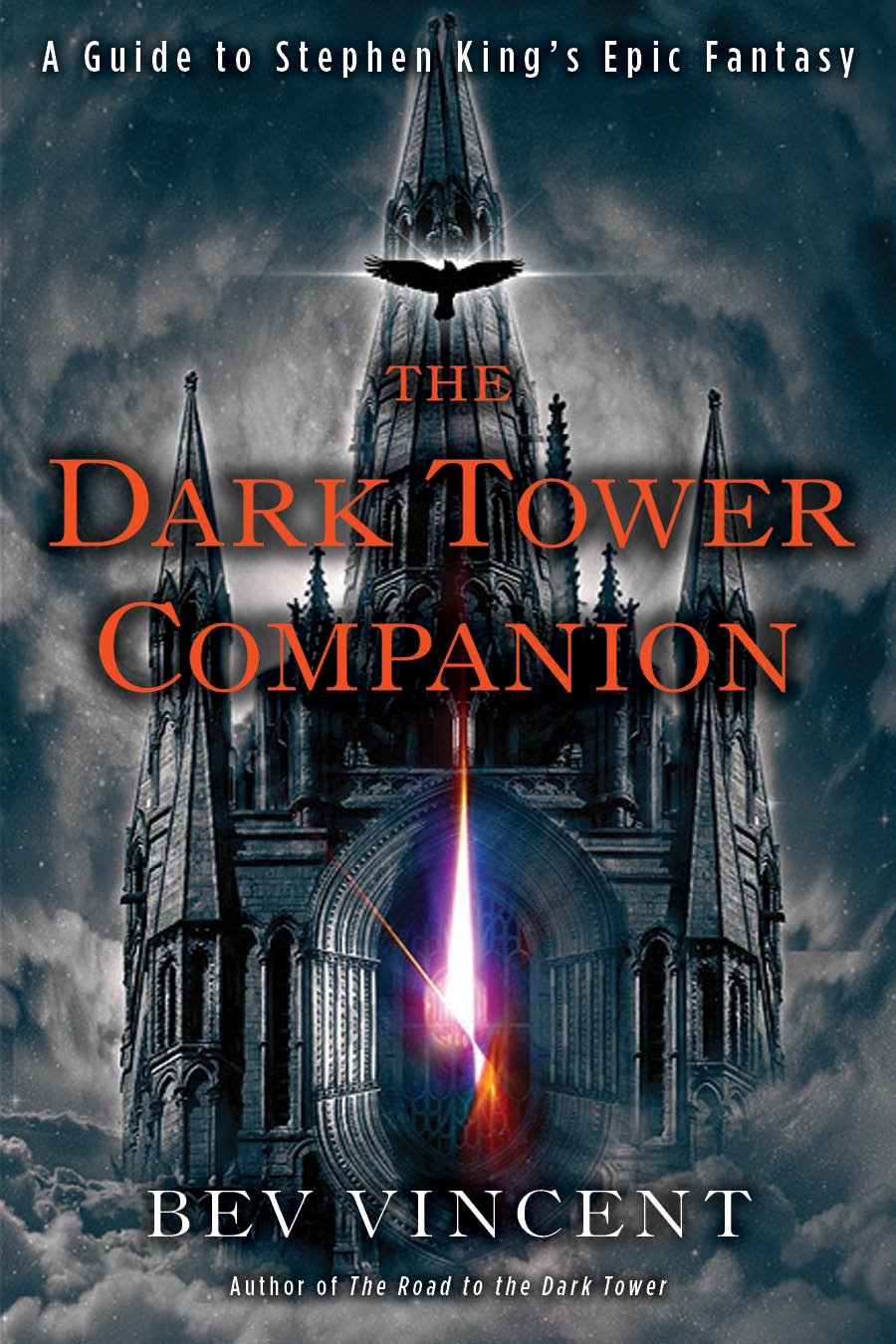 Today, Stephen King expert Bev Vincent announced his upcoming Dark Tower Companion, an "an all-new comprehensive guide to one of the most brilliantly constructed worlds in all of fiction." A follow-up to his well-received Road to the Dark Tower, this new Companion boasts
the ultimate compendium to King's evolving magnum opus, presenting the mythology, history, and geography of this epic fantasy that has captivated generations of readers. Featuring interviews with Stephen King, Ron Howard, Dark Tower expert Robin Furth and others, Bev Vincent reveals The Dark Tower's influential literary origins, examines its connections to the vast majority of King's other novels, explores the expanded universe, catalogs the major characters, locations and concepts, and includes a travel guide to the story's real-world locations, giving fans who have followed Roland's journey—or those who are discovering it for the first time—a fascinating overview of the series and an inside look at the creative process of one of the world's most popular authors.
Also? There are maps. I'm officially excited. The Dark Tower Companion arrives next April!
November 2, 2012
Brian James Freeman, co-author of The Illustrated Stephen King Trivia Book and The Illustrated Stephen King Movie Trivia Book is, like many folks who write on King, also a talented fiction writer. His novella, The Painted Darkness, recently arrived on the scene to much acclaim. Now, the audio version has made its way into the hearts (and ears) of readers and listeners everywhere. Check out my FEARnet.com review, "Brian J. Freeman's The Painted Darkness Captures the Strangeness of Youth", and remember to hit "Like" on the page if you enjoyed the review!
October 29, 2012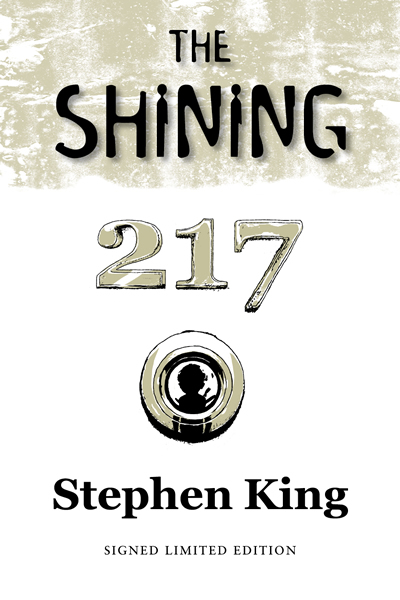 The speculation has proved out: The Shining is getting a major limited edition in anticipation of the much-anticipated Doctor Sleep! Today, King announced
Subterranean Press [The Green Mile, Stephen King Goes to the Movies] has announced they will publish Signed Limited Editions of The Shining in October 2013. The luxurious hardcovers will be published in three formats and will feature over 40 illustrations by acclaimed artist Dagmara Matuszak.

The luxurious hardcovers will be published in three formats and will feature over 40 illustrations by acclaimed artist Dagmara Matuszak. The signed editions will be signed by Stephen and the artist.

Signed Limited Edition of 750 numbered copies, housed in a custom traycase: $450
Signed Lettered Edition of 52 copies, specially bound, housed in a custom traycase: $2,500
Gift Edition of 1500 unsigned copies, cloth bound, housed in a custom slipcase: $95

Preorders for this offering will begin in January 2013. News regarding preorders will be sent first from Subterranean Press through their newsletter, so anyone interested is urged to sign up at their site.

If you have further questions, please contact Bill Schafer at Subterranean Press: subpress@gmail.com
Needless to say, this is extremely exciting. We've never had a limited edition of The Shining before, and it's about time this seminal work got the deluxe treatment. Subterranean's work on The Green Mile is some of the very best limited edition production design ever, which makes this news even more exciting. Sign up for their newsletter, and keep your eyes peeled here for more news!

October 28, 2012

My brand-new review of Andrew J. Rausch's The Wit and Wisdom of Stephen King is now up on FEARnet.com! I really enjoy this book and I think fans of King (and quotations) will enjoy it, too. Take a look at the review, and hit "like" if you like it! Thank you so much!

October 26, 2012

Nifty pop-culture website The A.V. Club today put out a list of columnists' scariest reading moments, and it's a fun list to read if you're at all into horror. Two King novels - The Shining and Pet Sematary - made it, as well as peripheral King stuff like Joe Hill's Locke & Key and someone's spooky recollection of an Archie comics story (you do know the connection between King and Archie, right?) It's a fun list, so check it out! October 16, 2012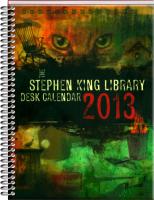 The 2013 Stephen King Desk Calendar is now available for purchase! It's a special "anniversary" edition, featuring essays celebrating 35 years of The Stand, 30 years of Christine and Pet Sematary, and, best of all, five years of Duma Key (the very first King Desk Calendar essay written by yours truly, Kevin Quigley).
You can purchase the calendar through the Overlook Connection's Stephen King Catalog. If it's your first purchase with overlook, you can save 10% by using the code welcome10 when ordering!
October 15, 2012
Well, this is just neat. With little notice, the King camp announced "The Little Green God of Agony" as an e-comic, exclusive to King's website, at this past weekend's New York ComicCon. This unprecedented project merges King's masterful short story with art by illustrator Dennis Colero. The press release:
The first horror web comic exclusive to StephenKing.com, The Little Green God of Agony, is now underway. Stephen King's short story, the opener of Stephen Jones's 2011 anthology, A Book of Horrors, and included in Ellen Datlow's The Best Horror of the Year, Volume Four, tells from the point of view of his doubting nurse the tale of a paraplegic millionaire who wants to exorcise his pain. Adapted by well-known comic artist Dennis Calero (co-creator of Xmen Noir and Devil Inside), the webcomic will run in serial installments on Mondays, Wednesdays, and Fridays for eight weeks.

"I have been a huge Stephen King fan for as long as I can remember," explained Calero. "To be able to work on ANYTHING with him is an honor. And to make this announcement at New York Comic Con is icing on the cake!"
The first episode is out today, with new episodes appearing every Monday, Wednesday, and Friday for the next eight weeks! It seems that, although we didn't get a winter novel this year, Stephen King has been plenty busy giving us new stuff, week after week!
October 10, 2012

One of the best stops for Stephen King (and all horror) books, magazines, and merchandise has always been The Overlook Connection (yo, Dave!) I remember those heady high school days when the Overlook catalog would arrive in the mail, and I'd leaf through to the Stephen King section and marvel at what was there.
Well now, for the first time, the Overlook Connection's online presence has a dedicated Stephen King Catalog. There, you can find all manner of King stuff: books, short stories, essays, rare appearances, merchandise, magazines, and ephemera. Overlook rules and no fooling. Check them out now, and tell em Kev sent you!
October 5, 2012
CHARNEL HOUSE, like everything, is now on Twitter! Click here for quick updates and all the news Charnel House sees fit to print! Thanks!
October 5, 2012
Check out Brian James Freeman's interview with Lawrence Cohen, screenwriter of the movie Carrie and co-writer of the Broadway adaptation(s). I love the insider information about how the movie came to be, and how the musical has gained a cult status and revival acclaim. Really great interview!
October 5, 2012
DoctorSleepBook.com is now live! From the site:
On highways across America, a tribe of people called The True Knot travel in search of sustenance. They look harmless—mostly old, lots of polyester, and married to their RVs. But as Dan Torrance knows, and tween Abra Stone learns, The True Knot are quasi-immortal, living off the "steam" that children with the "shining" produce when they are slowly tortured to death.

Haunted by the inhabitants of the Overlook Hotel where he spent one horrific childhood year, Dan has been drifting for decades, desperate to shed his father's legacy of despair, alcoholism, and violence. Finally, he settles in a New Hampshire town, an AA community that sustains him, and a job at a nursing home where his remnant "shining" power provides the crucial final comfort to the dying. Aided by a prescient cat, he becomes "Doctor Sleep."

Then Dan meets the evanescent Abra Stone, and it is her spectacular gift, the brightest shining ever seen, that reignites Dan's own demons and summons him to a battle for Abra's soul and survival. This is an epic war between good and evil, a gory, glorious story that will thrill the millions of hyper-devoted readers of The Shining and wildly satisfy anyone new to the territory of this icon in the King canon.
This just gets more and more exciting. 2013 is going to be a TERRIFIC year to be a Stephen King reader!

October 3, 2012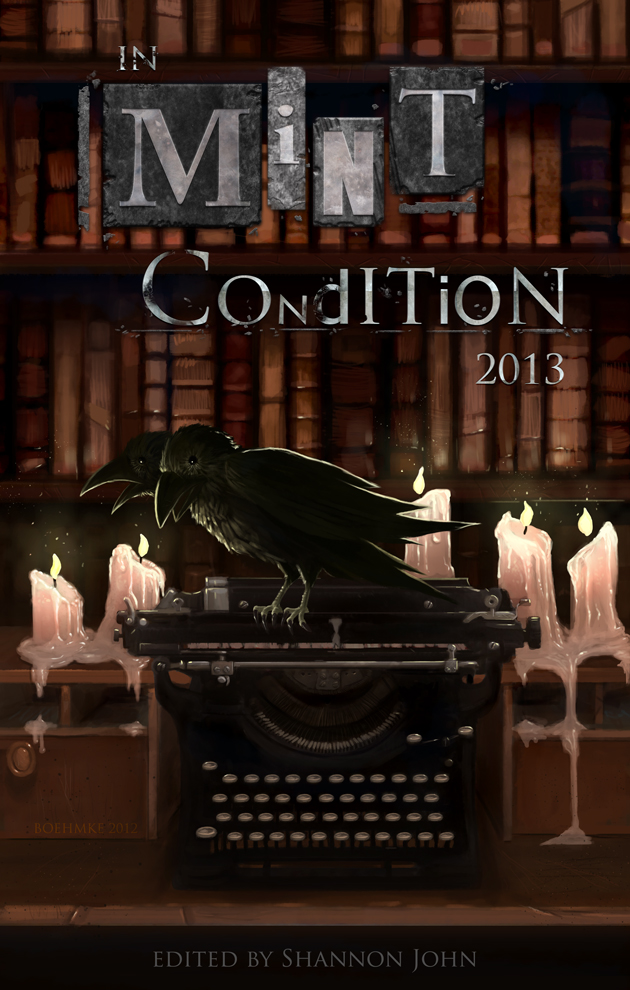 In Mint Condition: a fascinating new book coming in 2013 from Ambannon Books. This new collection of original fiction and art looks exciting. I've read fiction by some of the authors here before (notably Bob Ireland) and it's quite good, and some of these artists (like the awesome Glenn Chadbourne) are working professionally, as well. This is an awesome opportunity to catch some of these writers and artists in a unique, themed collection. The details:
Publisher: Ambannon Books
Editor: Shannon John
Cover Artist (paperback): David Boehmke
Interior Artists: Jill Bauman, David Boehmke, Les Edwards, Glenn Chadbourne, Vincent Chong, Alex McVey, Rachel Readman, Erin Wells. 8 more artists to be announced soon!
Publishing Date: Early 2013 (date forthcoming)
Table Of Contents:
1. "Mr. Scratch's Murder Circus" by Jeremy Gooch
2. "The Receptionist" by Bob Ireland
3. "The Train Graveyard" by Ariel Bosi
4. "Seagrass Encounter" by David Swearingen
5. "Brother" by Ryan Wood
6. "A Place On Pine Island" by Matthew Biddle
7. "Pumpkin" by Krystle Tiedeman
8. "Excelsior" by Jean Melkovsky
9. "My First Book" by Janine
10. "The Rule Of Three" by Thomas Cranham
11. "You're The Best" by Tim Martin
12. "Darkness Rising" by Gabriel Ayala
13. "Tabula Rasa" by Hannah O'Connor
14. "Right To Life" by Mike Ziniti
15. "On Monday, I ate my cat." by Jerome Smith
16. "Marvin's Retirement" by Ralph Mulleins

"In Mint Condition"
It is a phrase that has become very familiar to collectors. Whether you are a collector of fine books, antique watches, baseball cards, or comic books, you are always looking for something in mint condition. To be in mint condition, that special something must be of the highest quality. The best of the best.
Taking that idea and running with it, Ambannon Books has collected the very best in brand new, never-before-seen short stories, creative nonfiction, poems, and artwork from the members of the leading Stephen King fansite on the internet, TheDarkTower.org.
Join us on a journey through sixteen stories and poems of unspeakable horrors, inspirational bravery, alternate realities, and the dark side of things that seem so familiar, yet are simply waiting to consume you.
In Mint Condition: 2013 will be released in two editions: A Trade Paperback Edition will be available for $9.99, and a Signed, Limited Hardcover Edition will be available for $49.99. The hardcover edition will be limited to 100 numbered copies only, will feature brand new dustjacket artwork, and will be signed by the editor.
A portion of the proceeds from the Signed, Limited Hardcover Edition will be donated to the Haven Foundation in the name of TheDarkTower.org and Ambannon Books. The Haven Foundation gives financial assistance to provide temporary support needed to safeguard and sustain the careers of established freelance artists, writers and other members of the arts and art production communities who have suffered disabilities or experienced a career-threatening illness, accident, natural disaster or personal catastrophe. AmbannonBooks.com. The Signed, Limited Hardcover Edition is expected to sell out fast, so be sure you are among the first to reserve your specific number!
September 26, 2012
HUGE Stephen King contest from Club Stephen King! From the Club:
Stephen King turned 65, and the Club Stephen King will turn 20 in october : originally an organisation created in 1992 in France, the Club Stephen King is a website since 1999. The perfect occasion for celebrating Stephen King fans all around the world.

Among the 100+ gifts available in the Stephen King Contest : books, mass paperback books, audiobooks, ebooks, limited editions, proofs, illustrations, promotional items, documentaries, an ebook reader.... a wide range of articles provided by about 30 partners.

List of partners, gifts and link to enter the contest : http://clubstephenking.com/

Club Stephen King website : http://club-stephenking.fr/
Awesome! Check it out and win yourself some prizes!

September 22, 2012
Hey all! Recently, Cemetery Dance's Brian James Freeman sat down with IDW's Jeff Connor for an illuminating interview. Connor's new limited edition, Zombies vs. Robots, looks fantastic! Of special note to Stephen King fans is an in-depth look at Connor's previous publishing endeavor, Scream/Press, whose limited edition of Skeleton Crew remains one of the most beautiful limiteds ever produced. Connor gives Freeman a rare behind-the-scenes glimpse into how Skeleton Crew was produced ... including some interesting tidbits about Stephen King's way with certain words. It's always cool to hear about stuff like this, from the shadowy world of limited editions. Check out the interview here!
September 22, 2012
Rocky Wood's fantastic Stephen King: Uncollected, Unpublished (the revised edition with contributions by Stephen King himself) is now in paperback! And even better?
Guys, I got a blurb on the cover: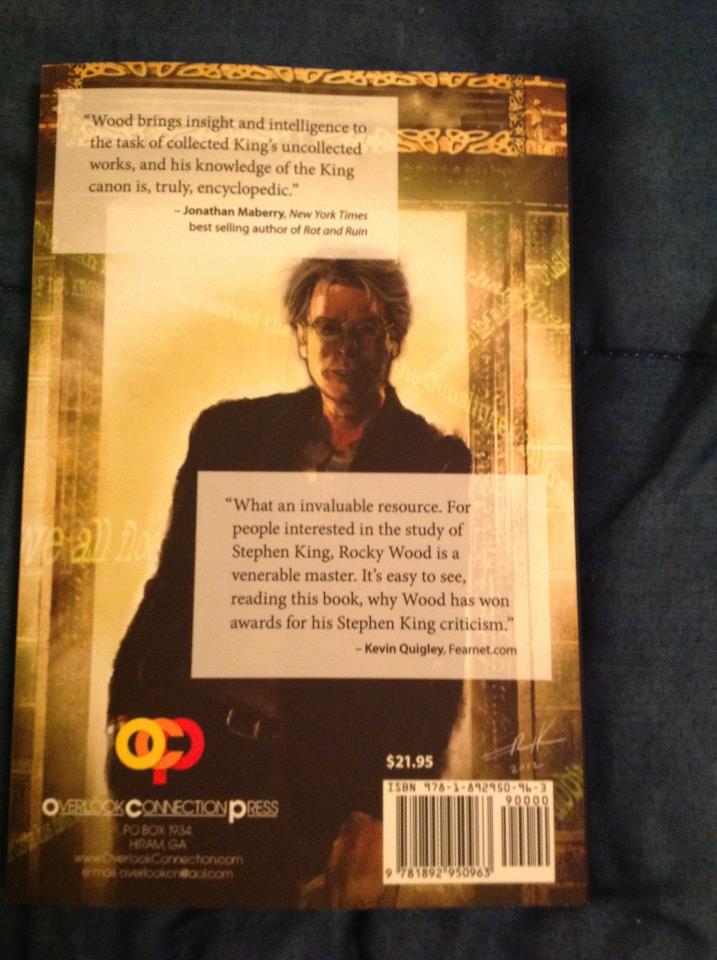 My first blurb ever! And for an awesome book! Go, buy it, and tell them Kev sent you!
September 21, 2012
HAPPY 65th BIRTHDAY, STEPHEN KING! And many and many-a!
September 20, 2012
Boom.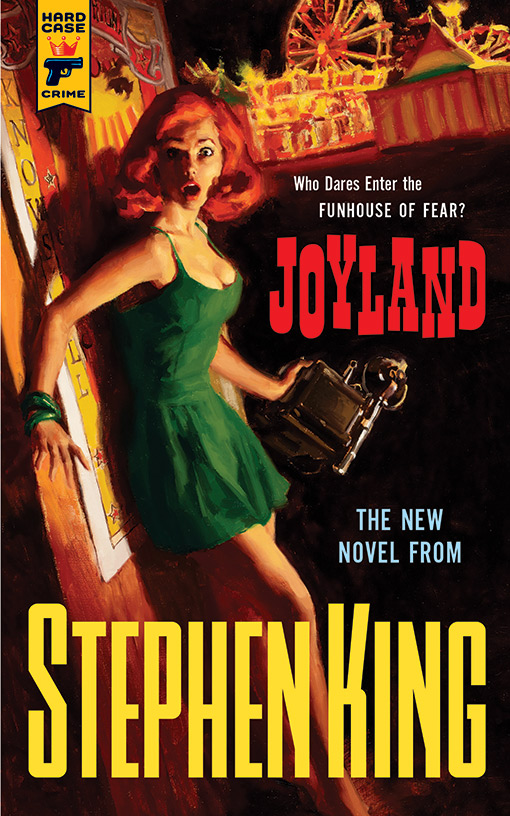 From Entertainment Weekly First Look:
Not only is King going retro with the setting of his upcoming novel, he's also sticking to a tried-and-true format. "I love crime, I love mysteries, and I love ghosts," he said in the press release. "I also loved the paperbacks I grew up with as a kid, and for that reason, we're going to hold off on e-publishing this one for the time being. Joyland will be coming out in paperback, and folks who want to read it will have to buy the actual book." Charles Ardai, editor of Hard Case Crime, promises a layered, genre-crossing story. "Joyland is a breathtaking, beautiful, heartbreaking book," he said. "It's a whodunit, it's a carny novel, it's a story about growing up and growing old, and about those who don't get to do either because death comes for them before their time. Even the most hard-boiled readers will find themselves moved. When I finished it, I sent a note saying, 'Goddamn it, Steve, you made me cry.' "
This amazing cover is the work of Robert McGinnis (famous for movie posters like Breakfast At Tiffany's and Thunderball and pulp magazines like True Detective) and Glen Orbik (whose stellar cover art includes previous King novels The Colorado Kid, Blockade Billy, and the special 25th anniversary cover of It). This is fantastic stuff.
Read more about Joyland at the Hard Case Crime website, and while you're there, pick up the James M. Cain lost masterpiece, The Cocktail Waitress. The last, newly discovered manuscript by the author of The Postman Always Rings Twice, Mildred Pierce, and Double Indemnity, The Cocktail Waitress is just terrific. If you're not reading Hard Case Crime, then you're missing out on the best crime fiction from the genre's glory days AND today. I promise you, I'm not a shill; I just really like these books!
Follow both Hard Case Crime and publisher Charles Ardai on Twitter for the best updates on this spectacular publisher.
Mark your calendars now if you haven't already: Joyland is coming this June!
September 19, 2012
Exciting news, Dark Tower fans! If you're one of the people who like waiting for the paperback, today is your lucky day! Well, actually, certain days in November and February are your lucky days. The Wind Through the Keyhole comes to trade paperback on November 6, 2012 ... and to mass-market paperback February 26, 2013! Added bonus: awesome new cover. King has been more selective about mass market paperbacks lately - Under the Dome simply didn't have one in America, and I'm not sure if we're going to get one for 11/22/63 - so this is really terrific news all around!
September 18, 2012
Doctor Sleep has a release date ... and it's over a year away. Simon & Schuster and Hodder & Stoughton have confirmed that King's sequel to The Shining will be out on September 24, 2013. The original release date was scheduled for January; we now have a long, LONG wait until we get book-length work from King. Joyland, his new novel for Hard Case Crime, comes in June. Could this make way for a surprise book early in the year? A short fiction collection, maybe? We can hope ... and we can wait.
September 17, 2012
Hey all! Check out my brand-new FEARnet.com review of Gary Raisor and Jeff Austin's Empty Places, a terrifically elegiac graphic novella. Remember: hit "Like" on FEARnet if you like the review!
THE NEWS I'VE BEEN WAITING TO TELL YOU. Cemetery Dance just announced Shivers VII, a brand-new short story collection featuring work by Clive Barker, Ed Gorman, Stephen King ... and ME.
That's right, kids: Shivers VII marks the first time I will have fiction IN PRINT. My short story, "I am Become Poe," was selected by Cemetery Dance to share space with luminaries of the horror field, and I couldn't be more humbled and thrilled to be in the presence of such important, fantastic writers.
Also, Stephen King's short story "Weeds" (the basis for the Creepshow adaptation, "The Lonesome Death of Jordy Verrill") marks its first appearance in a book. Other than two appearances in periodicals (Cavalier [1976] and Nugget [1979]), "Weeds" has never seen print in book form, so this is a fairly momentous occasion for King fans! Here's the full table of contents:
"The Departed" by Clive Barker
"Red Rover, Red Rover" by Norman Partridge
"Breakbone" by Bill Pronzini
"The Storybook Forest" by Norman Prentiss
"Simple" by Al Sarrantonio
"Born Dead" by Lisa Tuttle
"The Baby Store" by Ed Gorman
"A Lonely Town in Alaska" by Darren Speegle
"Zombie Dreams" by Tim Waggoner
"Echoes" by Don D'Ammassa
"Bone by Bone" by Scott Nicholson
"Sleeping with the Bower Birds" by Kaaron Warren
"Memory Lake" by Robert Morrish
"That Long Black Train" by Travis Heermann
"Beholder" by Graham Masterton
"Feel The Noise" by Lisa Morton
"Plant Life" by Greg F. Gifune
"I Am Become Poe" by Kevin Quigley
"Arbeit Macht Frei" by Del James
"Bovine" by Joel Arnold
"Depth" by Rio Youers
"GPS" by Rick Hautala
"Room 8" by Roberta Lannes
"Severance Package" by Bev Vincent
"As She Lay There Dying" by Brian James Freeman
"Weeds" by Stephen King
You can pre-order your trade paperback, hardcover, or SIGNED AND TRAYCASED LETTERED EDITION (boom) here.
My fiction! In a book! Hooray!
September 1, 2012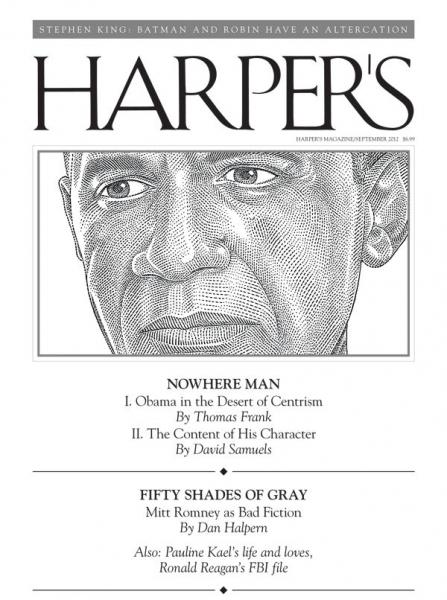 Please check out my review of Stephen King's deeply affecting new short story, "Batman & Robin Have an Altercation" on FEARnet.com. The title seems silly, but trust me, you're going to love this thing. Please click "like" on the FEARnet.com site if you like the review!
August 28, 2012
Hey folks! Please check out my FEARnet.com review of Stephen King and Stewart O'Nan's "Face In the Crowd," the brand-new ebook! Please "like" it if you like it! Thanks!
August 28, 2012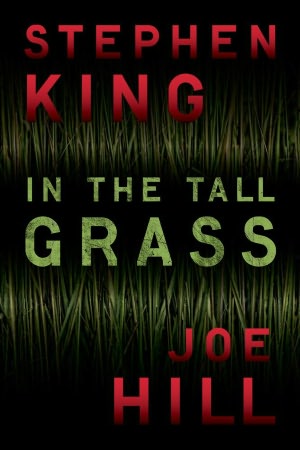 Good news for those who missed out on this summer's powerful Esquire two-parter by Stephen King & Joe Hill: "In the Tall Grass" is coming to ebook on October 9th! It's a terrifically scary/gut-churning little tale that I recently reviewed in two parts for FEARnet.com. (Part 1 & Part 2). Leagues different from the previous King/Hill collaboration, "Throttle," this one starts off disturbing and then goes on to deliberately haunt your nightmares. It's AWESOME! Read it in full on October 9!
August 24, 2012
Full review to come, but guys? "Batman and Robin Have an Altercation" might be one of Stephen King's best stories ever. Go out, buy Harper's, and read this. Wow.
August 20, 2012
In yet another surprise move, King has released a brand-new short story titled "Batman and Robin Have an Altercation," the latest in a long line of Stories With Weird Titles ("Herman Wouk Is Still Alive" and "That Feeling, You Can Only Say What It Is In French" among them). It's in the latest issue of Harper's Magazine; currently, only subscribers have access, but it should be out in stores this week. Further news as this develops!
August 14, 2012
This. Is. IT!
While I - your humble webmaster and King expert, Kevin Quigley - was recently superhumanly overexcited about the fact that I had an essay in the upcoming Illustrated Stephen King Trivia Book, this news goes WAY beyond that. A WHOLE book, in hardcover, paperback, and deluxe editions, co-written by yours truly right here.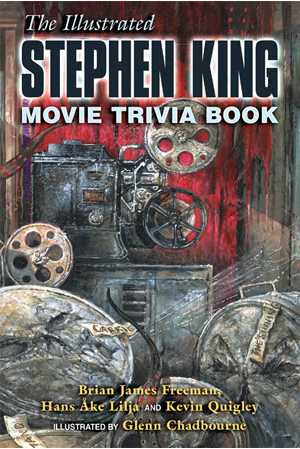 The STEPHEN KING ILLUSTRATED MOVIE TRIVIA BOOK is coming this fall from the good people at Cemetery Dance. Co-authored by Brian James Freeman (The Illustrated SK Trivia Book), Hans-Ake Lilja (Lilja's Library), and Kevin Quigley (Charnel House, Chart of Darkness, This Terrestrial Hell)
features more than 1,000 questions to test your knowledge of the movies, miniseries, and television episodes based on ideas conjured from the imagination of the King of Horror, along with more than 50 special illustration-based questions from Cemetery Dance favorite artist Glenn Chadbourne!

In addition, the book concludes with a special afterword by Mick Garris, director of The Stand, The Shining, Riding the Bullet, Desperation, Bag of Bones, and many others!

The Illustrated Stephen King Movie Trivia Book includes material right up through this year and no Stephen King collection will be complete without it!
As a bonus, there's a huge big special offer that's available just this week:
Anyone who preorders any edition of this book through the Cemetery Dance website during the FIRST WEEK of preorders can also qualify for a FREE SIGNED LIMITED EDITION Glenn Chadbourne art print that will be signed by the artist.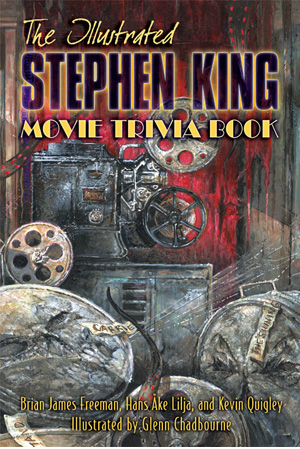 This book is YEARS in the making. Guys, I watched Stephen King movies for MONTHS to make this book a reality. Studied them. Rejoiced in some, suffered through others. Don't make me have had to watch every single Children of the Corn film in vain! Check out the pre-order page on Cemetery Dance, and snag yourself a copy today!
You can also listen to me and Lilja talking about the book on the awesome Lilja & Lou Podcast. Check out Lilja & Lou's interview with me, and stick around for some rocktastic King discussion!
August 05, 2012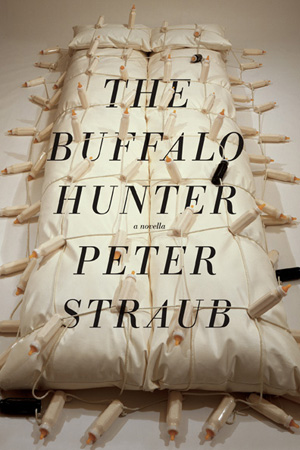 Check out my BRAND-NEW review of Peter Straub's upcoming novella, The Buffalo Hunter, coming this fall from Cemetery Dance. And don't forget: please hit "Like" if you like it! Thanks!
August 03, 2012
You can now pre-order "A Face In the Crowd" on iTunes. The new story by Stephen King and Faithful collaborator Stewart O'Nan will be 50 pages long, give or take depending on your choice of font size. Coming August 21st!
July 31, 2012
Breaking! Coming THIS FALL: The Revised & Expanded Illustrated Stephen King Trivia Book from Cemetery Dance!
This revised and updated second edition of The Illustrated Stephen King Trivia Book features all of the original questions from the first edition, along with more than one hundred new questions about Stephen King's most recent releases! Also included are ten brand new illustration-based questions from Cemetery Dance favorite artist Glenn Chadbourne, along with the 60 illustration-based questions from the original edition. This new edition concludes with a brand new afterword by Kevin Quigley, founder of Charnel House, one of the oldest Stephen King fan sites on the web.

The Illustrated Stephen King Trivia Book by Brian James Freeman and Bev Vincent includes material right up through The Wind Through the Keyhole and no Stephen King collection will be complete without it!
Emphasis mine.
That's right, kids, not only is this revised and expanded edition super current and even more awesome than the first edition, it also features a BRAND-NEW ESSAY by ME! It's called "Trivial Matters" and it's never been published before, anywhere. This marks my very first appearance in hardcover, so I'm unreasonably excited. That's reason enough to get this book, if you really think about it.
Cemetery Dance is releasing The Illustrated Stephen King Trivia Book in two states:
A perfect-bound trade paperback ($19.95)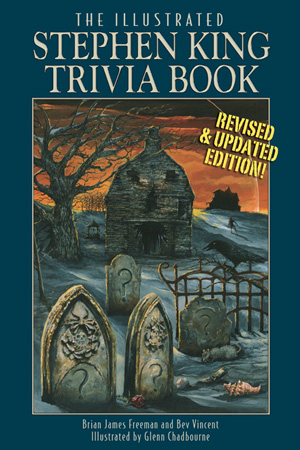 A Hardcover Limited Edition (signed by Freeman, Vincent, Quigley, and Chadbourne) bound in full-cloth and Smyth sewn and limited to the number of copies that are preordered in the first 30 days ($40.00)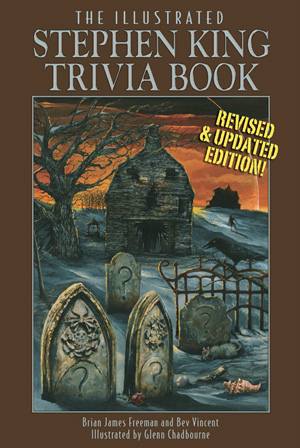 Folks, this book is awesome, honestly. The new material is fantastic, the new illustrations are kick-ass, and don't forget that afterword. Pre-order your copy HERE!
July 24, 2012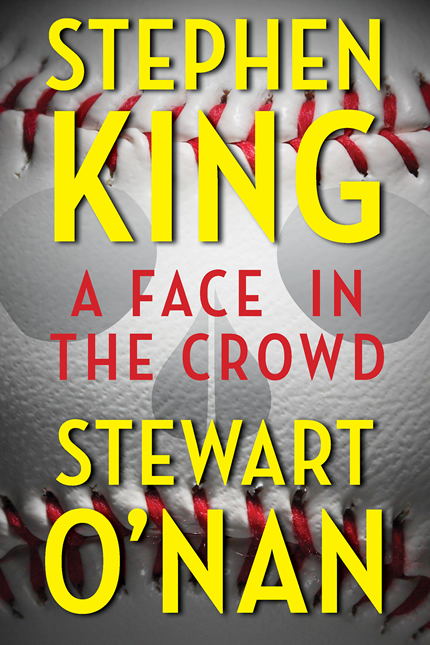 BRAND NEW STORY coming from Stephen King and previous nonfiction collaborator Stewart O'Nan (Faithful). From the press release:
Dean Evers, an elderly widower, sits in front of the television with nothing better to do than waste his leftover evenings watching baseball. It's Rays/Mariners, and David Price is breezing through the line-up. Suddenly, in a seat a few rows up beyond the batter, Evers sees the face of someone from decades past, someone who shouldn't be at the ballgame, shouldn't be on the planet. And so begins a parade of people from Evers's past, all of them occupying that seat behind home plate. Until one day Dean Evers sees someone even eerier...
No word on the length (whether it's closer to a short story or a novella). What we do know is that it will be published exclusively as an ebook and audiobook (read by Craig Wasson, [11/22/63]). More details to come. For more information, visit Stephen King's official site! What a treat!
July 12, 2012
My brand-spanking new review of "In the Tall Grass, Part 2" is now up on FEARnet.com!!! Please be sure to hit "LIKE" if you like it, and spread the word!
July 9, 2012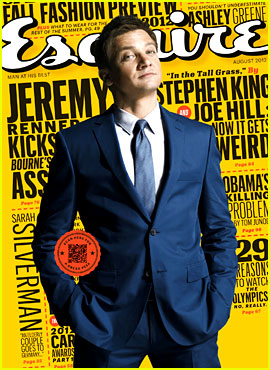 The conclusion to the Stephen King/Joe Hill short story, "In the Tall Grass" is NOW OUT in this month's Esquire magazine. The first half was creepy enough, but as Esquire promises on its cover: "Now it gets WEIRD."
Pick up your copy today; it's the bright yellow issue with Jeremy Renner on the cover. Full review to come!
Thanks to Justin Brooks for the heads-up!
June 26, 2012
New King story coming in July!
Ms. Mod, from King's official message board, posted news of a new short story coming next month:

She clarified that it is NOT the second half of "In the Tall Grass":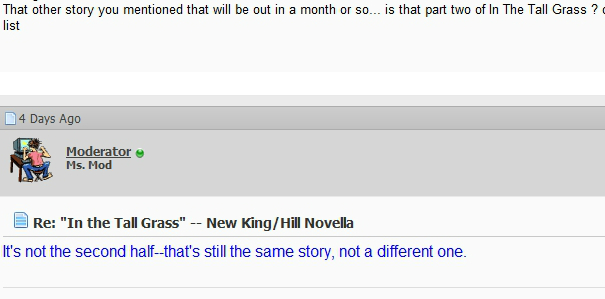 King has really been cranking out the short stories lately, and I say yay! Earlier this year, I wrote an article called "Collection Time for Stephen King: An Observation", discussing his recent fiction and trying to decide what might be in a new anthology. Check it out and muse along with me as we wait out Part 2 of "In the Tall Grass" and this new story we know nothing about yet!
Thanks to Justin Brooks for the heads-up!
June 14, 2012
TWO BRAND-NEW BOOKS BY KEVIN QUIGLEY
Hey folks, it's me, Kevin Quigley, your humble owner and showrunner of Charnel House. For years, I've been bringing you information about Stephen King, on this site, over at FEARnet, and through my many books for Cemetery Dance.
Now, it's time for my say. Today, Cemetery Dance released two brand-new books by me, and I'd love for you to check them out.
SURF'S UP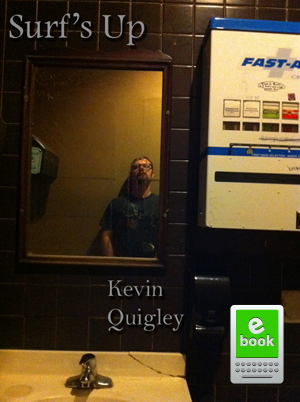 Kevin Quigley's new collection of poetry examines the dark crossroads where love and terror intersect. Otherworldly horrors pervade in "Fissure" and "Men With Tails" as maniac narrators hold court in "Meat Dumpster," "Scum Grinder," and "Exodus." Brutality lies at the center of "Slop Hovel" and "Pulling Teeth," while other kinds of pain comprise the wistful sketches "The Last Phone Booth in L.A." and "Thyme." The whimsy of "Danish Nation" and "Christine Again" can only hold the brightness for so long before the depths of human depravity in "Turpentine."

As in his previous book of poems, Foggy at Night in the City, Quigley channels his mordant obsessions – dark romance, psychosis, destruction, and Los Angeles – into incisive, often chilling poetry and verse. Surf's Up dives in deeper, and finds only darkness beneath the waves.
THIS TERRESTRIAL HELL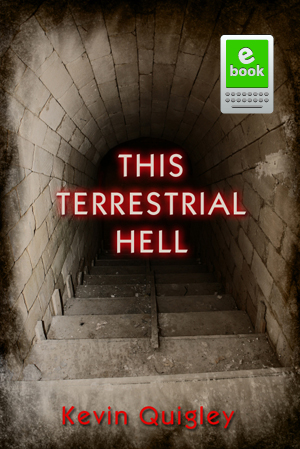 A young girl dangles her feet high above a fathomless pool filled with dead things. A murderous carny worker falls victim to a ringleader's diabolical experiments. And a half-lit basement, where the tools of a maniac's extreme weight-loss program are a cage, a knife Ö and a wet/dry vacuum.

Welcome to This Terrestrial Hell, the first short fiction collection by Cemetery Dance writer and FEARnet columnist, Kevin Quigley. Comprised of eleven stories of horror, lunacy, and human desperation, This Terrestrial Hell announces a fresh and frightening new voice in fiction. Populated with killers, pregnant teenage girls with violent secrets, and frantic young men with borrowed guns, this collection stares unblinkingly into the dark depths of hell on earth.
If you're comfortable manually loading ePub or Mobi files onto your reader/app, you can purchase both versions of this eBook in a single download through Cemetery Dance's online store. They have a whole FAQ about it.
You can also get the books for Kindle on Amazon:
This Terrestrial Hell
Folks, thank you so much for reading this site and my books on King all these years. I would really appreciate you spreading the word about these new books, and checking them out yourselves.
Thanks, and have an awesome day!