---
Kevin
Quigley

Fan
Fiction writer
Charnel House creator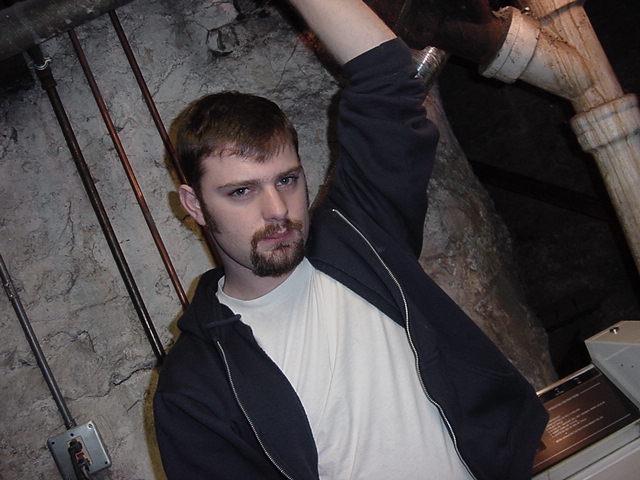 It's a never-ending display of egotism, here in the House.
Welcome to my world...
Why, Kev? I hear some of you asking. Why, if this is a site about Stephen King are you peddling your own wares, promoting yourself like some sort of two-bit huckster?
Well, for a couple of reasons: (1) Stephen King has shaped my writing more than any other single author or source. It is very evident in my early stories (the dreadful Mind of Darkness, but even some good stuff like "La Fenetre du Grenier" and "The Transmigration.") As I've grown as a writer, I've not only found influence in other authors (William Goldman, Robert Parker, Dennis Lehane, and JK Rowling, to name a few) but I've also eveloped my own voice. Still, King continues to influence me in other ways: not only do I feel comfortable writing in several genres, but I also have King-like connective threads tying most of my individual works together.
(2) Hey, I am a two-bit huckster. What else is an author but someone who sells lies to people for fun and profit? Plus, I figure, this is my website, and if I can introduce people to my work through this work, why not?
So, here on the Page of Kev, we're divided into a few different categories. The Books section (right below this intro) talks about both my existing books and my upcoming projects, including the only book I was fortunate enough to have published (on the web, no less!) The Stories link will lead you to a list of my completed short stories, as well as publication info (if any).
We've got pretty much the same deal going on with my Poems section. A list of poems (and some songs) I've written over the years, complete with their publication info (again, if any.) The internet is the last haven of the unpublished author.
You've probably been to my Essays area before - my essays on King are at the top, but I now have book and film reviews! Yes, I do other things besides read Stephen King! It's TRUE!
My Biography (just like on A&E) is woefully out of date. I even have another tattoo to show everyone.
That's about it! Browse, explore, and let me know what you think!
---
BooksMan Kev
...in which we look at the (mainly) unpublished history of my novels
Completed
Spare Parts (1999)
Ah, my first novel. It's interesting to go back now and see the exceedingly heavy William Goldman influence. It's not my best book, but I think it's still pretty good. The head editor at Penguin Books thought it was pretty good, too, though "not the type of book your target audience likes to read." Sigh. The journey of this book from writing about my own tumultuous breakup and life at the time, to getting an agent, to getting it rejected by a major publishing house, was all quite interesting. Maybe I'll write about it sometime.
What's neatest about this one, for me at least, is going back and checking off the motifs that would show up (some might say obsessively) in my later novels. Even though the genres of the other books might be different, the template remains the same. I think that's kinda cool.
I'm On Fire (1999)
This one was published, actually, by Ebooks on the Net. (And it's still available! $6.50! Cheap!) It enjoyed relative bestseller status, and even sold in a limited-edition CD-ROM edition at Betts Bookstore (thank you AGAIN, Stu and Penney.) I had thought that, with such a pedigree, this would have a better chance at getting published in the "real world." Yeah, not so much.
It was big enough, though, to capture the attention of Garrett Peck at Hellnotes Magazine, and from there I garnered my very first professional book review (which I've reprinted here.) Thanks for reading!
The Eighth Acre a Wayne Corbin novel (2000)
The first of the Wayne Corbin books. This comes from a lineage (however diluted) of spiritual fathers Robert B. Parker, Dennis Lehane, and Harlan Coben, with a bit of Dave Barry's Big Trouble thrown in for good measure. I tried for a comic mystery, and that worked for part of it ... then it got darker. That seems to happen with me more often than not. I wonder why.
Of all of my characters in all of my books and stories, Wayne is the one that is the most me. There might be more me "stuff" in Open All Night and Find the River, but Wayne is primo Kev. I can't wait to get back into him.
Open All Night (2000)
Another snapshot of life in your twenties, although this one went way beyond what I attempted with Spare Parts. I now consider this my best work, and it's also my longest: a sprawling epic about how the past impacts our present and future, and why some things change while others can't. It was an interesting book for me to write, exploring themes I'd been fuddling with in all the previous books. Still needs editing.
The Color of Blood & Rust a Wayne Corbin novel (2001)
The considerably darker follow-up to The Eighth Acre, the latest Wayne Corbin deals with the aftermath of the final events of the previous book in dark detail. Here, Wayne picks up a new mystery maybe too early and things fall to peices. In the way that Eighth Acre starts off light and ends up heavy, I'd like to think this works the opposite way. I really surprised myself with this one, exploring certain relationships in a way I have not been able to do in the other books. I like this one quite a bit.
Wolves in the Black (2001)
The hardest one to talk about. In Wolves, I decided to take on a serial killer who doesn't know he's a serial killer. I told the whole novel in first-person, and eventually it started fucking with my head. Writing Wolves was a harrowing experience, and while it was kind of painful, it produced some pretty okay writing. (Which is why I'm going back to that type of writing in my next novel, I guess.)
In the Works
Find the River (2002)
Another attempt at a funny book. I'm about halfway done with this one now, and though there have been dramatic moments, this one seems to be mainly humorous throughout. I can't wait to see what happens...
---
Stories
...in which we look at the (mainly) unpublished history of my stores
Awhile back, I attepted a very large self-analysis of my short stories, going chronologically from my earliest surviving story to the ones I was working on presently. The list proved extremely unweildy (but, if you'd like to see it, check it out --> HERE!)
Right now, I'm focusing more on my current, viable stories, the ones I feel hold up as "good" stories. I'm also going to focus on the alphabetical idea in this context (mainly because I don't remember when I wrote what.) We're basically listing here, with some publication info (when necessary.)
Baby, Itís Cold Outside
Bait and Switch
Better Watch Out
Blood Gets in Your Eyes
Blueberries
Brock Diner
Busting Heavies (published in The Second SKEMERs Anthology, 2000)
Cold Rain Coming
The Coming of the Elves (published in Stone Soup, 1992)
Drawn to the Flame
Elemental
Everything Old is New Again
The Fear is In Tents
Funhouse Frank and His Zodiac Freaks (published in The Second SKEMERs Anthology, 2000)
Ground Chuck (published in Uncut Gems, 1999)
Harvest: The Strange Case of Nathan McCloud (published in The Second SKEMERs Anthology, 2000)
Helminthos (published in Stone Soup, 1993)
Hollows
The Horror of 29 Berkley Street
I am Become Poe (published in Uncut Gems, 1999)
I, Hate
Impromptu
Last Night at the Bear (published in Uncut Gems, 1999)
Night in the Doghouse (published in The Second SKEMERs Anthology, 2000)
No Direction Home
Pop. Off
Quarry Story (published as a "bonus" story on the limited edition CD-ROM of I'm On Fire, 2000)
Quitting Time
Screw You (published in Uncut Gems, 1999)
Seeds
Shelf Life
Substitutes
Suspension
Tableland
Three Pennies
Tinkerís Tuesday
The Way the Woman Moves
---
Poems and Songs
...in which we look at the (mainly) unpublished history of my poems and songs
Except for "The Raven" and "Jabberwocky," I'd never been a big fan of poetry, until my senior year of high school. After being forced into several poetry assignments, I got quite into exploring the world of images without plots. Later on, I took to writing song lyrics, although with a single exception, none have ever been turned into actual songs.
Again, the list is alphabetical, and I've only included my "good" poems. I've posted some samples of these on my site; these poems have been hyperlinked.
Enjoy!

Poetry
Abstract
Amendment
August, Inside
Auto Mechanic
Buzz
Concealed in an Olive Drab Coat
Fellating a Loaded Pistol (1 & 2)
First For Sandy
Fissure
Golf
I Dream of Punker Boys
I Wanna Go Home
Isolation
Juice Box
November First
Phear
Pissing in the Dark Alone
Pulling Teeth
Pursuit
Riding the Train
Sick Love
Star in Hell
Stasis
Take Me From This Pain
There Are Things Blue Here
There Must Be Something Good For Dinner Tonight
Twitchings
Two (used as the wedding poem of Jim and Michelle Revelle)
Wednesday
Where Dear Albert Sleeps
Wise Up and Go
Workplace

Songs
All Right
Brookline Girl (lyrics by me; music by J. Andrew Raider)
Fake Plastic Teeth
Fear of Chickens
Handful of Love
Heatherthon
Heavyman
Token
Yoo-Hoo Junkie