---
I want to measure the bite marks!
---
Creepshow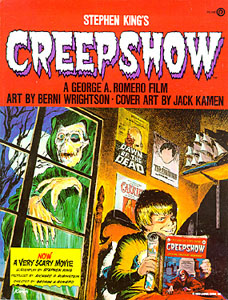 Publication Information
1983
Plume
64 pages / 471 panels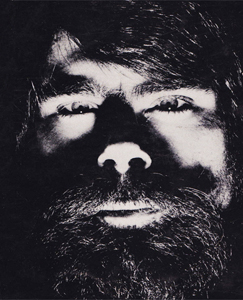 A Collection Critique
Though Stephen King had been publishing novels under the Richard Bachman name since the late 1970s, and he had put out his first Dark Tower book only as a limited release through a small publishing company, Creepshow was the first visible, public sign that King was not content to have an ordinary publishing career. Illustrated by Bernie Wrightson and printed in conjunction with the upcoming movie release, Creepshow was labeled "Illustrated Fiction": five comic book horror stories in the tradition of EC Comics' Tales From the Crypt, The Haunt of Fear, and The Vault of Horror. Making the connection between EC Comics and Creepshow explicit, the cover of Creepshow was illustrated by Jack Kamen - a legendary EC illustrator. King had covered the EC influence on contemporary horror recently in Danse Macabre, underlining the stories' basic moral messages - good generally triumphs and evil is generally punished - served up with a generous heaping of blood and gore. In line with Tales From the Crypt's Crypt-Keeper, Creepshow features The Creep, a ghoulish host and narrator with a weakness for bad puns. The back cover is dominated by a spooky black and white photo of Stephen King, heavily bearded and lit from below, solidifying his reputation as the "King of Horror." In short, Creepshow is meant as little more than good, gruesome fun ... yet even Creepshow would have lasting effects on King's career.
The stories themselves are simple and entertaining. In "Father's Day," the revenant Nathan Grantham returns from the grave to seek revenge on those who murdered him ... and to finally get his Father's Day cake. Based on an earlier prose story titled "Weeds," "The Lonesome Death of Jordy Verrill" works in the traditions of 1950s sci-fi horror stories like "The Blob," telling the story of a dimwitted man confronted with an ironic twist on the Green Movement. "The Crate," maybe the most successful story in Creepshow (and also based on a pre-existing short prose fiction story by King) is a modern day horror twist on The Taming of the Shrew, complete with a hibernating monster whose only function seems to be the consumption of human flesh. Two different sorts of revenge are on display in "Something to Tide You Over," (one of King's best titles): Richard Vickers's watery grave for his wife, Becky and her lover, Harry Wentworth ... and their subsequent revenge against him for their murders. In the finale, "They're Creeping Up On You," a cruel, vicious germophobe is overrun by cockroaches in his spotless big-city apartment. None of the stories are complicated or feature much depth of character, and in each, the through-line of revenge for the guilty is delivered with exciting, often gory Wrightson illustrations in the EC style. While the horror in King's novels (and in many of his short stories) comes out of compassion for his characters in terrifying situations, here it comes from shock effects and "the gross-out," the gut level of horror King had discussed in Danse Macabre - perhaps more visceral, but no less valid, than more cerebral and emotional horror.
Though several films based on King's work had been released to varying degrees of success, Creepshow (directed by George Romero) was the first based on an original screenplay by King himself ... and the first to feature King's acting. Playing hick farmer Jordy Verrill, Stephen King offers a fun, cartoonish performance - perfect for the tone of Creepshow, but one that may have damaged King's reputation. Along with later protestations that his work was nothing more than "the literary equivalent of a Big Mac and fries," his Jordy Verrill seemed to put forth the notion that King was a writer who didn't take his craft seriously. That notion would dog much of King's early and middle career, subsiding only in light of more mainstream success with 1999's Bag of Bones and his later acceptance of the National Book Award.
As a film, Creepshow attempts to serve up horror and humor in equal measure, with limited success. When moments of real tension and fear build, they are undercut by horror-comic overlays, sudden garish four-color backgrounds and in-joke special effects. Perhaps ironically, the comic book plays it straighter, to far better effect. When working with the language and art of comic books - especially horror comics - the moments of kitsch onscreen appear far more realistic on the page. Most of the humor comes from The Creep's awful bon mots, as opposed to the uneasy juxtaposition of live actors and horror-comic illustration. Oddly, some of the best moments in the film Creepshow involve the wrap-around story of a young boy (played by Stephen King's son, the future bestselling author, Joe Hill) taking revenge on his father for throwing away his Creepshow comic. Unfortunately, the wrap-around story is the only one not featured in the comic.
Creepshow marked the first collaboration of Stephen King and Bernie Wrightson, who would go on to work together on Cycle of the Werewolf, The Stand (1990), "Before the Play," Wolves of the Calla, and From a Buick 8. It was also King's first foray into comics, which begat a guest spot (with Wrightson) in the charity comic, Heroes For Hope, Starring the X-Men. Later, King would authorize comic adaptations of The Stand, The Talisman, and the Dark Tower books, and the Secretary of Dreams collections anthologize stories throughout King's vast catalogue, wedding them to images by artist Glenn Chadbourne. King himself would return to writing original comic stories in 2010, with his collaboration on the American Vampire series, published by DC/Vertigo.
Years before comic books were taken seriously by the literati (The Amazing Adventures of Kavalier and Clay, a novel about comic book writers, would go on to win the 2001 Pulitzer Prize; it was not until 2005 that the graphic novel Watchmen, by Alan Moore & Dave Gibbons, would place on Time magazine's "100 All-Time Novels" list), Creepshow was a major project by a major American writer. Though the film now enjoys a cult following and has spawned three sequels, no other graphic companion has been released. Part homage, part tie-in product, and part good-natured fun, Creepshow offered King fans the chance to see him try something he had never attempted before, and - despite his dabbling in the comic book industry - will likely never try again.