Tour of Duty/A*Team Slash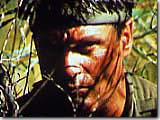 ---
This is a site dedicated to the men and other men of the US Military.

Non slashers are welcome.
Here's a neat list of tasty characters:

Face
Zeke
Purcell
That Coffee Guy
---
-> Go to A*Team Episodes
-> Go to Tour of Duty Episodes
---
Tracey's cool. She works at skool.
Yo.
Myron,
I love you Myron. You are the only thing that makes my life worth living in all this hell. Back in the World, I had a home, a job, a life. Here, I only have you. You, and my black, tortured soul, that cries out for love.
Zeke
---
A TEAM EPS
Pilot
Beast from the Belly...
Range Rider
Dr. Is Out (of the CLOSET!)
That one where Murdock gets shot (Soooo sad!)
Without Reservations ('bout gettin' NASTY!)
Family Reunion (in my PANTS!!)
Taxi Cab Wars (not DC Cab, that came later)
---
Notes from the Underground
The (Panty) Raid
Fathers, Brothers, & Sons (TONS of Slashy material here - the closer the relation....)
Payback (for the WHORING!)
Sealed With a Kiss ("Oh Zeke!" "Oh Purcell!")
Doc Hoc (Liplock)
Saigon (No Misses Here, Just us MANLY Men ... and our lust)