---
---
Stephen
Spignesi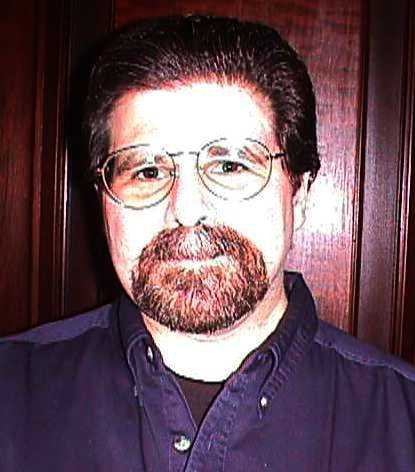 Spignesi photo by Charlie Fried
---
(Updated January 22nd, 2003!)
---
Introduction to this Page

...And you may ask yourself ... why Stephen Spignesi? Sure, he's the authority on pop culture. His extensive knowledge of the media in all its forms lends one to wonder if he simply creates trends just so he can write about them. But why here, why in Charnel House?

I'll tell you why. Stephen J. Spignesi is the foremost authority on Stephen King. He, along with a select few individuals (myself included) spends far too much time and effort exploring the works and worlds of Stephen King -- and for that, I am eternally greatful.

A bit of background regarding my association with Spignesi: I have been a King fan since I was twelve years old, and I enjoyed the books immensely. But when i turned 15, I bought a couple of books that changed my viewpoint about what King's works were, and why they were more important than mere entertainment. Those books were The Stephen King Companion, by George Beahm ... and The Stephen King Quiz Book by Stephen Spignesi. Both taught me the value of reading more closely, and the importance of the re-read. I had been a fan before, but with the help of these two books (and the determination to get EVERY quiz question right!), I was well on my way to becoming an "expert."

This page is divided into three sections: (1) Books about Stephen King, by Stephen Spignesi; (2) Other Books by Stephen Spignesi I have read (and can give an opinion on); and (3) Books by Stephen Spignesi I have Not Yet Read (and therefore don't review).

Please enjoy, and remember -- you can pick up most of these books still through one or more of the dealers in my Stephen King Store listing.

PS -- This page will be updated periodically, as I get new pictures, read new books (and can give reviews), or as Spignesi continues to publish. Also, I will be getting a mini-bio, a few favorites lists, and othe odds and ends from our favorite pop culture guru, Stephen Spignesi! Woo-hoo!
---
2002 News
(Jul 08) Spignesi is once again tommy-gunning the bookstore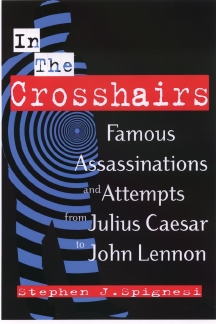 shelves, with a zillion (three) new books coming out in very close proximity. This fall, we've got a brand new book discussing the dark history of assassinations. This book - In the Crosshairs - details everything "from Julius Caesar to John Lennon." This is the type of book Steve is best at, and he always puts a human spin on even the worst of tragedies. You can't pass this one up.

Speaking of tragedies, also due out this fall is The Disaster 100, yet another book of lists Steve loves to bless us with. If you enjoy history even slightly, and were a fan of Spignesi's Essential Stephen King, this is yet another must-have.

And, finally, speaking of lists, Steve's book The Weird 100 has just been approved for publication. Let me put it in his words: "We're talking 100 chapters - ranked in order of weirdness from 1 to 100 - on things like Alien Abduction, Ancient Astronaut Theory, Angels, Anti-Gravity Technology, Area 51, Astral Travel, Astrology, Atlantis,Auras and Halos, Automatic Writing, Bermuda Triangle, Big Bang, Bigfoot, Black Holes, Bleeding Statues, Cattle Mutilations, Channeling, Christ's Resurrection, Close Encounters I-V, Communication with the Dead, Crop Circles, Demons, Dragons, Easter Island, Elves, ESP, Exorcisms, Telekinesis, Teleportation, Time Travel, Tulpas, Tunguska Event, UFOs, Unicorns, Vampires, Visions of Hell, Voodoo, Werewolves, Witchcraft, World Trade Tower Demonic Apparitions, Yeti, Zombies, etc. It will be a hardcover from Kensington, no decision on pub date yet." I am SO looking forward to this one!
---
2001 News
(Au-08-01) Cinescape gives Stephen Spignesi's The Essential Stephen King an "A" review!.
(Jun 08) Stephen Spignesi's much-anticipated The Essential Stephen King is now in bookstores (Hardcover, $24.95)!!! This is the book which takes into account everything King has ever written (over 550 individual works) and ranks the top 101 in decending order. I bought the book yesterday and I gotta say, kids, I can't stop going through it. Full review later, but let me just give you a bit of a breakdown here:

-> This book is guaranteed to get your dander up! When I noticed that The Dark Half was not in the top 5, I was like, WHAAAAAT! But Spignesi wisely adds a little section to each chapter detailing why he liked each specific work. Now, this doesn't mean you'll agree with him, of course. (I can anticipate the fun banter in the van on the way to the SKEMERcon this year: "Dude, The Stand TOTALLY shoulda been at #1." "No way, Insomnia was WAY better!" "Listen, It DID go to #1, so I'm right!")

-> There are these fun little pictograms that seperate each chapter into sections that are just kind of neat.

-> The book is kind of like a combination of Spignesi's Quiz Books and The Lost Work of Stephen King: it's in list format, and the "factoids" are very easily digestable, but you can tell Spignesi's all scholarly beneath his pop culture veneer. Like all of Spignesi's books, this one is set up for casual fans and devoted experts.

-> The introduction alone, at once a defense and an explanation, is worth the price of the book. 'Nuff said.
(May 30) In Stephen Spignesi news, his new book Gems, Jewels, and Treasures: The Complete Jewelry Book is in stores NOW! You Spignesi completists and gemhounds get in your cars and go but it at once! (Or, you cold also follow the handy link and buy it through Amazon.) Steve reports that he will be on QVC later this summer to promote the book. Cool!
(Mar 12) Stephen Spignesi, one of Charnel House's favorite authors, has a new interview with the New Haven Register regarding one of Charnel House's favorite shows, The Sopranos. Enjoy!
(Feb 07) Coming in August from Stephen Spignesi, author of The Essential StephenKing, comes The Cat Book of Lists. Click on the title for ordering info and more! (I love Steve's books - no matter what subject he chooses, I know I'll find the book informative and funny. Even if you're not a cat lover, check this one out!)

(Jan 30) Essential Stephen King news!! In a letter to the SKEMERs newsgroup, author Stephen Spignesi states:

On Tuesday, January 30th, in a cold, wind-driven rain, I drove to the East Haven. CT post office and sent off the 750-page manuscript of THE ESSENTIAL STEPHEN KING to my publisher. The book will be out in June and, yes, there is a lengthy chapter on the SKEMERs called "Fan's Favorites" in which I post and discuss the results of the poll many of you participated in last year. I would like to thank all [the SKEMERs] who took the time to e-mail me your picks. I will soon begin work on the bonus booklet "The Maine Edition" and hope to have that out to all of you who voted sometime later this year, after the book is published.

This book was a joy to work on and an excuse to re-read a great many King works, always an appealing task. In the book I rank what I consider to be King's 100 greatest works (101 actually...there is a bonus chapter that looks at a seminal childhood work by King) from a body of over 550 individual pieces. The picks are mine, but I think most of you will generally agree with the 100 works, even if you may disagree with an individual ranking.

Sometime in April, I will be auctioning off on eBay one - and only one - copy of the mansucript of my book. The title page of this manuscript will be signed by myself, George Beahm, Tyson Blue (author of "The Making of the Green Mile"), James Cole (director of the first adaptation of "Last Rung on the Ladder"), Mick Garris (director of "The Stand" and "The Shining" miniseries), Jay Holben (director of the film "Paranoid"), Dr. Michael Collings (author of several erudite books about King's works), Bev Vincent (freelance writer and authority on Stephen King's life and work), and Charlie Fried (a King "supercollector" who possesses one of the five most important Stephen King collections in the world). Part of the proceeds from this auction will go to the Stephen and Tabitha King Foundation.

I can assure you that I'll be looking at the auction! This is terrific news. People, if you aren't convinced already, the Essential SK will be an essential book for all King fans. Stephen Spignesi is an ultimate authority on King, and this book is the culmination of all he's worked with and learned throughout the years. More info as it comes in...
(Jan 29) Direct from Spignesi, regarding the upcoming Essential Stephen King: "Looks to be a 740 page manuscript. 'Guest contributors' to the book include Mick Garris, Tyson Blue, Jim Cole, George Beahm, Jay Holben, Bev Vincent, Michael Collings, the SKEMERs, Robert Browning, Edgar Allan Poe, and somebody named Spignesi." SOOOO exciting! This is going to be a great book, guys!
(Jan 12) WE GOT COVER! That's right! To the right, you'll see the cover to Stephen Spignesi's upcoming The Essential Stephen King. This is going to be a mother of a book - I can't wait!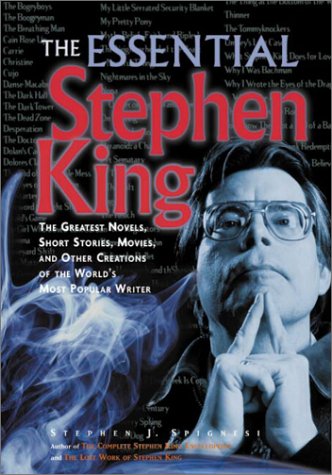 (Jan 02) An update on Stephen Spignesi's upcoming The Essential Stephen King: Jay Holben and Tonya Ivey, director and star of the upcoming "dollar baby" film Paranoid, will each be contributing an essay to the Spignesi book. They, as well as James Cole and Mick Garris, will begin their essays by completing the phrase "Stephen King is..." This is very exciting news - I can't wait for this book!
(Dec 30) Sorry for the lateness on this: The Italian magazine Inside Horror's interview with Stephen Spignesi discusses King's On Writing. The link is for the English language translation.
(Dec 21) More news about the upcoming The Essential Stephen King: the book will now contain original comments by Mick Garris (director of The Shining and The Stand) and James Cole (director of The Last Rung on the Ladder), as well as an exclusive Tyson Blue piece called called "In the Matter of Stephen King," which, according to Lilja's Library "is a letter-perfect legal brief that makes the argument that Stephen King's work is of extraordinarily high literary merit, as though he were arguing King's case before a judge of the "Court of the Mind." It should be interesting to read." I can't wait for this book!
(Dec 21) Spignesi recently wrote an op-ed piece about King's cessation of The Plant in The New Haven Register:

I am the author of The Complete Stephen King Encyclopedia, "The Lost Work Of Stephen King," and the forthcoming "The Essential Stephen King," and I felt compelled to respond to your editorial "Tale of horror on the Internet."

There seems to be a misconception that Stephen Kingís Internet-only novel has been cancelled because of fansí negligence in paying. Quite the contrary, actually. King himself said on his Web site the novel "is not finished on line. I am simply in the process of fulfilling my other commitments. In my view, ĎThe Plantí has been quite successful." King is extremely prolific and, if guilty of anything, it is over-committing. "The Plant" was an experiment and thus had to be assigned a priority in the list of projects King has lined up. I am confident he will finish it online. I also think he will continue to allow "pay-later" downloads. I think a bigger part of Kingís decision to delay the story relates to what he called "the almost total lack of discussion of the story. Letís get back to that." King is a storyteller and artist first; an entrepreneur second. I think he believes the form of "The Plant" (e-book only) has overshadowed its function (to entertain his readers). But since he is a storyteller, itís rare when he leaves a tale untold.

Exactly my thoughts on the subject. Thanks, Steve!
---
Stephen J. Spignesi Capsule Literary Biography 1987-1999
(This was mostly written by Steve himself, with some stuff by me thrown in -- ENJOY!)
STEPHEN J. SPIGNESI specializes in popular culture subjects, including television, film, contemporary fiction, and historical biography.
He has written several authorized entertainment books and has worked with Stephen King, Turner Entertainment, the Margaret Mitchell Estate, Andy Griffith, Viacom, and other entertainment industry personalities and entities on a wide range of projects. Mr. Spignesi has also contributed essays, chapters, articles, and introductions to a wide range of books.
Spignesiís books have been translated into several languages and he has also written for Harperís, Cinefantastique, Saturday Review, Mystery Scene, Gauntlet, and Midnight Graffiti magazines; as well as the New York Times, the New York Daily News, and the New Haven Register. Spignesi also appeared as a Kennedy family authority in the 1998 E! documentary, The Kennedys: Power, Seduction, and Hollywood.
In addition to writing, Mr. Spignesi also lectures on a variety of popular culture subjects and teaches writing in the Connecticut area. He is the founder and Editor-in-Chief of the small press publishing company, The Stephen John Press, which recently published the acclaimed feminist autobiography Open Windows: The Autobiography of Charlotte Troutwine Braun.
Spignesi is a graduate of the University of New Haven, and lives in New Haven with his wife, Pam, and their cat, Carter, named for their favorite character on ER.
Mr. Spignesi also enjoys white broccoli pizza, the music of Sarah McLaughlin, my favorite Bob Dylan song "Like a Rolling Stone," and endless tormenting quizzes. Aside from being one of the smartest people I've ever come in contact with, Steve's a great guy. And that is the truth.
---
We

Are America
by Stephen Spignesi
Here, in the midst of our pain, let us not forget who we are.
We are America, the greatest country ever to exist on the face of this earth.
We are America, the country that defines freedom, the country that is the purest example of a nation governed by its people, where everyone is absolutely equal under the law.
We are America, the country that cured polio.
We are America, the country that invented the telephone, and the electric light, and the television, and the motion picture, and the airplane, and the computer, and automation.
We are America, the country that made the first transatlantic airplane flight and that launched the first radio station.
We are America, the country that created the science of radio astronomy, and that invented the space shuttle.
We are America, the country that put the first humans on the Moon.
We are America, the country that developed angioplasty, and the cardiac pacemaker.
We are America, the country that created tetracycline, and that invented nylon, and photocopying.
We are America, the country that built the first nuclear power plant.
We are America, the country that performed the first open heart surgery.
We are America, the country that developed vaccines to prevent mumps, and measles, and diptheria, and hepatitis.
We are America, the country that sends spacecraft to Mars, and Jupiter, and has them send back amazing pictures.
We are America, the country that welcomes the tired, the poor, and the huddled masses yearning to be free.
We are America, the country that will always help people caught in disasters and will never stop trying to relieve the suffering of the rest of the world.
We are America, the country of which President Harry Truman said, "America was not built on fear. America was built on courage, on imagination, and an unbeatable determination to do the job at hand."
We are America, the country made up of people of whom President Kennedy said, "The American, by nature, is optimistic. He is experimental, an inventor and a builder who builds best when called upon to build greatly."
We are America, a country that has suffered for what it believes in.
We are America, a country that has never been frightened, and that has never hesitated to defend itself and its people.
We are America, the country that leads the way for the entire human family to enjoy the blessings of liberty - physical, mental and spiritual - which we have in abundance.
We are America, the country that finally ended slavery as a socially approved institution, and not just for this country but for all the world.
We are America, a country now grieving, and a country now angry, but a country that will always be a glorious and shining example of the absolute best that a country can be.
And we can look forward to the American spirit leading the way to a United States of the world, in which all nations join the union, and the human family is united politically, as well as spiritually. The United States of the world would bring global governance and planetary patriotism for "one nation, under God, with liberty and justice for all."
---