Knowing Darkness: Artists Inspired by Stephen King
Published by Centipede Press
Essays by George Beahm
Introduction by Frank Darabont
There have been so many books published about Stephen King – far more than have been written by King – that it is all too infrequent when one comes along that takes an entirely new angle on the subject. Even more rare is a book which is instantly necessary, filling a niche in King criticism and appreciation that has long been overlooked. Knowing Darkness neatly fits both categories; it is at once fresh and essential. It is a wonder that a book of this type has not been written before.
Even if it had been, however, it could not possibly have approached the scope of Knowing Darkness. Its aim – to cover the world of Stephen King through the art and artists inspired by his works – is no small feat, and the immensity of the finished product is a testament to that. The book is huge, wide and tall and incredibly heavy, packed with full-color glossy reproductions of the best and most interesting artwork ever married to Stephen King's words. For easier navigation, Knowing Darkness is divided into three major sections: Early Art (1974-1984); Middle Art (1985-1995); and Current Art (1996-present). In addition, major artists in the King canon, such as Bernie Wrightson, Michael Whelan, and Phil Hale, get spotlight treatment, including in-depth interviews and a deeper look into the breadth of their contributions.
Surprises abound, both artistically and textually. A major contributor to the field of King artwork, Don Brautigam, has been largely unsung Ö but his terrific cover art has adorned such iconic paperback covers as the original The Stand, Dolores Claiborne, The Drawing of the Three, The Running Man, and perhaps my favorite, The Dark Half. As horror art seems more a male-dominated field, it was a pleasant surprise to discover that the cover of Pet Sematary and the Creepshow movie poster were created by women. And did you know that the art for The Stand was inspired by a Goya painting? I didn't, either.
Beyond these fascinating tidbits, we are treated to some sumptuous art. Knowing Darkness is worth its price and weight alone for the illustrations which originally accompanied the limited edition of Christine (breathtaking work by Stephen Gervais). The oversized reproductions of Bob Giusti's It and Misery covers and Rob Wood's Dolores Claiborne and Four Past Midnight covers get a whole new life when viewed out of the context of book covers. And that is to say nothing of the art original to this volume, the best of which is a brand-new Don Maitz interpretation of Duma Key, which features a ghost ship on an easel overlooking an Atlantic sunset. You don't notice at first – your eye is so drawn to the ship in the foreground – that the gulls in the distance are flying upside-down.
Of course, this would all amount to little more than a collection of pretty pictures without the binding strength of George Beahm's essays. Beahm, a Stephen King expert who perfected the companion-book genre with The Stephen King companion before going on to write The Stephen King Story and many other must-haves – is at his most compelling here. He manages to convey his fascination and excitement for the subject in every essay, and pass that onto the reader. The exclusive interviews, especially the one with Bernie Wrightson, are illuminating.
Books about King are legion, and there are many terrific volumes out there which rise above the chaff. There are only a handful, though, that are absolute musts for King fans. Knowing Darkness is beyond a doubt one of the absolute musts, not just for King fans, but for anyone interested in art and illustration. With such a wealth of material to cover – from mass-produced cover art, to limited-edition illustration, to interpretive pieces – it's an achievement that a project like Knowing Darkness was even attempted. That it is executed so beautifully, then, is phenomenal.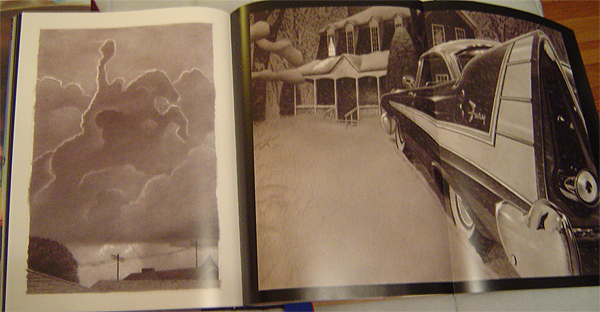 A gatefold with Stephen Gervais art for limited editions of The Regulators and Christine.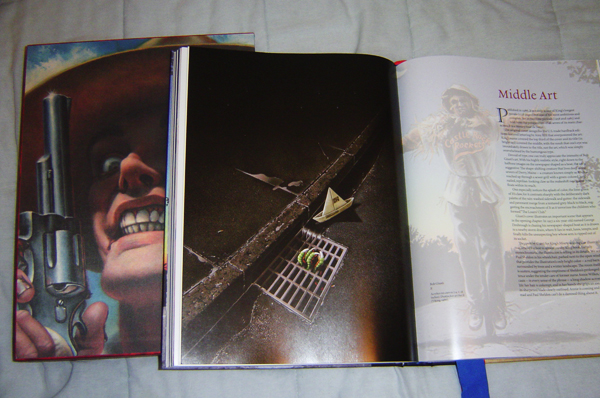 Bob Giusti's amazing It cover, along with the slipcase featuring Don Maitz's Entragian illustration for the limited edition of Desperation.


To illustrate the relative sizes: from L to R, Knowing Darkness, the limited edition of Stephen Spignesi's The Stephen King Encyclopedia, Christine in hardcover, From a Buick 8 in paperback, and the Umney's Last Case chapbook.
To purchase Knowing Darkness:
from Centipede Press directly; both the slipcased and traycased versions available.
from Borders.com; free shipping.
from Amazon.com; amazing discount.