News & Information

---
October 31, 2011

"It takes great skill to make this story even remotely credible. Mr. King makes it all look easy, which is surely his book's fanciest trick. The first major review of 11/22/63 is now available on The New York Times It's an exciting review from a newspaper known to treat King somewhat shabbily in the past. I'm more thrilled about this book than ever!

October 30, 2011

A fascinating interview with King for The Wall Street Journal here! The interview concerns 11/22/63, and discusses King's desire to reach out beyond his horror roots: Instead of people who read horror stories, people who read The Help or People of the Book might like this book, if they can get the message, King says. The article also discusses the book's connection to King's 1986 masterpiece, It, which should thrill long-time King fans (me included)!

October 27, 2011

Stephen King's new short story, "The Dune," is out today in GRANTA magazine. Read my review on FEARnet.com, and "Like" it if you like it! Thanks!

October 27, 2011

A very smart and enlightening dialogue from the Wall Street Journal about King's new novel, 11/22/63. I'm gratified that the mainstream has finally stopped asking the basic "what scares Stephen King" questions and has begun to focus on his writing beyond horror. Great stuff!

October 19, 2011

My review of Stephen King's new short story, "The Dune"! Stephen King's been cranking out the short stories this year, and, like "The Little Green God of Agony," "The Dune" is a callback to classic chilling horror. Read my review on FEARnet.com, and pick up "The Dune" in Granta Magazine's Horror issue, coming soon!

October 19, 2011

FIVE NEW EBOOKS ABOUT STEPHEN KING, all written by me, Kevin Quigley, your Charnel House webmaster! These limited edition chapbooks had small print runs and most are no longer available in print form. Now publisher Cemetery Dance offers each of these books as eBooks ... including one, Blood In Your Ears, which actually precedes the print version! That's right, folks, Blood is making its first worldwide appearance in eBook format!

Even if you've read the print versions of these, I've been working diligently to keep these books as current as possible; all have new material and new information. Plus, best news: they are ALL available for only 99 cents, and ALL come in both Kindle and ePub format. No matter what e-reader you prefer, these books are perfect!

Folks, I am super excited about this release. I've always been fascinated with the odd nooks and crannies of King's career, and it was out of a need to read books on these topics that I was compelled to write them. If anyone says there's nothing new to write about Stephen King, they're not looking hard enough. I truly loved writing these books, and I am thrilled that they're reaching a wider audience with these ebook releases!

Here's the full rundown!
---
INK IN THE VEINS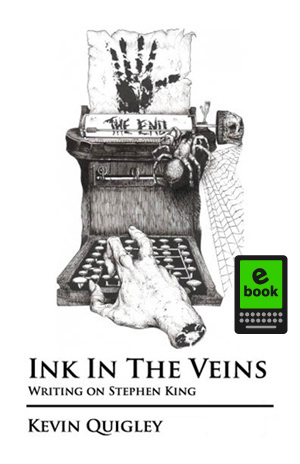 Stephen King has written over seventy books, a stunning figure for any writer. Even more stunning? There are more books written about King than by him.

INK IN THE VEINS profiles the writers who have written on King, from pioneering authors like Douglas Winter and Michael Collings through new experts like Justin Brooks, Bev Vincent, and Rocky Wood. There's information on Castle Rock, the now-defunct Stephen King newsletter, and a mostly-complete list of every book ever written about King.

Rounded out with interviews with the world's most prominent King scholars, INK IN THE VEINS is a fun and fascinating look at the unsung world of Stephen King criticism! Get your copy here!
---
BLOOD IN YOUR EARS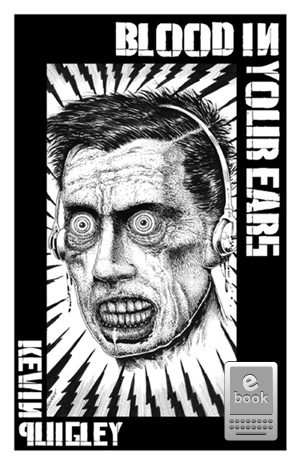 Enter the recorded world of Stephen King, where he not only writes your nightmares, he actually reads them to you, too!

BLOOD IN YOUR EARS examines everything Stephen King has given his voice to, from his early DARK TOWER novels and his audio-only collection BLOOD AND SMOKE to his recording of "Stand By Me" with the Rock Bottom Remainders and his role as Abraham Lincoln on Sarah Vowell's audiobook, Assassination Vacation. In addition to the books Stephen King has recorded, BLOOD IN YOUR EARS also delves into the Stephen King work of audio superstar Frank Muller.

Rounded out with an examination of dramatic recordings of King work, King's Top Ten Best Audiobooks, and a list of every Stephen King audio title ever recorded, BLOOD IN YOUR EARS is your one-stop guide to answering the question, "Heard any good books lately?" Get your copy here!
---
CHART OF DARKNESS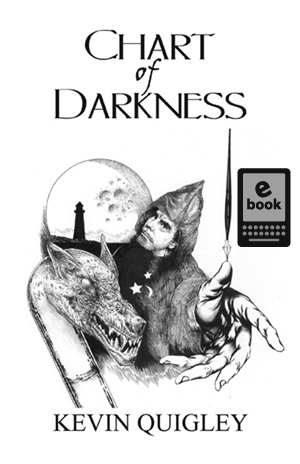 For nearly forty years, Stephen King has been making history on the bestseller charts.

CHART OF DARKNESS is a surprisingly exciting jaunt through that history, from the quiet early success of Carrie through recent chart triumphs Under the Dome and Full Dark, No Stars. You'll learn what books hit the number-one spot, which ones didn't, and why. Along the way, you'll discover secrets of King's career, like why King switched publishers — twice — why King decided to create, kill, and resurrect his pseudonym, and the weird way the general public first heard about the Dark Tower series.

A unique, compact, and intriguing journey through the storied career of the only author in history to have written over thirty number one books. Get your copy here!
---
WETWARE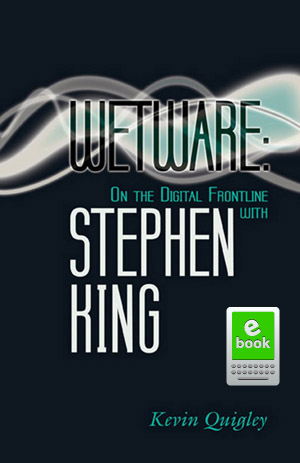 Stephen King has long been at the forefront of experimental publishing. As the world grows more digital each day, King has consistently remained on the edge of breakthrough trends and technology, finding new ways to publish and interpret his stories. King's digital journey has been strange and fascinating. Wetware is your guide.

From the prehistory of King's involvement with digital media such as The Dark Half video game and F13 to his online release of the lost work, The Cannibals, Wetware covers it all — in a concise and engaging pocket history. Explore the controversy surrounding King's online serial publication, The Plant. Relive the groundbreaking excitement of King's landmark e-book publication, Riding the Bullet.

If you ever engaged in interactive fiction with The Mist, were intrigued by the Kindle-only release of UR, or terrified by the motion comic N., Wetware is essential reading. Get your copy here!
---
DRAWN INTO DARKNESS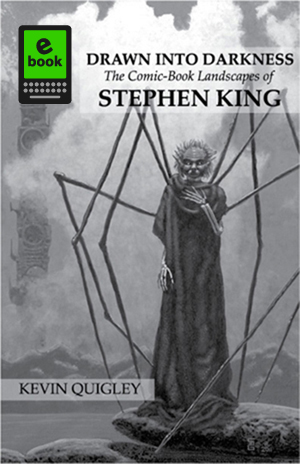 Most Stephen King fans remember him playing Jordy Verrill, the "lunkhead" who becomes a giant plant monster from outer space in the movie version of Creepshow. But King's association with comic books goes way beyond that.

DRAWN INTO DARKNESS delves into the hidden world of King's comics career, from the creepy early adaptation of "The Lawnmower Man" to his part in creating the Eisner Award Winning Best New Series, AMERICAN VAMPIRE. We look at the ongoing success of adaptations like THE DARK TOWER and THE STAND, and examine why the similar adaptation of THE TALISMAN failed.

See how King tried to kill Kitty Pryde from the X-Men, whether he prefers Betty or Veronica, and why he continues to be obsessed with Batman: all here in DRAWN INTO DARKNESS! Get your copy here!
October 18, 2011
The Charnel House Capital Campaign starts here! Hey folks! We here at Charnel House (and by "we" I always mean "I") have been working hard this year to make Charnel House the best online Stephen King experience you can have. I've added pages for King comics, King audio, books about King; I've done short reviews of new stories and beefed up the "Short Works" page; I even rewrote all the book reviews, making sure they were up to snuff!
But running a website does cost money, and in my case, it's out of pocket money. What I'd like is for that to become a non-issue. Which is why I'm launching the Charnel House Capital Campaign! I want to raise enough money for the site so that hosting it is never an issue. I'm trying to raise $2000 for the site before the end of the year! Hooray!
If you'd like to help Charnel House continue to excel, please consider dropping a donation in my donation box here:
Anything you can donate will help a small (but awesome) website continue to flourish and bring you the best of everything King. Thanks, everyone! Keep reading!
October 17, 2011
Check out the trailer for the enhanced eBook edition of 11/22/63! SO EXCITED FOR THIS BOOK!
October 12, 2011
Throttle coming to comics, and Comics coming to Charnel House! IDW Comics just announced a comic-book adaptation of the Stephen King/Joe Hill collaboration "Throttle"! Super exciting news! From the IDW press release:
IDW Publishing is proud to announce ROAD RAGE, a new partnership with best-selling authors Stephen King and Joe Hill, to produce a comic-book adaptation of their co-written adventure tale, Throttle. This monthly two-part series begins in February, and will be followed by two issues adapting the story that inspired Throttle, Richard Matheson's classic tale of suspense, Duel, beginning in April.

"'Throttle' is a story that really begs for a visual adaptation: it's got bikes and badasses and lots of expensive rolling iron blowing up and getting smashed," said Hill. "Who doesn't get off on that? I can't wait to see IDW get behind the wheel and take the thing out for a spin."

"Throttle," the first collaboration between father-and-son King and Hill, was not only inspired by Matheson's Duel, it also only appeared in print in a limited-edition anthology honoring Matheson's works, He is Legend. Throttle and Duel were subsequently released as an audiobook called Road Rage, which is the banner title the comics will also carry.

Throttle tells the story of a motorcycle gang pursued by an unseen assailant in a big rig, but as might be expected knowing the talent involved, things aren't exactly as they seem.

"Working with the great Joe Hill (I can say that because he's my kid) on such a kick-ass story was a terrific treat, and this version takes it to whole new level," said King. "Rev up and climb on!"

Adapting the story alongside Hill and King is Chris Ryall, IDW's Chief Creative Officer and the editor of Hill's New York Times best-selling graphic novel series, Locke & Key. Handling art duties is Nelson Daniel, whose own collaboration with Hill and artist Zach Howard, The Cape, was nominated for a 2011 Eisner Award. Daniel will handle full art and colors, and provide a cover. Acclaimed artist Phil Noto will also provide covers for the two-part series. Ryall, who received a 2006 Eisner nomination for his and Ashley Wood's adaptation of Matheson's "Blood Son," will also adapt Duel, with artist Rafa Garres for that two-part series. As a special bonus on the King/Hill story, artist Tony Harris will paint two incentive covers that show the authors themselves on a motorcycle road-trip.

"Like Joe and Steve, Richard Matheson's Duel had a huge impact on me as a kid," said Ryall. "And so did the works of Stephen King. Add to that mix the chance to continue working with Hill and Daniel, two of the very best creators of my generation, and you've got the makings of a project that's very special to me. And as long as I don't screw up my part, it'll hopefully be as special for all their fans when it comes out. Otherwise, you know who to blameÖ"

Road Rage: Throttle will be released in February and March, with Road Rage: Duel to follow in April and May.
ALSO! Let's all say yay for a new Charnel House page: King Comics! I list out every comic associated with Stephen King: ones he's written, ones he's written essays about, and the ones adapted from his work. There's also some rare images from these comic adaptations, including one Dan Parent illustration of King as Jughead Jones, from Archie comics! No, seriously! It's awesome! King Comics, check em out!
October 11, 2011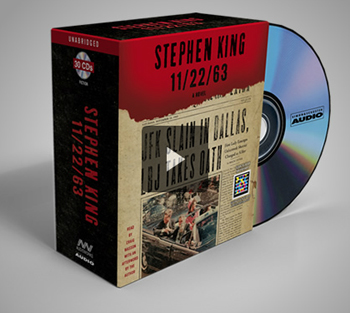 11/22/63 audio samples! Simon & Schuster is releasing audio samples from the upcoming 11/22/63 twice a week - Mondays and Fridays - through October 24th. Says King's site: These samples will be posted at 9:00am EST each release day and will include much of the first chapter of Stephen's epic tale.
The first three samples are already up! We'll be announcing each new excerpt as they are released! 11/22/63 Audio Excerpts Page!
October 11, 2011
The Wind Through the Keyhole even earlier. Donald Grant's newsletter today announced plans to release The Wind Through the Keyhole, the new Dark Tower midquel, a month earlier than expected! Says Grant:
- We are currently scheduled to release the Limited Editions in February 2012. Our edition will have 6 full color plates and 11 Black & White illustrations by acclaimed artist Jae Lee. One of the Black & Whites is available for viewing at: https://secure.grantbooks.com/z-sk-dt-twttk.html

- Stephen King has agreed to sign only 800 copies of a Deluxe Edition. In keeping with our policies of supporting long time customers, owners of Deluxe Edition copies of THE LITTLE SISTERS OF ELURIA numbered 1-800 will have the first option to buy this Deluxe Edition.

We will initially have a "postcard lottery" for unclaimed copies (which we expect to be very few) eligible for those who have a Deluxe Edition of LSOE numbered higher than 800.

- There will be a 5,000 copy limited "Artist" Edition which will be signed by Jae Lee and will be issued in a slipcase. There will be no limitation for purchasing this edition.

- Scribner has announced their release of a trade hardcover edition of THE DARK TOWER: THE WIND THROUGH THE KEYHOLE on April 3, 2012.

We will be producing a slipcase for the Scribner Trade Edition which will match the three slipcases we produced for the first seven Dark Tower books.
Super exciting news! Now all you Tower-holics have something even closer to look forward to!
October 10, 2011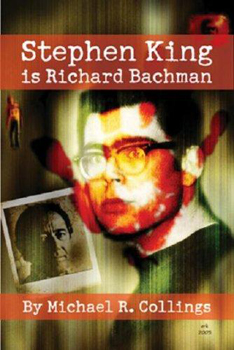 New FEARnet.com Review! Hey all! Check out my brand-new review of Michael R. Collings' new book, Stephen King Is Richard Bachman on FEARnet.com! It's a really terrific update of Collings's now out-of-date 1985 Starmont House book, Stephen King as Richard Bachman. This volume is awesome - it reads great, it looks great, and it focuses on a weirdly unexamined sector of King's canon. Pick up your copy at the Overlook Connection Press.
October 10, 2011
The Dark has legs! In a surprise move, the mass-market paperback of King's most recent book, Full Dark, No Stars, has shot up the charts, blasting by the chart peak of its trade paperback predecessor, which stalled at #12. King's newest paperback is now sitting pretty on the bestseller list at #5. I have updated my Chart of Darkness page in accordance!
October 7, 2011
Check out my interview on Talk Stephen King! Recently, I was interviewed about my work in the Stephen King field by the terrific Stephen King fan site, Talk Stephen King. I touch on the chapbooks I've written for Cemetery Dance, my upcoming hardcover, A Good Story and Good Words, and my fiction. Check out the interview here! Thanks!
October 6, 2011
Stephen King took the Best Collection prize at this year's British Fantasy Awards for Full Dark, No Stars - a well-deserved win. King was also nominated in the novella category for "1922," but lost to "Humpty's Bones," by Simon Clark.
October 5, 2011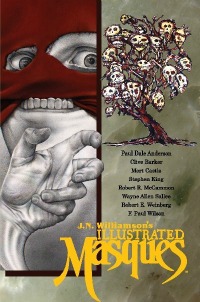 My Masques review, now on FEARnet! My brand-spanking-new review of J.N. Williamson's Illustrated Masques - featuring a graphic adaptation of Stephen King's "Popsy" - is up NOW, exclusively on FEARnet.com!
September 28, 2011
THE LOST WORK OF STEPHEN KING, PART II - COMING! I have been given permission by Stephen Spignesi himself to announce one of the most anticipated books on King in the history of books on King: The Lost Work of Stephen King, Part II is currently in the making, and will be released by Overlook Connection Press. This will be an entirely new book, highlighting new and newly-discovered work of King hidden from the masses ... until now.
In anticipation, The Overlook Connection will be re-releasing a trade paperback of the first Lost Work of Stephen King, featuring the contents of the limited edition version of the book, plus a BRAND-NEW foreword by Spignesi. More details on both titles (including release dates and contents) to come! Watch this space for news!
September 28, 2011
Collings's Stephen King is Richard Bachman NOW AVAILABLE! Dr. Michael Collings's new book, Stephen King Is Richard Bachman isn't just an update to his Borgo Press Stephen King as Richard Bachman; it's a more in-depth and expansive look at the entire Richard Bachman phenomena, from Rage all the way through The Regulators. (The book was completed before Blaze was published ... but don't worry. Collings has an essay on Blaze in an upcoming release I'll be able to talk about soon!) Collings remains the only person to study Bachman in a full-length volume, and here applies his uniquely scholarly-yet-accessible style to this fascinating subject. Everything you ever wanted to know about Richard Bachman but were afraid to ask! NOW SHIPPING! Order here!
September 28, 2011
Classic King Clips! Lilja, webmaster of the amazing Lilja's Library, has once again done something brilliant. There's a new section of his page called Classic King, and it features clips of King throughout his career. Some highlights: the Maximum Overdrive trailer and King interviewing AC/DC. Lilja needs YOUR HELP, though: to keep up with these Classic King Clips, send him links and stuff and help make his site awesomer. Says I, with just a TWINGE of professional jealousy.
September 25, 2011
Dr. Sleep! At the Mason Award Event, Stephen King read from Dr. Sleep - Dr. Sleep!!! - the sequel to King's 1977's The Shining. It not only involves Danny Torrance at an adult, but also a pack of psychic gypsy-vampires called The Tribe. The video that follows features that reading, as well as a woman booing under her breath every time King says something she doesn't like. It's a little weird, but the story is awesome! King is apparently almost done writing this book. With the release date for Wind Through the Keyhole bumped up a month, does this mean we'll see Dr. Sleep sometime next year? Let's hope!
September 25, 2011
Great news, Tower freaks! The Wind Through the Keyhole is coming a little bit earlier next year. From Ms. Mod, on King's official message board:
The release date for The Wind Through the Keyhole has been bumped ahead and is now anticipated to be released on March 12, 2012.
September 25, 2011
Scribner and StephenKing.com have released a promo video of King discussing 11/22/63 and time travel. Even cooler? We learn of an aborted novel along the same lines King attempted in 1973 called Split Track. So very cool!
The video is for both Flash and Apple devices! Either travel to the Multimedia page of King's site, or use one of our handy links below:
Flash Video