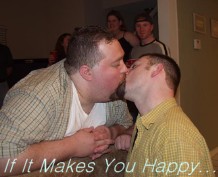 ---
1. Hanginaround – Counting Crows: We're totally edging into the happy with a post-party song that always starts a CD if it appears. It drags you in infectuously. The entire Counting Crows catalog has about 3 happy songs (and "Mr. Jones" doesn't count.) This is one of them, and probably the best.
2. United States of Whatever – Liam Lynch: Cynicism at its funniest. I have no idea who this guy is, except that he's directing the Tenacious D movie. ...and I'm like, tha's cool...
3. It's Only Me (The Wizard of Magicland) – BNL: BNL goes new wave (I guess; people say it's New Wave, but I'm not quite sure what New Wave IS, exactly, but it's cool anyway.) "I'm the me in manogamy" is one of the best lines ever. I saw these guys perform this song in concert before I'd heard it anywhere else, and I
SCREAMED. The words "The Wizard of Magicland" never appear, but Steve Page (singer) suggests you sing it along with the riff. :)
4. Waitin' on a Sunny Day – Bruce Springsteen: The only really "happy" song on The Rising, this one speaks of sad times and hardness in our lives ... but always with hope for happier ones. To note: check out when he sings "like a drummer, girl, that can't keep a beat." The drummer actually messes up the beat. How COOL is that?
5. Country House – Blur: When I worked at the new Braintree store, my co-worker Diana and I used to hang out so often, Dave called her my "wife." She's who introduced me to MST3K, South Park, and Pulp. Once, when she was trying to get me into BritPop/Rock, she made me a tape with Oasis and The Beatles and Pulp and Blur. This was the first Blur song I ever heard, and I loved it. I think he's saying "bent on cynical" in there, but I can't be sure.
6. Leap of Faith – Bruce Springsteen: This inspiring track is the one that's out of order. This should be down there right before "Teo Torriate." A-nnoying! (I blame my
tiredness). Oh well, it kind of goes with the next song, themewise. This is the one with the chorus I now quote in my sig line, and the one that makes me think of you. Right now, you are taking a leap of faith, and I have that same faith in you. In your heart, baby, you must trust.
7. You Learn – Alanis Morissette: My very favorite Alanis song (even more than "Thank U," which is the soundtrack for my whole life turnaround.) It's a message song, but it's still light. And "the firetrucks are comin' up around the bend" is almost completely nonsensical and AWESOME to sing. TOTALLY uplifts every time I hear it. Okay, I gotta go hear it now. ... Okay, I'm back. Whew!
8. Short Skirt/Long Jacket – Cake: The video made me love the song. I had previously been enamored of "The Distance" and "Never There," but this song blows them both away. So misogynistic! So easy to sing at kareoke!
9. Even a Dog Can Shake Hands – Warren Zevon: Do you have any idea how hard it is to find a "fun" Zevon song? This comes closest (along with "The Hula Hula Boys" and "Mr. Bad
Example"), though still retains the refreshing Zevon cynicism. Note: this song was used as the theme song to the short-lived show Action. What isn't in my head because I know that?
10. Car Wash – Bruce Springsteen: "My name is Catherine LeFevre"? You're a GIRL, Bruce! A short, bouncy track about hopes and dreams before they're dashed. Why this chorus is so catchy is beyond me.
11. The Goonies "R" Good Enough – Cyndi Lauper: I love the riffs, I love the words, I LOVE this Cyndi Lauper. The Goonies is really one of the best movies ever (trust me! You'll watch it with me and love it!), and this was the perfect song to fit that 80's zeitgeist. I don't think Cyndi's voice has ever been better ('cept maybe in "True Colors," which isn't the happyhappyhappy I was going for here...)
12. She's Electric – Oasis: Slightly edging out "Some Might Say," mainly 'cause I know this one better. Plus, it's silly, silly fun by all-too-serious BritRockers. "She's electric! Can I be electric too!?" I wanna be electric, too!
13. Let the Sunshine In – Frente!: Originally performed by Pebbles Flintstone in her teen years. Note the oddly uncomfortable line "But he feels so awful awful when he sees me on my knees." Oh, Pebbles! You used-up WHORE!
14. One of These Days – Pink Floyd: One of the only instrumentals I actually like ... and let me just say that happyhappyhappy isn't really my mood when I hear this. It's frentic and INSANE. It builds and builds until the break in the middle: "One of these days I'm going to cut you into little pieces!" And then it gets propulsive and fast. My thought is that this is gonna be a GREAT driving song.
15. You Sexy Thing – Hot Chocolate: Sure, it's obvious, but it's also one of my favorite fun songs. Hearing it brings up images of Mark Addy stripping in my mind, and that's always a good thing. Happy and fun and sexy, and it's always, ALWAYS great to hear the words "I believe in miracles!"
16. Steppin' Out – Joe Jackson: Tracey loathes this song. It's one of my favorites. I listened to this song right before we had to shut off our electronic devices touching down in Dallas. I think that if you ever wanted to capture the essence of city freedom and joy, you need to look no further than this song. Made for the nighttime, but still awesome in the day.
17. Tonight – NKOTB: I have no excuse. I really love this song.
18. Let My Love Open the Door – Pete Townsend: Pete Townsend's best solo song ("Rough Boys" is a very close follow-up), this one's just all about finding someone locked inside themselves and how he (I) can open up the doors. I've got a lot of love to give. I'm glad you're there to take at least some of it, Kenny.
19. Birdhouse in Your Soul – They Might Be Giants: You know it, I'm sure. I've no idea if you hate or love it. I've always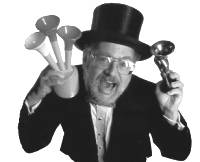 loved it. Any song that mentions Jason and the Argonauts has to be commended. This brings me at once to the good memories of high school, where me and my buddies would listen to Dr. Demento all the time, and they'd always play this and "Particle Man" and "Istanbul (Not Constantanople)" This was always my favorite. Sigh.
20. Somebody to Love – Blues Brothers: Introduced to me by Tracey. John Belushi and Dan Ackroyd going blues-o-riffic at the end of the movie I still haven't seen all the way through. Just happy and uplifting.
21. Teo Torriate (Let Us Cling Together) – Queen: Half-sung in Japanese! Maybe slightly maudlin, but a good way to end this collection. You're going away, but you're not gone. The same moon shines/the same wind blows/for both of us and time is but a paper moon. Let us cling together, as the years go by. You have a permanant place in my heart and my life. Here's another token of my appreciation.
Hope you enjoyed! Be happy! It takes a leap of faith to get things going!