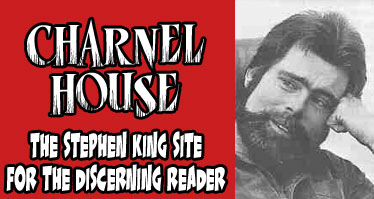 ...when you find a book that has both a good story and good words,
treasure that book."
- Stephen King, Hearts in Atlantis
Archived News
(Mar 08) King's early poems have always been notoriously hard to find. Well, not anymore, Kids! Coming soon: The Devil's Wine, edited by Tom Piccirlli, and distributed though the most excellently awesome Cemetery Dance. Seriously, kids, this thing has way rare stuff like "Donovan's Brain," "The Dark Man," "The Hardcase Speaks," "Harrison State Park '68," "Silence," and "In the key-chords of dawn..." No, I'm totally serious, these are going to be available!!! In a book!!! Have you any idea how rare these things have been! I cannot overstate the mportance of this collection!

And now, as Kev catches his breath, he realizes that Peter Straub and Ray Bradbury and Jack Ketchum and a bunch of other awesome writers are in here, as well. This is, like, mind-blowing. My advice to y'all: BUY THIS BOOK. And use this handy link.
(Mar 08) This just in from Cemetery Dance!!! Bev Vincent [The Road to the Dark Tower] and Brian Freeman [superfan and major CH source] recently signed a deal with Cemetery Dance Publications to edit THE ULTIMATE STEPHEN KING TRIVIA BOOK, which will be different from any previous trivia book because Stephen King's biggest fans will help us write the questions. Your King questions could be used in this book.

Everyone who contributes a question used in the book will be listed on a special contributors page in the trade paperback and hardcover editions. Everyone who submits a question used in the book will also be in the running for a FREE copy of the trade paperback. We have arranged to purchase 100 copies of the book to distribute to contributors at our discretion.

The editors have also chosen to donate 10% of their royalties from all sales of the Cemetery Dance editions of this book to SKEMERs. These funds can be used to pay for the website server fees or convention related activities, whatever the group thinks is most appropriate. The book will also feature an essay on the history of SKEMERs written by Michelle L. Revelle, SKEMERs very own Founder and Co-President.

For more information, please visit the Stephen King Trivia website and start getting your questions together. You have a little less than a month to get in on this!
(Feb 08) OMG! The Dark Tower VI: The Song Of Susannah is now being released on JUNE 8th, much sooner than expected. The release of The Dark Tower has also been pushed up, to September 21st (incidentally, King's birthday). So far, we don't know why this has happened; we're just terrifically excited that it HAS. Many, many thanks to Lilja's Library for the update!
(Feb 08) I know Charnel House has been a bit slow on the updates lately - chalk it up to a combination of very little book news (CH doesn't generally report on film or TV news) and the extremely busy life of your webmaster, Kev. (Hi, I'm Kev.) Some big things I was working on before the holidays (including some exciting website-hosted publishing featuring pre-eminent King scholar Michael Collings) was sadly pushed aside. I'll be trying in the upcoming weeks and months to get Charnel House back to the type of site you can rely on for news and information. Right now, sadly, things are a little crunchy. Thanks for all your patience.
(Dec 23) A couple of updates on the SK official home page. It reports that SK is recovering from his recent bout with pneumonia. Great news! There is also a link to the transcript from his National Book Award speech. Very cool! Have a great holiday everyone! I am sure we are all looking forward to the Song of Susannah in '04!
posted by dvs
(Nov 28) Sorry this didn't come faster: King was hospitalized on the 26th with pneumonia. According to sources, it was serious but not TOO serious, and King is expected to make a full recovery. Full story here. (Get well soon, Mr. King!)
(Nov 19) Stephen King receives his long-overdue National Book Award today. (Can a Pulitzer be far behind?) Hear an interview with NPR's Susan Stamberg here. This is great news for all of us! (Thanks to Kenny Hobbs for the link-up!)
(Nov 19) Read another great interview with Road to the Dark Tower author Bev Vincent, in which he discusses King, the Tower, and his own substantial body of work. Terrific interview!
(Nov 16) My (mainly spoiler-free) review of Wolves of the Calla is now up. Read now, if it please ya!
(Nov 15) Bev Vincent, author of the upcoming The Road to the Dark Tower (the first in-depth look at the series as a whole) and frequent contributor to Charnel House, will be chatting with the fine folks at Biting Dog press next Saturday! From the email: Bev Vincent will be guest author for our Biting Dog Press Chat, Saturday November 22nd at 9pm eastern time. Bev will be answering questions about his book, and maybe we can pry info about the upcoming Dark Tower books. Feel free to pass this along to anyone who wants to join the chat. The address is www.bitingdogpress.com

VERY exciting! Bev ROCKS!
(Nov 13) The latest issue of Pages (the Nov./Dec. ish, with Amy Tan on the cover) has a new article/interview with King! Yey! Thanks to Lilja for the heads-up!
(Nov 13) 'Salem's Lot is finally making it to audio! WAHOO! The unabridged set will be out this January. My guess is that, with all the Dark Tower connectivity, they're just releasing everything related. Here's hoping, though, that Carrie, The Shining, The Dead Zone, and a bunch of King's other "early" books follow suit.
(Nov 04) IT'S FINALLY HERE!!! The Dark Tower 5: Wolves of the Calla is being released today in bookstores everywhere! Ten o'clock, man, and I am SO there! Review pending! WAHOO!
(Nov 03) Breaking news from Cemetery Dance: They've got a VERY LIMITED supply of the Black House/Talisman Slipcased & Signed gift edition. Run! Buy! And while you're there, don't forget that Borderlands 5 containing the AWESOME new King tale "Stationary Bike" is coming out THIS month (including "Answering the Call," a new tale by Charnel House contributor Brian Freeman and Stephen King expert Bev Vincent's penultimate story "One of Those Weeks." Oh yeah, and some other folks like Whitley Streiber, Bentley Little, Tom Piccirilli, and a bunch more. NOT to be missed!) Speaking of King-ish collections, don't forget Cemetery Dance's own The Devil's Wine, a new poetry collection that includes contibutions by King previously only available in expensive specialty trade publications.

In other words: run, don't walk to Cemetery Dance ASAP! Tell em Kev sent ya!
(Oct 17) BRAND-NEW King short story titled "Rest Stop" will appear in the December issue of Esquire magazine (on newsstands in November.) No details on the story yet, but VERY exciting news!!! Thanks to Justin for the up-to-date!!!
(Oct 03) Building on the tie-in success of The Diary of Ellen Rimbauer/Rose Red, Hyperion is releasing The Journals of Eleanor Druse: My Investigation of the Kingdom Hospital Incident, a tie-in to King's February-May '04 miniseries Kingdom Hospital. No "actual" author yet revealed (King himself? Ridley Pearson?), and even though Hyperion is treating the book as "fiction," the author is listed as Eleanor Druse. So, for those desperate for anything King in the dry stretch between November's Wolves of the Calla and next August's Song of Susannah (barring, of course, any new short stories or surprises), pick up The Journals of Eleanor Druse in January '04. Cool! (Many thanks to Lilja's Library for the heads-up!)
(Sep 21) Happy 56th birthday, Stephen King!!!
(Sep 16) Stephen King has finally caught up with Desperation's John Marinville and won himself a National Book Award. For all the King fans in all the world who have been waiting for real, honest, mainstream vindication that Stephen King is an important, worthy author, this is it. Can a Pulitzer (the one so robbed from It and Dolores Claiborne) be far behind?

Here's what the Associated Press had to say:

KING, BRAND-NAME writer, master of the horror story and e-book pioneer, is receiving this year's medal for Distinguished Contributions to American Letters. The prize, worth $10,000, was announced Monday by the National Book Foundation, a nonprofit organization that sponsors the awards.

"This is probably the most exciting thing to happen to me in my career as a writer since the sale of my first book in 1973," King said in a statement issued by the foundation.

"I'll return the cash award to the National Book Foundation for the support of their many educational and literary outreach programs for children and youth across the country; the Medal I will keep and treasure for the rest of my life."

King, who turns 56 next Sunday, will be presented the award at the annual National Book Awards ceremony, on Nov. 19.

Among the world's most famous authors, he has both enjoyed the benefits and endured the biases of being a "genre" writer. He is a beloved, even iconic storyteller among the general public, whom he has memorably terrified in "Carrie," "The Shining" and other best sellers.

But he has never been a contender for any of the major literary prizes, including the National Book Award. His biggest honor before Monday was an O. Henry prize in 1996 for the short story "The Man in the Black Suit," originally published in The New Yorker.

"I'm pleased that they're giving it to him," says Ray Bradbury, author of such science fiction classics as "The Martian Chronicles" and recipient in 2000 of the honorary medal from the book foundation. "I don't think they should exclude any special genre, or they'd have to eliminate Edgar Allan Poe, wouldn't they?"

King has written dozens of books and even defenders acknowledge that not all are worth reading. But they praise him as an exciting, essential writer with a deep feeling for the American psyche.

"I think he's a force for good in the world," says Michael Chabon, author of the Pulitzer Prize winning novel "The Amazing Adventures of Kavalier & Clay."

"People like writers to stay in the boxes. The 20th century was supposedly about breaking down those barriers between high art and popular culture and yet it still feels like there's some kind of transgression when Stephen King gets a National Book Award medal."

Established in 1988, the honorary award cites not only literary merit, but "a lifetime of service." The Maine-based writer has provided scholarships for the state's high school students, and made numerous charitable contributions through a foundation he runs with his wife, Tabitha.

He was an early advocate of e-books, and caused a sensation in 2000 when his 66-page e-story, "Riding the Bullet," received more than 400,000 orders in the first 24 hours after it was made available online.

He also shares one quality with many literary writers: a dislike of corporate-controlled publishing. In the current issue of Entertainment Weekly, for which he is a featured columnist, King celebrates a novel available only in audio form, Ron McLarty's "The Memory of Running," and attacks publishers for not signing it up.

"Publishing houses, once proudly independent, are today little more than corporate wampum heads, their cultural clout all but gone," writes King, who is published by Simon & Schuster, a division of Viacom Inc.

McLarty has since received several offers and should have an agreement soon, said his agent, Jeff Kleinman.
(Aug 15) WOW! New info on Wolves of the Calla, stolen directly from Publisher's Weekly:

"Time is a face on the water," stretching and contorting reality as gunslingers Roland, Eddie, Susannah, Jake and their talking pet "billy-bumbler" Oy continue their quest to prevent the destruction of the Dark Tower and, consequently, save all worlds from Chaos and the Crimson King's evil, red-eyed glare. Roland-the primary hero of King's epic tale, the first volume of which appeared in 1982-and company momentarily fall off the "Path of The Beam" to help the residents of Calla Bryn Sturgis, a farm town. But as Dark Tower fans know, everything follows The Beam, so what looks like a detour may really serve the will of "ka" (destiny). Roland and his posse learn that every 20-odd years the "Wolves" kidnap one child from each set of the Calla's twins, bring them to the Tower and, weeks later, send them back mentally and physically impaired. Meanwhile, back in 1977 New York City (the alternate world of Roland's surrogate son, Jake), bookstore owner Calvin Tower is being threatened by a group of thugs (readers will recognize them from The Drawing of the Three, 1987) to sell them a vacant lot in midtown Manhattan. In the lot stands a rose, or rather the Rose, which is our world's manifestation of the Dark Tower. With the help of the Old Fella (also known to `Salem's Lot readers as Father Callahan), the gunslingers must devise a plan against evil in both worlds. The task, however, is further complicated as Roland and his gang start noticing behavioral changes in wheelchair-bound, recovered schizophrenic Susannah. As the players near the Tower, readers will keep finding exciting ties between the Dark Tower universe and King's other books, with links to Black House, Insomnia, The Eyes of the Dragon, The Stand, `Salem's Lot and Hearts in Atlantis. The high suspense and extensive character development here (especially concerning Jake's coming-of-age), plus the enormity of King's ever-expanding universe, will surely keep his "Constant Readers" in awe.

Thanks to Lilja for the information!
posted by kmq
(Jul 31) I received a newsletter from SK's official web site just moments ago. According to them Stephen King will join Entertainment Weekly as a columnist, beginning with the August 8 issue. Appearing on the magazine's back page, King's commentary will examine various facets of pop culture. The column will appear once a month, alternating with the magazine's current back page, "Stupid Questions with..." This is the first time since his college days that King has penned a regular column. Wow! This is very cool indeed!

A couple of other tidbits from the same newsletter: Pre-production of Kingdom Hospital, Stephen's new television series for ABC (adapted from the Danish miniseries The Kingdom by Lars Van Trier) about a haunted hospital is underway in British Columbia. The series is scheduled to air in January 2004. Updates will be included in next month's newsletter and on the website.

If you haven't visited stephenking.com recently, you're going to see a lot of changes! The site has been completely redesigned and expanded including a section devoted exclusively to The Dark Tower, so visit now and visit often.
posted by dvs
(Jul 28) Go check out my all new review of the Revised & Expanded The Gunslinger, do it please ya. It's longer than the Mohaine Desert. (There, I think that makes up for the really, really shoddy review I did for the original-text version...)
posted by kmq
(Jul 21) An email I got from Cemetery Dance, just this afternoon:

"Cemetery Dance Publications has reserved a VERY LIMITED number of copies of BORDERLANDS 5 for our customers. This Borderlands Press title will be published in the fall, and our copies will sell out VERY QUICKLY because everyone in the book (STEPHEN KING, BENTLEY LITTLE, JOHN FARRIS, WHITLEY STRIEBER, [not to mention Brian Freeman and Bev Vincent!] and over a dozen others) will be signing both the Limited ($75; 500 copies) and the Lettered ($500; 52 copies) editions. All of the stories in this book, including King's novelette ["Stationary Bicycle"], are original--they've never been published anywhere else! So if you want a copy, you have to pre-order it ASAP!

Visit the Breaking News page for more information and to order your copy: http://www.cemeterydance.com/html/news.shtml"

WOW! VERY exciting!
posted by kmq
(Jul 20) We have CONTENTS! That's right! The complete table of contents of Wolves of the Calla, NOW available on my Wolves of the Calla page. HUGLY exciting, especially for gigantic geeks like myself. Go check it out; it seems mainly spoiler-free. Plus, there seems to be a few King discussions within the book, what with a "Final Argument," an "Author's Note" and an "Author's Afterword." VERY nifty. (Thanks to Lilja for posting this!)
posted by kmq
(Jul 20) Lilja's Library is now back up! Go check him out!
(Jul 18) Robin Furth's Dark Tower Concordance: Volume 1 is out! I wandered into a bookstore today and started perusing this thing ... boy howdy, is it cool. For King lovers, this book is a must. For collector of King-written material, this guide includes an introduction by King himself, regarding the purpose of a book such as this. He contends that the reason for publishing this concordance (originally written for his own use while writing the final Dark Tower books) is because it's actually compellingly readable. He's not wrong. This book can sit comfortably along your Collings, Beahm, and Spignesi guides on your shelf: books about King that are nearly as entertaining as books by King. (Also a weird and neat little curio: Robin Furth's initials? R.F. Intriguing, no?)
posted by kmq
(Jul 17) A BRAND-SPANKIN'NEW interview with Bev Vincent, frequent Charnel House contributor and author of The Road to the Dark Tower. This is a great interview, offering some neat insight into the creation of this guide. Highly reccommended.
posted by kmq
(Jul 17) WOW! From Randy Axlerad, a complete table of contents from Robin Furth's upcoming Dark Tower Concordance, Volume 1!!!!

Tarot Reading (diagram)
Forward by Stephen King
About This Book
Abbreviations and Text Guide
Key (another diagram)
Door (Traveller, beyond lies Mid-World)
Gilead Fair-Days
Mid-World Moons
Introduction: Roland, the Tower, and the Quest
Characters
Mid-World Places
Our World Places
Portals and Magical Places
Appendix: High Speech, Low Speech, and Mid-World Argot
Appendix II: Mid-World Miscellany
Appendix III: Political and Cultural Figures (Our World)
Appendix IV: Mid-World Maps


This is pretty darn cool! Thanks, Randy!
posted by kmq
(JUL 16) I received this in my inbox this morning and thought some of you folks may be interested. This is from the Simon & Schuster email list.

Dear Stephen King Fan,

I know you were expecting your Stephen King news fix on July 10, but we were forced to hold out a little longer to give you an extra treat. Hopefully you'll think it was worth the wait...

As of last week, we were going to give you a chance to win Wolves of the Calla by proving your King and Dark Tower knowledge and helping us create a brain-busting Dark Tower trivia game, NOW we're giving you A CHANCE TO MEET THE GREAT ONE, STEPHEN KING, when you become a Gunslinger online! Read on....

* * *
TALK THE TALK and YOU COULD WIN WOLVES OF THE CALLA

Think you know the Dark Tower? Prove it!
Just email five Dark Tower trivia questions to SSOnline@simonsays.com. Put "Dark Tower" in the subject line, and be sure to include the Dark Tower book and page number for each answer. Email those five questions our way, and you'll automatically be entered to win a copy of WOLVES OF THE CALLA! Remember questions must come from THE Dark Tower books. Click below for official rules.

Official Rules

* * *

WALK THE WALK and YOU COULD MEET THE KING

Be a Gunslinger (or just act like one!) We've selected a few passages from THE DARK TOWER and posted them on SimonSays.com and Penguin.com. Dress as your favorite DARK TOWER character, select one of the passages, and videotape your performance (but only 1 to 3 minutes). We'll post 50 of the best entries online in our Dark Tower Gallery, and the world will vote for the winner!

The Grand Prize Winner will meet Stephen King in New York and four runners-up will receive signed hardcover editions of The Dark Tower I through VII.

So pick a passage and start filming!
Official Rules and Regs
- from SimonSays.com
posted by dvs
(Jul 14) AWESOME news from Tomas Krynsky (webmaster of The Collector). To quote: "I wanted to let you know that if you order "Wolves of the Calla" straight from Bernie Wrightson's site ( http://www.berniewrightson.com/ ), he will sign your copy. A very good way to get a signed copy if you're already going to buy the trade edition." I agree! Go to Bernie's site and support your favorite DT5 illustrator!
posted by kmq
(Jul 11) We're back! For all those having problems viewing Charnel House in the last few days: the problem has been rectified. We just needed to get the hook-up on some phat bandwidth, yo.

Anyway, what this means is that CH will not be down like that for a long, long time. It also means that we have a BRAND-NEW domain name. The old URL will work (charnelhouse.tripod.com), but now there's a shorter, more direct link as well. Change your bookmarks to:

charnelhouse.net

Thanks for your patience!
-Kev and Dave
(Jul 08) Want a reproduction of King's hand-written Harry Potter review? Go here. (Note: You'll need Adobe Acrobat reader to see it; click here for your free download.) A VERY cool oddity!
posted by kmq
(Jul 05) On newstands NOW: King's review of Harry Potter and the Order of the Phoenix, in the July 11th issue of Entertainment Weekly. Great review, extremely positive ... although King still loathes those pesky adverbs (see On Writing for the full crackdown on this naughty word category.) Coolest part: the magazine has a photo of King's handwritten review. Very neat. Also great: NO SPOILERS, so you can read the review without having yet finished the book, even though you bought it the night it came out, but waited to read it because you can't read two books at once and you're in the middle of re-reading Insomnia for the fourth time. Or something.
posted by kmq
(Jul 03) The end is near...so start at the beginning.
THE DARK TOWER saga, an epic fantasy like none other, has been three decades in unfolding...and with THE DARK TOWER V: WOLVES OF CALLA coming in November, you'll want to be ready! Whether you've been following THE DARK TOWER since the beginning, or you'd like an introduction to one of King's masterworks, you won't want to miss A CONCORDANCE, VOLUME I. It's the definitive guide to the first four books in the series, covering hundreds of characters, significant events, Mid-World geography, political and cultural references, and much more. It's a must for old hands and new fans alike! - I love books like this just to browse through and serve as a resource for when I am reading or re-reading. I am really looking forward to this book!
posted by dvs
(Jul 02) Borderlands Press - Stephen King contributes a story "Stationary Bicycle" (we understand that the story is quite long) to Borderlands 5 edited by Elizabeth E. Monteleone & Thomas F. Monteleone. This a non-themed anthology which carries on the tradition and high standards established by the first four volumes in this series. It is the intention of the editors to publish new, original, short fiction which pushes the limits of what is being done in darkly imaginative fiction. Writers published in Borderlands you will be part of the expedition to open the gates to new literary territory, and you will help scorch a path through the jagged landscape of the imagination unbound... and all those other neat metaphors. (We'd also like to point out that two of our favorite regular contributors to Charnel House - Brian Freeman and Bev Vincent have original stories also being printed in Borderlands 5. How cool is THAT?)
posted by dvs
(Jul 02) The Uncollected Page has been updated with info on "Stationary Bicycle" (newest report: the story is 60 pages long!) I also fixed the nonfiction section so you can actually read it now.
posted by kmq
(Jun 30) King's new essay, "America the Literate" is now the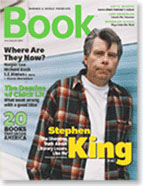 cover story of the July/August 2003 issue of Book magazine! (King certainly is publishing a lot of shorter works during these Dark [Tower] times...) You can read an abridged version of the essay here, but check out the mag for the full thing, plus extra photos. Thanks to Dave P. for all the info (and the cover scan!) posted by kmq
(Jun 30) UPDATE: If you missed King on NewsNight on CNN, here's a transcript of the interview. (It's near the bottom of the page.) Spotted on the CNN home page. Tuesday, June 24, 2003 NewsNight with Aaron Brown on CNN tonight: Master of the macabre. Best-selling horror novelist Stephen King discusses his latest book, his career and his future.
posted by dvs, updated by kmq
(Jun 24) THE COMPLETE GUIDE TO THE WORKS OF STEPHEN KING is a CD-ROM containing over 5,100 PAGES of information about 270 of Stephen King's stories: novels, novellas, short stories, etc. This CD-ROM was published just last month and is packed with tons of up-to-date information about King's works, including 10 stories that haven't even been heard of since his college days and were just recently discovered! This guide is definitely a GREAT addition to any Stephen King fan's collection, and we're happy to announce today that Cemetery Dance has acquired a SMALL number of copies for our customers! Learn more about this title on the Breaking News page: http://www.cemeterydance.com/html/news.shtml
posted by dvs
(Jun 23) Don't forget: King's BRAND NEW SHORT STORY, "Harvey's Dream," is AVAILABLE NOW in the June 30th issue of The New Yorker (story and author are listed in a "ribbon" on the cover). Run - do not walk - to your nearest purveyor of periodicals and pick a couple up today! (Note: The Uncollected Page is now updated to include info on this new short story.)

Addendum:

Bev Vincent has written in to inform us that "Harvey's Dream" is now available at The New Yorker Online. The link leads you to a printable version of the story ... though, as a collector, semi-completist, and lover of the bound, printed page, I'm still recommending picking the whole magazine up. I guess I'm just old-fashioned. posted by kmq
(Jun 23) Okay, kids: the Dark Tower hardcover reissues are OUT NOW! The Gunslinger, The Drawing of the Three, The Wastelands and Wizard and Glass are ALL OUT in affordable trade hardcover editions, at your local bookstore now. (I got mine through our old friends Betts Books, and my order got here in record time. Support the King trade and go through them! Tell em Charnel House sent you!)

Even if you already own all the books, and if you're not into re-buying all the hardcovers, I would strongly recommend picking up the re-release of The Gunslinger. Not only are we treated to a new discussion of the series as a whole (this foreword is reprinted in all the Dark Tower reissues and is one of King's classic forewords, along the same lines as "Why I Was Bachman"), and not only is the book revised and updated throughout (think the unexpurgated The Stand), we also get a lengthy introduction on why King decided to rework and revise The Gunslinger after all these years. I don't know about you, but I've always heartily enjoyed King's own looks at why and how he does what he does (this is why On Writing so completely rocked my world), and this new introduction is fascinating in that light. King's short essays discussing his own work are always wonderfully enthralling reads, and this is no exception.

If you haven't read The Dark Tower books, King has given you an easier "in" to the series. If you have, check out the new version of The Gunslinger, if only for the two new essays. Either way, put Harry Potter aside for a few minutes and come back to where the King is. posted by kmq
(Jun 20) In addition, another word from Bev: "Stay tuned for King on the Today show on Monday in the 8 a.m. (ET) hour. He'll also be on the Aaron Brown Show on Tuesday night from 10:15 to 11:00 (I think this is on CNN) and will be doing radio and print interviews early next week." To which I say: WHEEEE! another post by kmq
(Jun 20) Thanks to James for pointing out a cool new article on SK and the Dark Tower found on the U.S.A. Today web site. Also, several readers have noted that they have seen the Dark Tower reissues out early in some bookstores. Don't get your hopes up though, because my local book store did not have them as of yesterday. The official release schedule is posted below. Thanks to everyone who has sent in notices!
posted by dvs
(Jun 17) If you, like most of us, have big time problems trying to figure out the release schedules of the upcoming (Simon & Schuster) Dark Tower books, our good friend Lilja has done the legwork for us. WOW! Check out the Dark Tower release schedule over on Lilja's page, and be happy. posted by kmq
(Jun 07) Site Update: Big changes on the Wolves of the Calla page, including a cover, quotes, and a link to King's Dark Tower site. Enjoy! posted by kmq
(Jun 4) Now it can be told...Cemetery Dance Publications is proud to announce The Devil's Wine, a poetry anthology edited by best-selling author Tom Piccirilli. The contributors include Stephen King, Ray Bradbury, Peter Straub, Graham Masterton, Charles De Lint, Jack Ketchum, Joe Haldeman, Michael Bishop, Jack Cady, Steve Rasnic Tem, Melanie Tem, Peter Crowther, TM Wright, Brian Hodge, Edward Lee, Elizabeth Massie, Jay Bonansinga, and Tamara Thorne. Check out the full news release for details on editions and dates! According to our friends at Cemetery Dance the book features almost 200 poems, many of them never-before-published. King's contributions haven't been reprinted in about thirty years. WOW!! Start saving those pennies because this is a **MUST HAVE**.

As an added bonus anyone who orders THE DEVIL'S WINE directly from Cemetery Dance Publications between now and 11:59PM EST on Friday, June 6, 2003 will be
automatically entered into the Devil's Wine Raffle for a $500 Cemetery Dance
Gift Certificate and a special Advance Uncorrected Proof (review copy) of
this exclusive Cemetery Dance book! Four runner-ups will also receive a
copy of the Advance Uncorrected Proof, which has a VERY small print run and
is normally only sent to reviewers! This special raffle is in addition to
our usual offer of FREE shipping to addresses within the US and our new
Deluxe Lettered Raffle for those who preorder directly from Cemetery Dance!"
posted by dvs
(Jun 3) Simon & Schuster just set up a MASSIVELY cool site up for The Dark Tower. The push for these books is even more powerful than Andy McGee's, I'm tellin' ya... (Thanks again Lilja!) posted by kmq
(Jun 3) Well a little bird sent CH a note this morning which helped wipe away those Tuesday blahs...A very, cool new book will be announced on Wednesday from Cemetery Dance Publications. CH recommends that if you would like the information hot off the presses subscribe to one of the email lists which can be found here. More details will be forthcoming. Those of us here at CH are very excited about this one...
Reviews pending: Skeleton Crew, Golden Years, The Stand ('90) and Secret Windows. Soon to come!

---

As a disclaimer, I AM NOT STEPHEN KING! Why do I do this? Because I read and enjoy King, and think other King readers will like it here.

Okay, now click to your heart's content!

---

"King strikes me as being the Bruce Springsteen of contemporary fiction. No surrender, baby; narrative riffs that are uniquely his own." -- George Beahm, in his book Demon-Driven, Stephen King & the Art of Writing.

---

(May 30) Your friendly neighborhood Van here - I spied a link to this interview while going through the revamped official SK site. Very cool, and it should bring a smile to the faces of those of you who are worried about the future after the Dark Tower books...


(May 29) For the first time in the history of this humble little site, Charnel House gets a CO-WEBMASTER! As the years have gone on, I (Kev) have become increasingly busy in my non-King life. I've loved working on this site, but updating it as often as I'd like is something I just can't do anymore. In comes David Van Sweden, my new co-webmaster, to save the day!

David's focus in the House will be letting you good folks know - at least once a week - what's going on in the world of King. He'll be doing updates in the NEW IN THE HOUSE section, and may work on essays and reviews sometime in the near future. I'm terrifically excited by David's contribution to the House, and I think you will be, too. David's passion for King's works meets and maybe even exceeds my own, and I think we'll all find him a perfect fit around here.

If you'd like to give him a warm welcome, please email him to say hi! Thanks again, and THANK YOU DAVID!

(May 28) The Official Stephen King Web Presence has updated with a new Dark Tower section and graphics not seen anywhere else! Wheee! (Thanks to David for the info!)